The 614 acres west of SW 217th Avenue between 232nd Street and SW 248th Street are planned as the Florida Power and Light Everglades Solar Energy Center.
The pending effort will bring another 300,000 solar panels into operation.
Although FPL's goal of 1,000,000 panels in Miami-Dade County by 2030 is viewed positively by most communities, there are always questions and concerns when additional projects are proposed. Residents and businesses located within half a mile of the new location were invited to an open house held Monday and Tuesday, October 11 and 12, 2021 from 5:00-8:00 p.m., at Schnebly Winery where information, exhibits, and experts were on-hand.
Baldwyn Rodriguez English, Jr., External Affairs Manager for Miami-Dade County, had a robust team in place to distribute written materiel, lead visitors to various screens with different information, show an example of one of the panels, and discuss successful operation of existing solar centers.
Those who attended the February 2019 grand opening of the similar FPL Miami-Dade Solar Energy Center, located at the northwest corner of the intersection of Krome Avenue and SW 136th Street, are familiar with the design that incorporates the latest technology as well as adheres to the FPL Solar Stewardship Program.
This initiative partners with Audubon Florida and other local organizations to ensure that protection and promotion of wildlife corridors, wetlands, and native plants are part of site design and operation.
The proposed center, scheduled for construction from April 1, 2022 to January 31, 2023, will provide almost 75 megawatts of power with zero emissions. In practical terms this accommodates approximately 15,000 homes and is equal to emission reductions of approximately 14,000 cars from roads.
Operation, sustainability, and a view to the future are all considered. The panels are installed in a manner which allows for easy removal if the time should come when new technology makes the panels obsolete.
The land can quickly revert to its original purpose; in this case agricultural. As seen during the open house, panels are now made from primarily glass and aluminum to facilitate recycling. FPL is engaged with the University of Florida to continue to enhance recycling capability and they work with vendors who recycle up to 98% of their panels.
Julio Guzman, Homestead Councilmember-Elect, spent time talking with English and others. "We feel great with this project, with doing our part for sustainable energy," he said. "FPL is a strong partner with all the innovations they bring."
Approximately 200 personnel will be employed at peak construction and FPL maintains a "hire local" policy as much as possible for each project.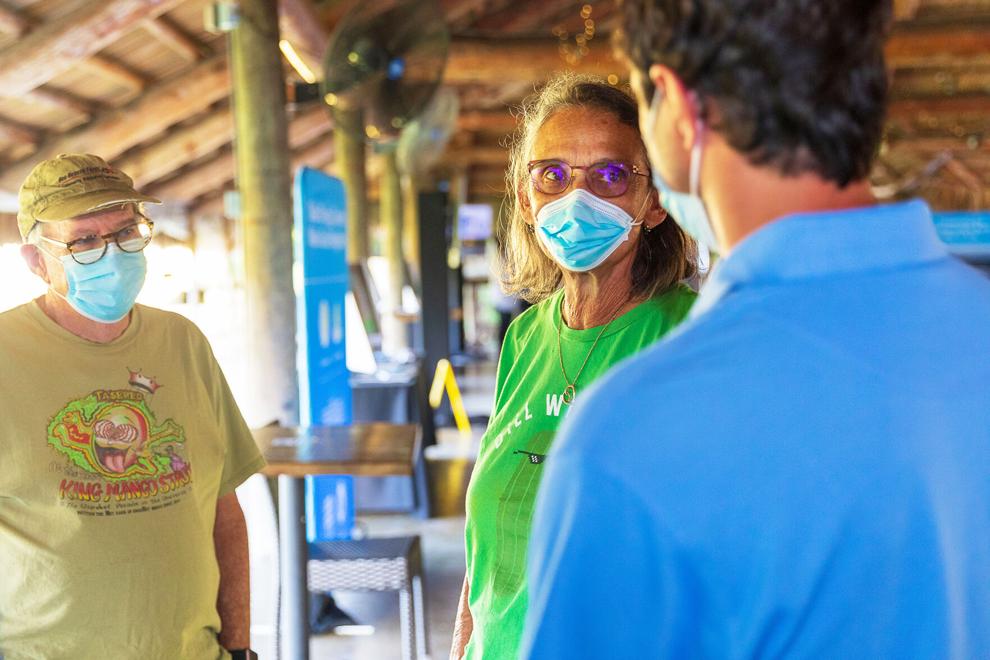 Longtime agriculture advocates Margie and Nick Pikarsky welcome more solar panels. The couple who bought their Redland property in 1995 and opened the well-known Bee Heaven Farm in 1996, spent time with an FPL representative moving from station to station. "Sun is clean," they said. "We want to see more solar. Augmentation is a place to start, but what we want is replacement. Fossil fuels pollute and nuclear plants produce waste." They aren't merely discussing theory as they converted their home to solar three years ago and added two back-up batteries last year.
Ashley Fogg Schutz, Marketing & Communications, Florida Power & Light Company pointed out the specific website for the project to allow individuals to access information and keep track of developments. The site is www.EvergladesSolar.com and email is SolarProjects@FPL.com