It's been way to long since Hurricane Nation has seen four days like Friday, March 17th through Monday, March 20th.
The Men and Women Basketball teams opened play in NCAA Regionals and Miami Baseball hosted #17 Virginia Tech.
In Basketball, the University of Miami joined UCLA, Tennessee and U Conn as one of only four schools with both their Men's and Women's teams advancing to the 'Sweet 16' round in the NCAA Championships.
The Canes broke out the brooms with a three game sweep of the Hoakies.
I'll start with the Men. On Friday night, #5 seed Miami faced #12 seed Drake (27-8) in the first round of the Mid-West Regional up in Albany, NY. The Canes shot a paltry 30.4% against the Bulldogs. Miami had not won a game with that low a shooting percentage since 1992.
The Canes were lifeless in the opening frame and Drake took a 30-25 lead at the break. It wasn't going much better and the visitors took a 55-47 lead on a Roman Penn jumper with 5:40. Nijel Pack cut the lead to six a minute later with a two pointer. Wooga Poplar had a steal on the next Drake possession and was fouled at the 3:50 mark.
During the ensuing final Media timeout an emotional Pack implored his teammates, "We can't let it end like this."
Poplar drained both free throws after the stoppage. Then Pack made a steal, passed to Poplar who drained a deuce and Miami was within two, 55-53.
Jordan Miller grabbed a miss and was fouled with 2:28. Miller made both and the Canes were down one. Miller stole the inbound, passed to Bensley Joseph who was fouled and made one for a tie at 56 with 2:20. Drake turned it over again with 1:11 and Pack hit a jumper to put UM up 58-56. Drake missed, Miller rebounded and B. Joseph made a free throw for a 59-56 advantage with 0:33. Drake missed again, Pack rebounded, was fouled, made both and Miami had a 61-56 lead. Drake missed, Norchad Omier rebounded and was fouled. Chad made both and it was a 63-51 final.
This was the first game Miami won all season while only scoring 63 points. Pack led the scoring with 21. Poplar had 15. Omier had a double-double with 12 and 14 rebounds, the most a Miami player has ever had in an NCAA
tournament game. Isaiah Wong had a season low 5 points on 1-10 shooting with 6 boards.
Miller's line was 7/8/2 assists and was team high +16. B. Joseph had only 2 points but his tenacious defense during his 12:04 on the floor led co-second high +/- with Omier at +13.
This year's Miami team is known for its offensive efficiency but it was the defense that led to a Miami 16-1 scoring advantage to close the game and earn the win.
Next up was a late Sunday night contest with the #21 ranked Indiana Hoosiers, the #4 seed in the Regional.
This was a totally different game. The Canes came out on fire. They flat out punched the Hoosiers in the nose and never let up.
Miami had 8-0, 13-3 and 28-15 leads early.
Indiana is a very good, hard nosed and proud team led by All-American Trayce Jackson Davis who led IU with 23 and 7. They went on a 10-0 run, cutting the deficit to 28-25, but Miami immediately responded with a 10-3 spurt that included 8 points by Wong and the Canes were up 10 again.
The Hoosiers scored the last 5 in the half including a buzzer beating three pointer by Miller Kopp that put down only 40-35 at halftime.
Indiana scored the first 8 out of the break for a 53-50 lead, their largest of the night. The Hoosiers stayed in it for a while and were up 49-47 seven minutes into the second frame but it was no surprise when Miami went on a 16-2 spurt in 4:49 that put them up 12.
Indiana never was closer than seven the rest of the way. The final was 85-69 and a Miami victory was never in doubt.
Miami Head Coach Jim Larranaga never called a timeout the entire evening, there was never a need. The Canes dominated on the boards with a 48-31 edge that included 20 offensive boards. Miami shot 48.6% and IU 41.3%.
As bad a beating as Miami put on Indiana if they played next week, Indiana very well could prevail. Miami's very fortunate escape against Drake led to their razor sharp performance Sunday night.
Wong was back to his usual self and led all scorers with 27 adding 8 boards. Miller added 19/5 and Pack 12/3. Omier's record for most rebounds by a Miami Hurricane in an NCAA contest did not last very long, barely 48 hours as he had 17 rebounds and 7 points.
B. Joseph was again Mr. Efficiency. Bensley was +19 in 22:25 with 7/5 and 5 assists.
Next up for Miami (27-7) is a trip to Kansas City for a Sweet 16 matchup with #1 seed, the Houston Cougars (33-3). Tip-off is on Friday, March 24th at 7:15 (CBS).
The LadyCanes are the #9 seed in the Greenville 2 Regional. The first and second rounds of regional play in the Women's NCAA championship are hosted by the top four seeds in each regional.
#9 seed Miami, #8 Oklahoma State (21-12), #16 Tennessee Tech and #1 Indiana played the first two rounds on Indiana University's home court, Assembly Hall.
Indiana played Tennessee Tech in the opening round and won 77-47 in front of 14,480 fans.
Miami played Oklahoma State. The LadyCanes had a tough time in the early going. Miami shot 5-20 in Q1 and were down 19-10. Continued inability to put the ball in the basket led to a 37-20 halftime deficit.
One can only wonder what went on in the locker room but a different Miami group showed up for the second half. Miami opened Q3 with an 11-0 run to close to 37-31. The Cowgirls hit a three for 40-31 but Miami came back with nine unanswered and it was tied at 40. Ok St scored the last four and it was 44-40 as Q3 ended.
The LadyCanes open the final frame with a 13-2 advantage and were up 53-46, their largest lead. The Cowgirls netted 10 of the next 12 and went back up 56-5.
Haley Cavinder made a layup with 2:55 and Miami was back up 57-56. Destiny Harden's layup with 1:56 put Miami up 59-56. After a Cowgirl miss, Ja'Leah Williams put UM up 61-56 with a layup of her own. Naomie Ainatas hit a jumper for Ok St and it was 61-58 with 0:47. Haley C put Miami up 62-58 with 0:08 but three tics later Anna Gret Asi made a three and it was 62-61 with 0:05.
Miami could not inbound and turned it over on a 5 second violation. Ainatas missed a game winner with 0:01 and Miami was on to a Monday night matchup against Indiana with an advancement to the Greenville 2 Regional on the line.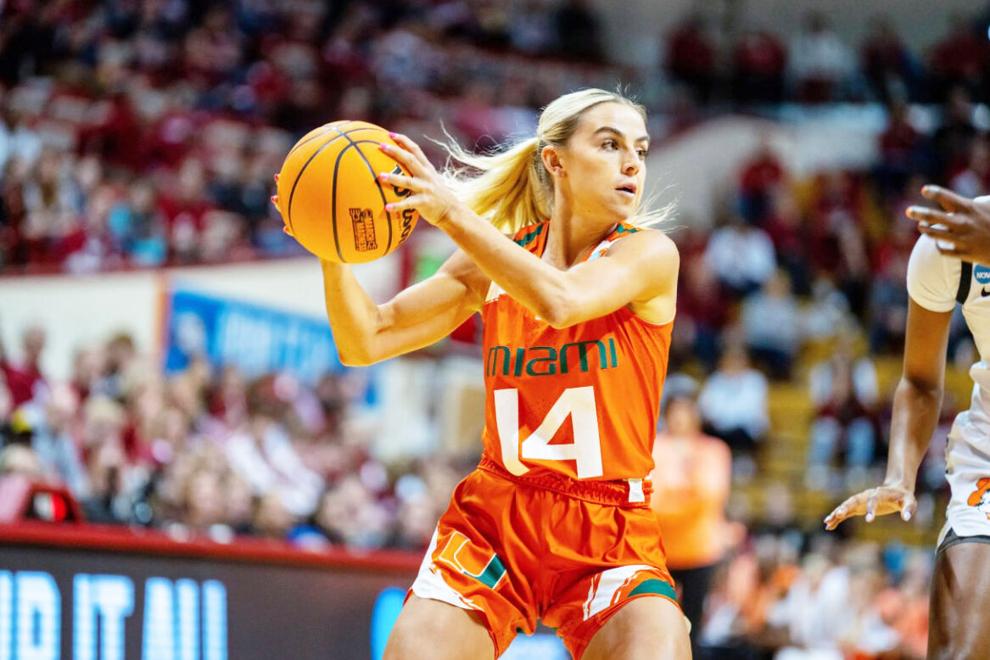 Haley C led Miami with 16, 12 in the second half, 8 rebounds and 6 assists. Jasmyne Roberts 12/7, Destiny Harden 11/6 and Lola Pendande 10/6 were other double digit scorers for the LadyCanes.
Anna Gret Asi had 16 for the Cowgirls and Taylen Collins was the game's leading rebounder with 16.
If the readers found the Men's and Women's first round games very similar there will be more of the same as the underdog #9 LadyCanes (21-12) faced the #1 Indiana Hoosiers (28-4) on their home court where they are
undefeated this season.
Miami took a 14-4 early lead on 4 Pendande baskets and two threes by Harden. Haley C joined the scoring with a jumper to go up 16-6 and another for 18-8. The 1st Q ended 20-12 Miami.
Harden scored the first 6 in the 2nd Q for 26-12. Indiana cut it to 28-20 but a Hanna Cavinder three kept the lead in double digits. IU got within five at 32-27, but two Jasmyne Roberts three pointers helped UM to a 41-29 halftime edge.
The Hoosiers chipped away the entire Q3 and cut the score to 49-48 with 10:00 to go. IU stayed within three points and finally tied it at 58 with 3:53. The Hoosiers tied it again at 60, 65 and 68 with 0:08. Miami inbounded to Harden and Destiny knocked it down from just inside the foul line for the 70-68 win.
Lola Pendande led the LadyCanes with 19 and 7. Harden 18/5, Roberts 16/6 and Haley C 9/8 including two free throws with 0:12 that were major
contributors.
IU's Mackenzie Holmes was the games high scorer and rebounder with 22 and 9.
Harden scored her 1,000th point during the game.
Miami will be advancing to the Sweet 16 for the first time since the tournament field was expanded in 1994. Miami faces Villanova on March 24th at 2:30 (ESPN).
Villanova features All-American Maddy Siegrist.
Baseball - Miami is 14-6 overall and leading the ACC at 5-1. They are #17 in D1 ranks and visit #2 Wake Forest this weekend.
The Hurricane swept ranked Virginia Tech last weekend with scores of 4-3, 21-6 and 12-9.
First Baseman CJ Kayfus was 10-13 with 3 HR in the series.
Kayfus was named Player of the Week by the ACC, Collegiate Baseball and Perfect Game.
Be well all and Go Canes!