Miami's closer, Junior RHP Andrew "Walt" Walters closed the door in both road wins against the Pittsburgh Panthers last weekend.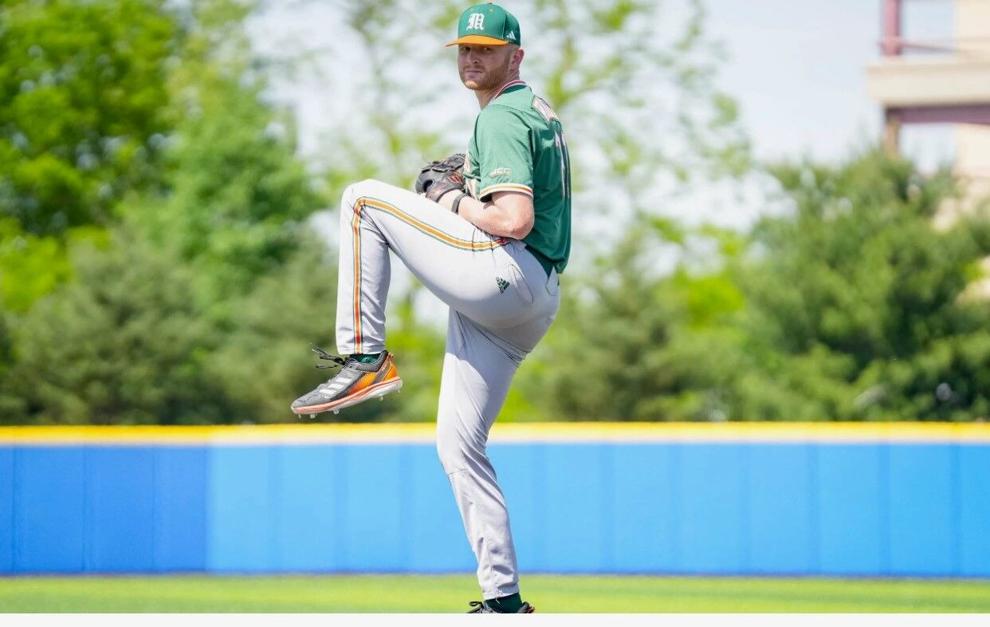 Walters was named First Team All-American by Baseball America, D1 Baseball, NCBWA, Perfect Game and Collegiate Baseball after his stellar sophomore season.
This year, in 22 appearances, his stats line shows he is a good bet to sweep those awards again.
Walt, 3-0 with 9 saves has a 1.31 ERA, 0.85 WHIP, and 60 strikeouts with only 7 BB in 34.1 innings. His work against Pittsburgh might have been the most important in his time at Miami.
There was a lot on the line for Miami Baseball against the Panthers and it will be more of the same when the Canes host Duke this weekend. ACC teams play 30 conference games consisting of 10 three game series, half at home and half away.
Miami has played 52 of their 55 regular season games and nothing is decided as yet. On the line with only the Duke series to play are, one of the top four seeds in the ACC Tournament to be played May 23rd to the 28th up in Durham, NC, an opportunity to host an NCAA Regional and possibly a Super Regional.
Miami, #11 for the third consecutive week, is 16-11 in ACC play and tied for 3rd with #21 Virginia.
#1 Wake Forest 20-6 has locked up the #1 seed.
#7 Clemson, 17-10, is currently second in conference standings.
#16 Duke, 15-11, and North Carolina, 14-11, also are in the hunt for a top four seed.
The 12 teams that make the ACC Tournament are divided into four 3 team pods who play their first two games against the others in their pod. If all three teams are tied at 1-1, the tied team with the top seed advances to the semifinals without a playoff, making the seeding extra important.
On Monday, May 29th, the NCAA announces the 16 regional hosts and 8 national seeds. The regional hosts get to play the double elimination regional on their own field. After regional play, the 16 remaining teams face off in eight best of three games at the top 8 seeds sites.
Miami was #13 and hosting a Coral Gables Regional in last weeks NCAA Bracket Predictor release.
Back to Walt! In the opener against Pitt, the Canes jumped out to a 5-0 lead in the 2nd on a 2 run HR by Carlos Perez and a 3 run HR by YoYo Morales three batters later. The lead was extended to 7-1 and 9-4 after 6 1/2, but it was 9-8 with 1 out and a runner on third in the bottom of the eighth when Walt came in from the bullpen.
He did his thing striking out the next batter looking and getting the third out on a soft grounded to second. In the ninth it was strikeout, fly out and ground out and the Canes had the series opener.
Game two was a disappointment. Starting pitcher Alejandro Rosario faced 17 batters. He got 8 outs, walked 6, hit a batter and gave up 2 hits and 4 runs while only throwing 35 strikes in 76 pitches.
Miami, even while outhitting the Panthers 10-4, could not get runners home and Pittsburgh evened the series with a 7-4 win.
In Sunday's rubber game it was 4-4 after six. With bases loaded and one out in the Miami 7th, Dorian Gonzalez was called on to pinch hit and he delivered a sacrifice fly to center and the Canes took a 5-4 lead into the bottom of the frame.
Walters rarely is called upon before the eighth inning but this was a must win situation and with one on and one out in the seventh he came on and struck out the next two batters.
In the eighth it was a 1-2-3 fly out, strikeout and fly out.
It was still 5-4 and Walt was back out for the 9th. A fly out was followed by a strikeout.
A single up the middle next was all Pitt was getting as Walt forced a soft infield pop up to secure the game, the series and any chances Miami has of possibly advancing to the College World Series in Omaha.
The Duke series opened Thursday night. Friday, May 19th, is a 7:00 pm game.
Saturday, May 20th is Fan Appreciation Day!
Tickets for Saturday's 1 pm game are $1.00. Only one dollar!
Admission Saturday - $1.00 - One Dollar!!
Bring your family, friends, acquaintances. 
It's only -$1- one dollar.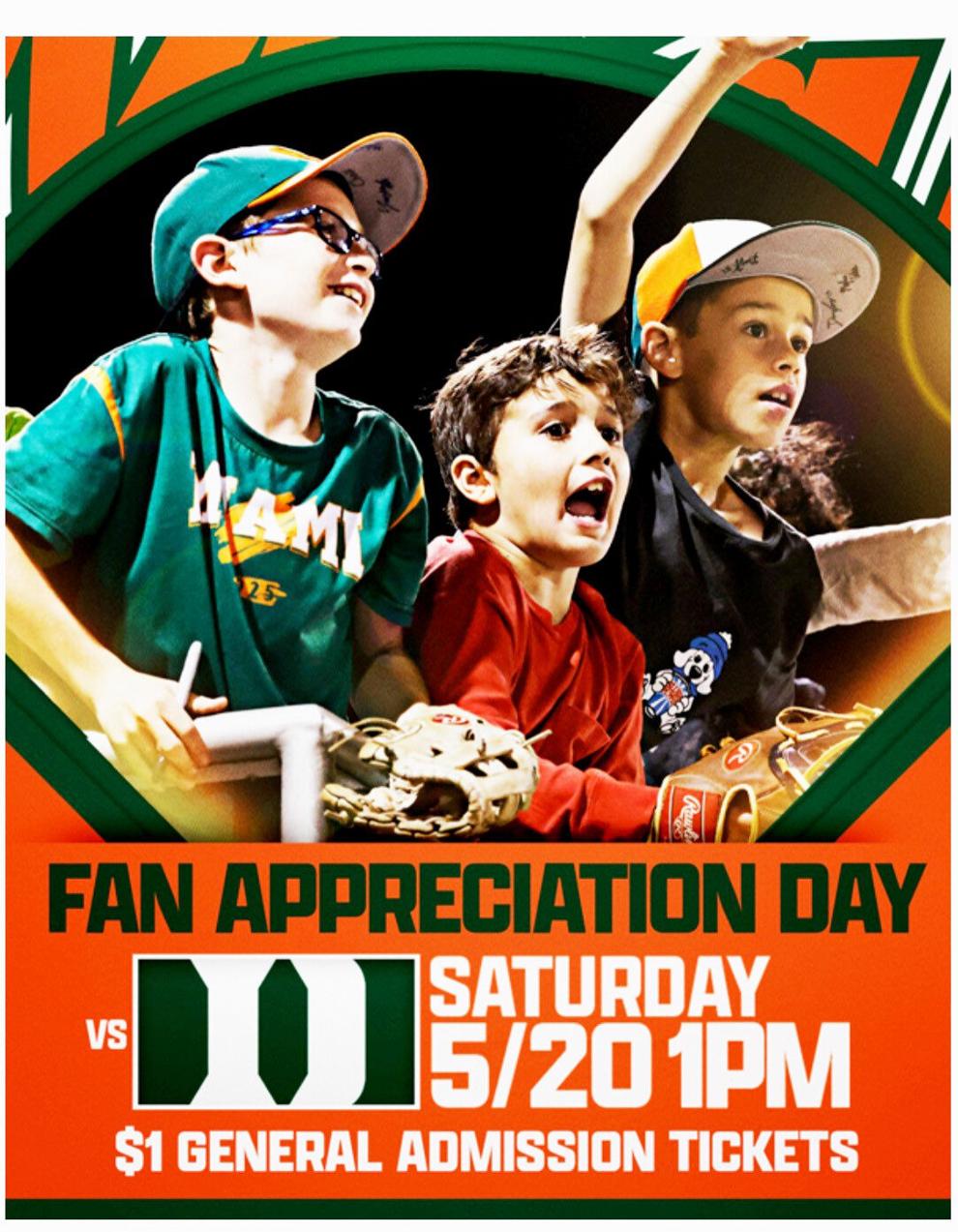 Be safe and be well all. Go Canes!