Women's Basketball-
Coach Katie Meier enters her 21st year as a head coach and 17that UM with high expectations for the upcoming season.
Anthony Fitzroy has been promoted to assistant head coach replacing Octavia Blue who left for the head coach position at Kennesaw State.Former Hurricane and WNBA star Shenise Johnson has moved up to assistant coach and Beth Dunkenberger brings her years of experience at Va Tech , Tulane , Wake Forest and UF to Coral Gables as an assistant coach.
Taylor Mason has graduated , Brianna Jackson (Old Dominion) , Jamir Huston (Tennessee St) and Sydnee Roby (Texas A&M) have transferred.
Canes Corner thanks those young women for their contributions and wishes them all well in their futures. The Lady Canes welcome four HS recruits and two transfers to the program.
French international Maeva Djaldi-Tabdi (Syracuse) and Spain native Lola Pendande (Utah) are our incoming transfers and bring both collegiate and international competition experience to the U. G Jasmyne Roberts (Jacksonville) , Toronto born and Tennessee Player of the Year.
PG Lashae Dwyer (Chattanooga), G Ja'Leah Williams (Broward Blanche Ely) and Spain's F Chiso Okafor are the incoming Freshman. Miami returns G Kenza Salgues, G/F Moulayna Sidi Baba,F Destiny Harden,G Mykea Gray,F/G Nyayongah Gony,G Kelsey Marshall, F Paula Fraile Ruiz, G Karla Erjavec, F Naomi Mbandu and G Endia Banks.
I'm a long time season ticket holder and highly recommend that readers come and watch a game. $5 tickets, giveaways galore and a great family atmosphere at the highest level of college basketball competition provide an opportunity for a great night out for all. Most games start at 6 or 7 PM and many are on weekends allowing parents to bring there children without upsetting their school schedules. Highly recommended!
Men's Basketball-
Head coach Jim Larranaga has added DJ Irving as an assistant coach replacing Adam Fisher who left for his alma mater Penn State. Coach
Irving will be a great addition having coached the USA under 15 team, AAU 'Team Final' that included former Canes Ja'Quan Newton , Davon Reed and Lonnie Walker IV as well as Roman Catholic HS in Philadelphia.
Associate head coach Chris Caputo and assistant coach Bill Courtney return.
Anthony Walker, Isaiah Wong, Harlond Beverly, Kam McGusty, Rodney Miller, Dang Gak and Sam Waardenburg are our seven returnees.
All Big East PG Charlie Moore has transferred from DePaul and will start allowing our wings to play their natural off ball spots as wings. Jordan Miller has left George Mason where he led the team in scoring and rebounding and joined the Canes. Miller will be an important part of our rotation. UM has added four star freshmen at point guard , Bensley Joseph (Connecticut-hard commit, not yet signed), Jakai Robinson a small forward from Maryland and shooting guard Nasine "Wooga" Poplar from Philadelphia. Assuming Bensley Joseph enrolls there is one open roster spot.
The #1 High School recruit is Jalen Duren who has announced five options for his immediate basketball future.
The NBL, The G League, Memphis, Kentucky and…..The U!
Aforementioned DJ Irving coached Duren both at Roman Catholic and at AAU Team Final. Fingers crossed on this one! Coach L has stated he will fill the roster with a big man by August. Miami will be participating in three preseason events. November 25-28 finds the Canes at the ESPN Wide World of Sports Complex in Kissimmee competing in the ESPN Events International Tournament with Alabama Belmont, Dayton, Drake,I ona, North Texas St and Kansas. On December 1 UM travels to Penn St in the ACC-Big 10 Challenge and on 12/12 at the Barkley's in Brooklyn Miami faces off against Fordham in the Hall of Fame Invitational. No other pre-conference games are scheduled as yet. We can expect 6-8 announced by October. In the ACC, we know the who but not the when. Home and away- FSU, Va Tech, Georgia Tech, Syracuse, Virginia and Wake Forest, Home only- Clemson, North Carolina, NC St and Notre Dame. Away only- Boston College, Duke, Louisville and Pittsburgh.
On another note Alums Davon Reed, Durand Scott, Kamari Murphy, Malcolm Grant, Rion Brown and Zach Johnson have recruited and entered a team, "Category 5" in the $1,000,00 winner take all "The Tournament."
Category 5 is in the Columbus bracket and opens play July 24 against 'Wolf Blood.' Check your television listings. The future looks bright for Canes Basketball. Canes Corner predicts a return to March Madness after this season.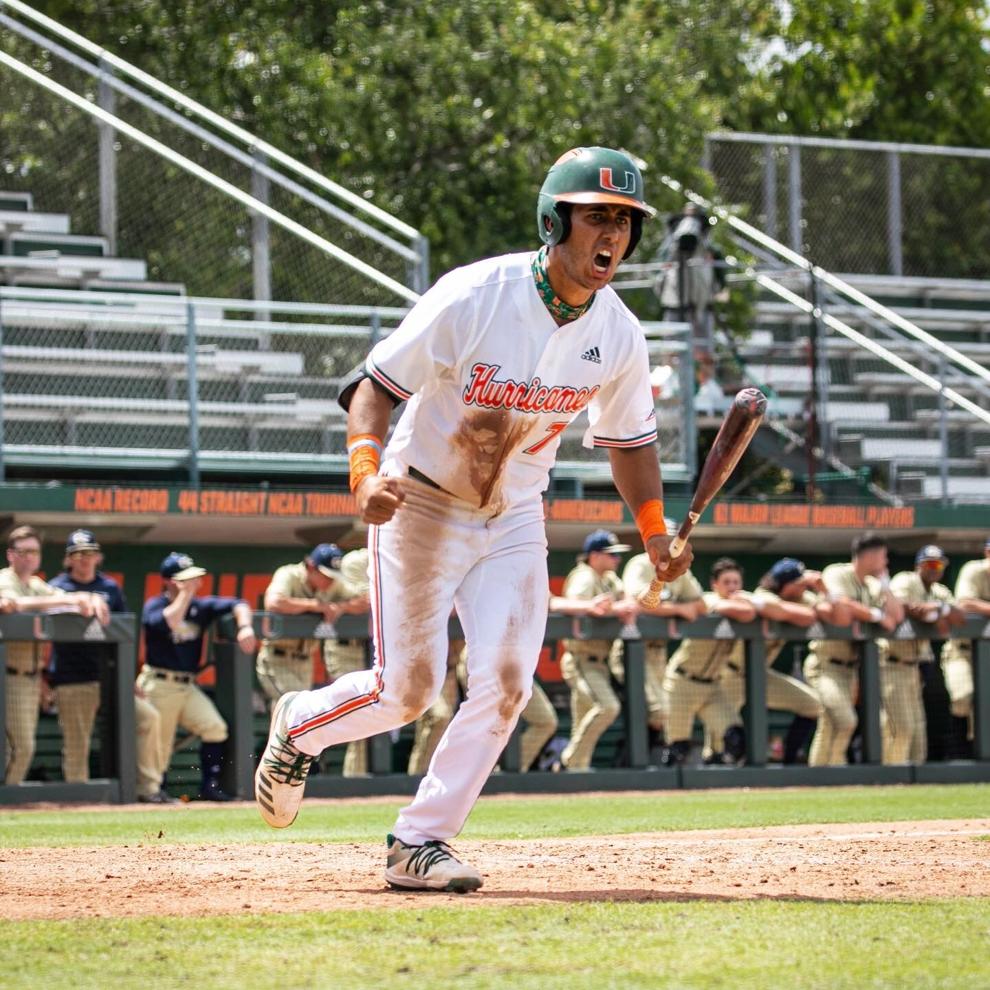 Baseball - The MLB Draft is complete. Three Canes were drafted. Catcher Adrian Del Castillo in round 2 pick #67 by the Arizona Diamondbacks. Pitcher Jake Smith was picked in the sixth round, #171 overall by the Los Angeles Angles. Anthony Vilar who started 131 games as an infielder at Miami was drafted as a catcher in round 15, #460 overall by the San Diego Padres.
Two HS Miami commits were also drafted and it's highly likely both will sign professional contracts. RHP Irving Carter was taken in the fifth round # 152 overall by the Toronto Blue Jays. RHP Gage Ziehl was selected in the eleventh round # 334 overall by the Chicago Cubs. RHP Victor Mederos has transferred to Oklahoma State.
Six others are in the transfer portal Jordan Lala, Chad Born, Jared Thomas, Luis Espinal, Adam Frank and Alex Munroe. UM has commits from 13 undrafted HS players.
Baseball America has Miami #7 and Perfect Game #13 in recruiting class rankings.
Carson Palmquist has been named either first or second team All-American on all five major collegiate baseball sites and is a member of the USA Collegiate National Team. Both Yohandy Morales and Alejandro Rosario have been named freshman All-Americans.
It was a disappointing ending to this past season. Hopefully the recruiting class brings some big bats. The Canes desperately need outfielders who hit and hit for power. I'm hoping last seasons regressions were COVID related and our player development takes a quantum leap forward and brings the program back to where Omaha is always a realistic goal.
That's all I got for now. I'll try to do monthly updates until Basketball season rolls around.
Be well all. Go Canes!