Holidaymakers have been told the best amusement parks to visit in America as millions flock to the theme park capital of the world this summer.
Holiday car rental experts at StressFreeCarRental.com have
analysed the top 20 US amusement parks and ranked them based on the key ingredients that make American theme park holidays so special.
With over 400 iconic amusement parks across America it can be tricky for the millions of tourists visiting every year to choose which ones to explore.
Now, holiday experts have revealed a new comprehensive ranking of the best amusement parks across the US, based on factors such as distance from the airport, ticket prices and the total number of attractions.
With over 18 million visitors annually, it comes as little surprise that the original is still the best with Disneyland, California topping the list.
Despite not having the highest number of attractions - that award goes to Hersheypark, Pennsylvania with 75 - Disney is unmatched when it comes to catering for everyone's needs, having by far and away the most food and drink options at 119.
Beating all the Universal parks and Florida based Disney reports in the ranking is Cedar Point, Ohio, which makes it to second place.
The self proclaimed 'Roller Coaster Capital of the World' ranks surprisingly high thanks to the sheer number of attractions, 72, and being the cheapest of all to visit at only $45 at peak time.
Like Hersheypark, Pennsylvania, which is the largest park on the list and boasts the most attractions, 75, Cedar Point has no hotels nearby suggesting that these parks primarily cater to American thrill seekers.
But canny tourists can enjoy these great value, highly rated theme parks if they want to explore off the beaten track and try out something new.
Florida dominates the top 20 index, with 8 amusement parks in the state making the list - including Busch Gardens Tampa Bay and SeaWorld Orlando which both receive over four million visitors annually, despite ticket prices being over $130.
The only theme park in Tennessee to make the list was Dollywood, ranking 10th, with the second most number of water rides, affordable ticket prices and plenty of food vendors.
Three Six Flags parks are also among the top 20 - ranking 9th, 11th and 19th - in Illinois, New Jersey and California - all with high numbers of attractions despite low Instagram hashtag numbers.
Despite featuring near the bottom of the list, adrenaline junkies should head to Six Flags Magic Mountain which boasts a massive 20 roller coasters, the most of any park on the list.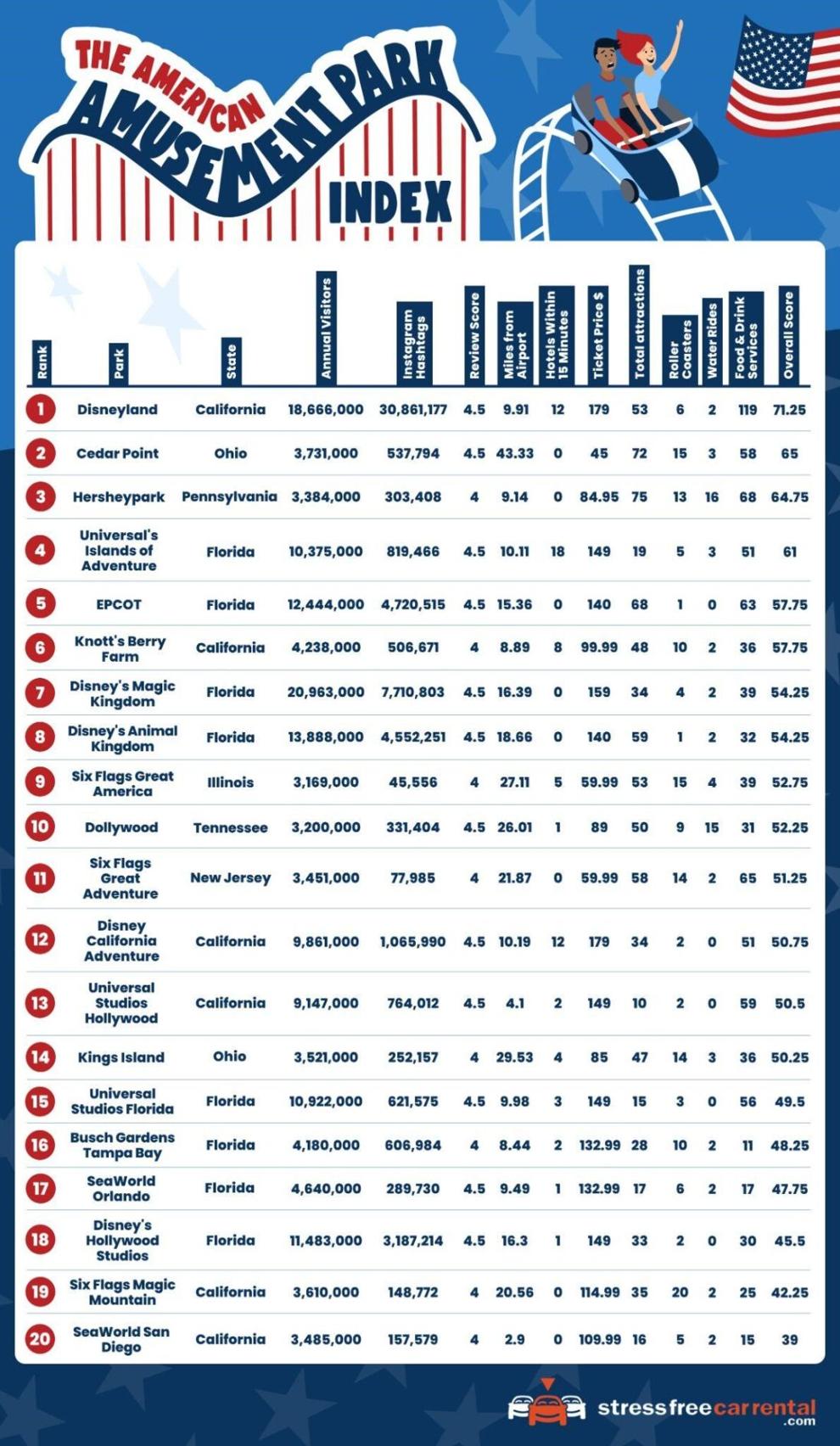 John Charnock, CEO, StressFreeCarRental.com said: "Millions of tourists flock to America every year to experience some of the best amusement parks on the planet.
"With so many parks to choose from we wanted to dig deeper into what makes each of these parks special so that tourists can make sure they get to visit the right parks for their needs.
"From families with small children to hardcore thrill seekers, America's amusement parks cater to a wide range of tastes. Our Amusement Park Index breaks down each element to show what each park has to offer.
"Focusing on categories that tourists care about, such as distance from the closest airport, number of nearby hotels and the price of a ticket at peak times gave us a comprehensive ranking of the best parks.
"It's no surprise to see Disneyland make the top of the list, but it may be surprising to some to see lesser known parks such as Cedar Point, Knott's Berry Farm and Dollywood make it into the top 10, beating many of the other internationally recognised Disney and Universal parks.
"Interestingly none of the amusement parks had a visitor review score of less than 4/5 confirming how many of us love having our hair blown back while riding on some of the many miles of rides America has to offer."
To see the full comprehensive list visit https://www.stressfreecarrental.
com/en/usa/top-american-amusement-parks-ranked