Sebastian Montoya proved why he is a young driver to keep an eye on for the future. 
The 14-year old son of racing legend Juan Pablo Montoya put his talents on full display at the AMR Homestead-Miami Motorplex, winning the 10th and final round of the 2019 Karting Challenge in the TaG Senior class taking his car from last to first. 
"It feels good especially because this was unexpected," Montoya said. "I wasn't supposed to race this class until an hour before race. The team just did an excellent job of putting everything together. I just had to do my part." 
Montoya was running third before a red flag was issued shortly before the midway point of the 15-lap race when Adam Yasin's kart was upside down following a collision. 
"I felt pretty good because I have been here a lot and I knew the speed we had here was really good," Montoya said. "Just before the red flag I thought I wasn't going to make it and then the red flag came out. I couldn't believe it and I was like, 'This can't go any better. I can do this.'" 
Montoya took advantage of the restart and passed the competition with Felipe Carvajal finishing second and Lucas Kohl third. 
"I got an OK start and everyone was just defending so I was able to get into P2 and push from there," Montoya said. 
The win capped a successful day for Montoya who also took third in the Shifter race while Alan Isamhard cruised to a win by a five-second margin. It was Isamhard's seventh win in his title-winning season. 
He first stepped foot in a kart when he was three years old, but took a break until he was seven. 
"I've loved this ever since I started karting," Montoya said. "At the beginning I didn't really like it because it was a bit too slow, but now just jumping up in classes I enjoy it every time a little bit more." 
Montoya is looking forward to the next step in his career. 
"Next year I'll be doing Formula 4 in Italy and then here in the U.S. I'll be doing Shifter," Montoya said. "I'm excited."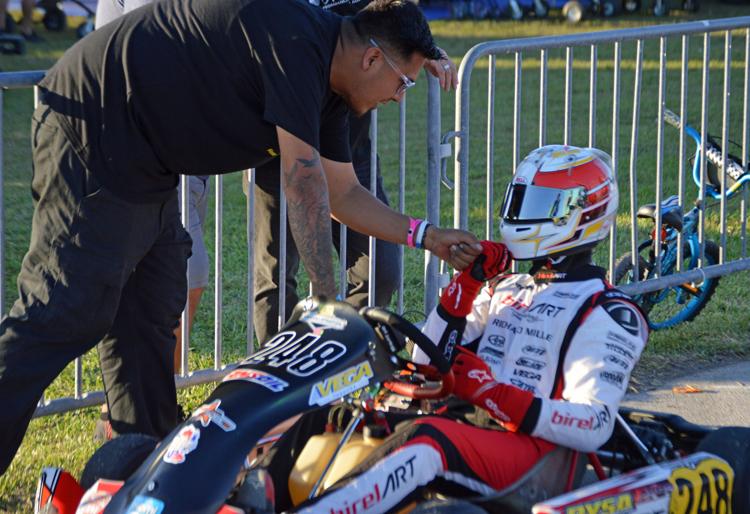 Frankie Barroso Secures Championship 
Frankie Barroso is new to karting, but looked like a veteran this season, winning the LO206 Senior championship with a third-place finish in Round 10. 
"Amazing," Barroso said. "This season wasn't really meant to be a championship-winning season. It was supposed to be a learning season. It wasn't supposed to be winning three races with six podiums and a championship. It was supposed to be trying to complete every race and learn. It's been surreal. I can't imagine what me now would say to Frankie 12 months ago saying, 'You're going to win the senior championship in 2019.' I would be in shock." 
The 16-year old who began racing less than two years ago had a hefty 135-point lead heading into the race and stayed close to the front throughout as pole sitter Jordan Perry won the race. 
"The race went really well," Barroso said. "The start was very good into second and then (Zack) Skolnick put it on the inside in (turn) five, but I knew once they (Perry and Skolnick) were hooked up it was very, very hard to catch them."
Barroso will be looking to carry over the success in the future.
"Moving forward it really sets the tone for what I can do as a driver," Barroso said. "Four weeks ago I started in the Miata program up in and it also gives me a lot of confidence with what I can do. I can battle guys that have been racing for 20 years. It shows me and everyone here that I'm not just someone that beats everyone and that's it. It has been a very good season." 
Breitenstein Wins Race, Title 
Dan Breitenstein made a late pass before the final turn to get by Marc Julien for the lead and held on for the win and LO206 Heavy tile. 
"It's good fun," Breitenstein said. "It's a relatively long race so where we set our karts up is we want to be fastest towards the middle and end of the race. My kart was starting to come in where this class is all about momentum and just getting a run on a guy, then completing the pass, and after that I was able to maintain a fair lead." 
Breitenstein trailed Aaron Parkinson, who finished sixth in the race, by 14 points for the championship lead. 
"This type of kart racing is a lot of fun," Breitenstein said. "It's pretty economical and there's a lot of competition out there."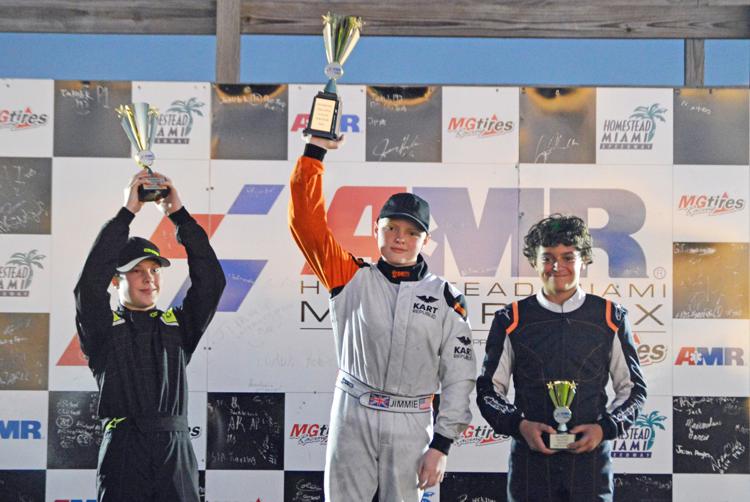 Youngsters Shine 
Jimmie Lockhart, 12, won two championships this season in the IAME KA100 Junior and IAME X30 Junior classes. Max Garcia, 10 took home the IAME Mini Swift title with his sixth win of the season. Anastasia Markovic, 8, won the IAME Micro Swift championship while New York native Marco Romero, 7, won the race.