There was another train wreck at Hard Rock Stadium last Saturday. This time it was the Florida State Seminoles (6-3,4-3) bringing the hammer and laying the wood on Miami (4-5, 2-3).
In front of a sellout crowd of 66,200 this one was over not long after the opening kickoff. Less than two minutes into the contest the visitors were up 7-0. FSU extended their leads to 14-3 after a quarter and 31-3 at the half. The final was 45-3 and it wasn't that close.
The Seminoles dominated both sides of the ball throughout and imposed their will all evening. Florida State gained 454 total yards and scored six TDs, three on the ground and three through the air.
UM totaled 188 yards of offense and never saw the end zone.
The Canes are at Georgia Tech and Clemson on Nov. 12 th and 19th and finish the regular season at home against Pittsburgh on Nov. 26th.
If they win 2 of 3 they will be (6-6, 4-4) and Bowl eligible. It's been a long , hard and disappointing season for the entire program and I hope they can get to a bowl. That might be a stepping stone to next season.
Miami has suffered serious injuries at every offensive and most defensive positions this season. Next years recruiting class is now rated #8 and they will all be Mario Cristobal recruits. I'll editorialize here and opine my faith in Coach Cristobal and in his ability to get the Miami program back on top. I hope Hurricane Nation has the patience to endure a couple of seasons until Cristobal has his recruits enrolled.
Basketball is back.
Both the Women's and Men's teams opened play at the Watsco Center on Monday, Nov. 7th. The LadyCanes were picked to finish sixth in the ACC Media poll. Five ACC teams were ranked in the AP top 13 so in that
company sixth is not shabby. Haley Cavinder is one of 20 Point Guards named to the Nancy Lieberman Award watch list. Haley was also chosen by the ACC Blue Ribbon Panel as one top five ACC newcomers. Haley and her twin sister Hanna are highly regarded transfers from Fresno State.
The Media chose the Men to finish fourth in the ACC.
Isaiah Wong was chosen as preseason First Team All-ACC. I was privileged to have one of the 101 ballots. I had Wong first team and Miami behind NC, UVa and Duke. Both Wong and Kansas State transfer Nigel Pack were among the 50 nominees to the Naismith Trophy as Player of the Year.
UM was one of only nine schools with multiple players. Wong was also nominated to the Jerry West Award that goes to the top Shooting Guard. Arkansas State transfer Norchad Omier has been nominated for the Karl Malone Award that goes to the year's top Power Forward.
Men's Coach Jim Larranaga and former Woman's player and current WNBA Champion with the Las Vegas Aces, Riquna "Bay Bay" Williams have been named Class of 2023 UM Sports Hall of Fame inductees. Now to the games!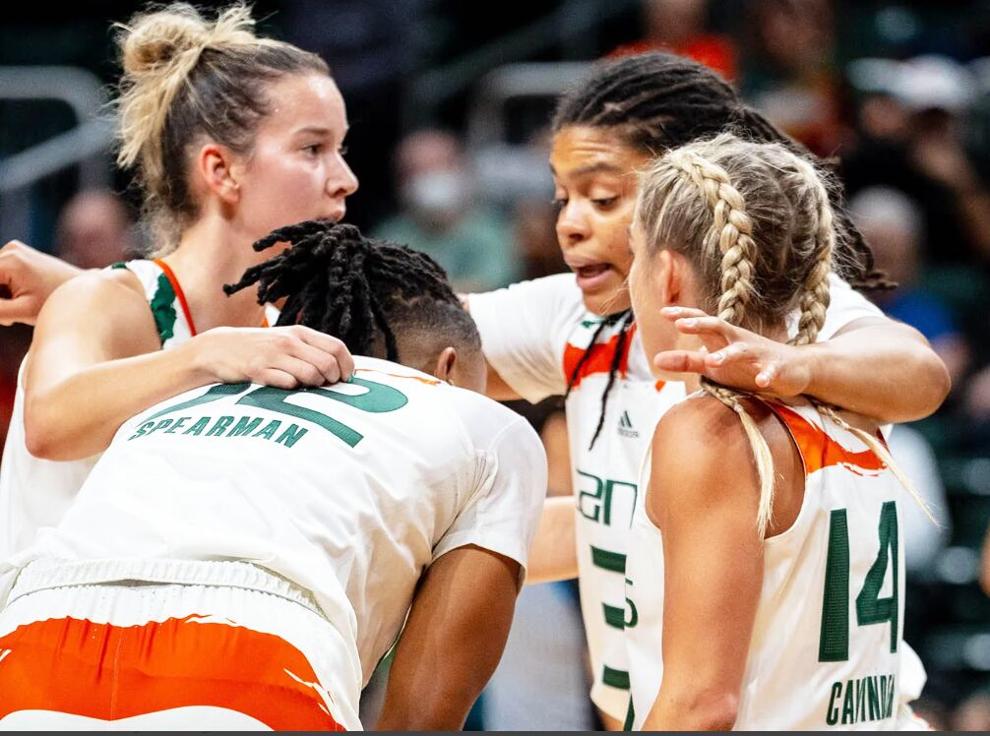 The LadyCanes faced the Maryland Eastern-Shore Hawks at 4:00 on Monday. There were some early jitters with the visitors going up four in the first frame (in Women's BB there are 4 ten minute quarters while the Men play 2 twenty minute halves), but that was the Hawks largest lead of the afternoon. Miami was up 3 after one, 19 at halftime, 34 after three and won 83-51.
The visitors were out rebounded 52-34. Their guards were skilled and played hard but they lacked the size to compete with the Canes. Sophmore Ja'Leah Williams led the scoring with 14 points. Ja'Leah added 5 rebound and 5 steals, 4 of which came on consecutive third quarter Hawk's possessions.
Grad student and heart and soul of the LadyCanes, Destiny Harden had a double-double with 13 and 10. Sophmore Jasmyne Roberts scored 12 and Canada native and University of Texas transfer Latasha Lattimore had 11 points and 5 rebounds in 10 minutes of play. Both Cavinder twins played very well with 9 and 8 respectively. Freshman Lazaria Spearman made her debut with 6 points and 4 rebounds. I'd like to be the first to say that 'Z' as she is known will end up as an all time UM great and very likely WNBA player. Senior Karla Erjavec started and did not score but the ball went through her on all offensive sets and she had a , +21 rating, while on the court that was second only to Ja'Leah's +27.
The Men didn't have it so easy in the 7:30 start nightcap. The Elite Eight Banner honoring last year's NCAA Tournament play was hung in the rafters in a pre game ceremony. The announced crowd was 4,789, including 1,505 students and it would be great if the supporters keep on coming.
The home crowd was a part of Miami's 67-54 win over the Lafayette Leopards. The game was as tight as 13 point wins get. The entire first half was played in an eight point window with neither team leading by more than four.
The Leopards were up 30-28 at the half but the Canes roared at the cats with a 10-0 run to take a 38-30 lead after 3:40 in the second frame.
Lafayette fought back and tied it at 43 with a little over eleven minutes left before Miami ran off 9 while holding them scoreless for over five minutes and took a 52-43 lead.
The visitors whittled the Miami lead down to four at 54-50 before the Canes went on a 8-0 run capped by a Nigel Pack three pointer that put the game away.
Wong and Pack each had 16 to lead Miami's scoring. Norchad Omier had a double-double in his debut. He had 11 points and his 15 rebounds were the most by a Hurricane since Dec. 12, 2020, almost two years ago. Jordan Miller had 9 and 7. Lafayette PG and native of Belfast, Ireland, CJ Fulton led all scorers with 17 including 5-7 from deep.
Miami used an eight man rotation in the first half that included Harlond Beverly who is just back from a 1 1/2 year back injury. Only seven Canes played the second half. This team needs depth. A fully healthy Beverly, contributions from Redshirt Freshman Jakai Robinson and highly talented true freshman like AJ Casey, Christian Watson, Danilo Jovanovich and Favour Aire are what's needed for this years team to succeed.
Next up are home games with UNC-Greensboro on Friday, Nov. 11 at 7:00 and Florida A&M at 7:00 on Tuesday, Nov. 15.
Be well all and Go Canes!