The University of Miami first fielded a Men's Basketball team in 1926. After 45 years without on court success and very little fan support the program was dropped in 1971.
In 1983, Sam Jankovich was hired as Miami's Athletic Director, and he resumed the program under head coach Bill Foster in 1985.
ESPN College Basketball Analyst Seth Greenberg was a young assistant coach at Virginia in 1984. Foster hired him as assistant coach and lead recruiter for the reborn Hurricanes.
New York native Greenberg knows basketball. He would later be a two time ACC Coach of the Year.
One of the other assistant coaches at Virginia with Greenberg was none other than UM's head coach Jim Larranaga.
Greenberg headed back to New York City to find some players and found a very special forward at Brooklyn's legendary Boys High. Eric Brown had offers from most big time schools in the northeast but Greenberg built a special relationship with Brown that lasts to this day and Brown enrolled at Miami.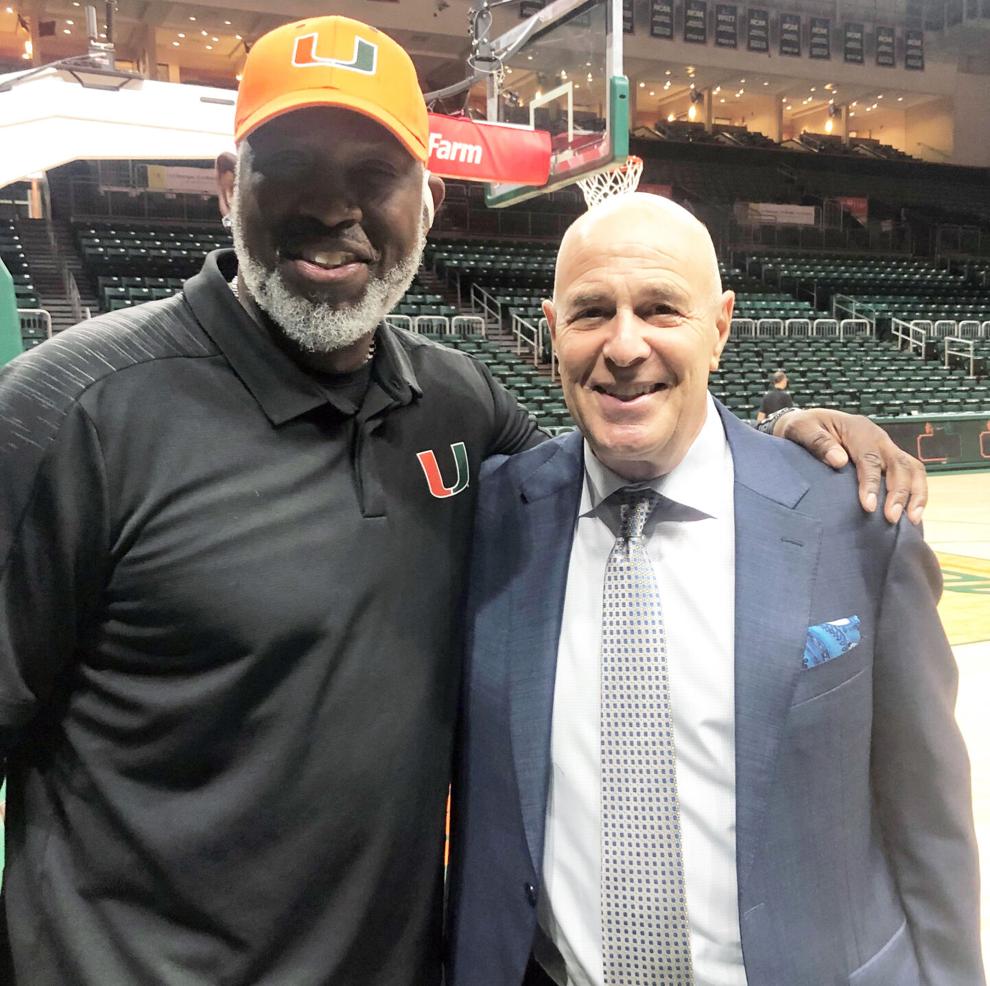 NBA Hall of Fame member Rick Barry is Miami's all time leading scorer with 2,298 points. Eric Brown is second with 2,270 and likely would have easily passed Barry into the top spot but Miami was an Independent with no conference affiliation and Brown never got to play in a conference, NIT or NCAA Tournament game.
Eric Brown is a UM Hall of Fame member and a neighbor of a good many of the News Leader readers.
After graduation from Miami, Brown played thirteen years of professional basketball overseas. When Eric returned in 2003 he moved to Homestead and entered the Miami-Dade Police Academy. He now serves and protects as part of the Cutler Bay Police.
Eric led the resurgence of the program to a very respectable 65-56 record in his tenure. It's amazing that a program built from scratch could accomplish that early success. He averaged 18.9 points and 7.1 rebounds in his career and 24.7 points in his senior year.
We all have Homestead's own Eric Brown to thank for paving a path to Miami Basketball's future successes including their first ever appearance in the Final Four this weekend.
I'll quote Eric's comments this week, … "Truly a proud moment in my life. It was like watching your children succeed from your seed being planted."
Eric's Mom Yvette put it this way, " Yes you did son. You were instrumental in the Rebirth of Miami Basketball. I remember they came all the way to Brooklyn to recruit you. You must be super proud of how far they have come."
Miami Basketball has come far along the path Eric Brown and other Miami recent players have paved. The program has blossomed recently under the leadership of Head Coach Jim Larranaga. Coach L has a 255-148 (.633) record at Miami. Sweet 16 trips in 2013 and 2015 were a start. Miami reached the Elite Eight last year and they will be in Houston two games away from a national championship this weekend.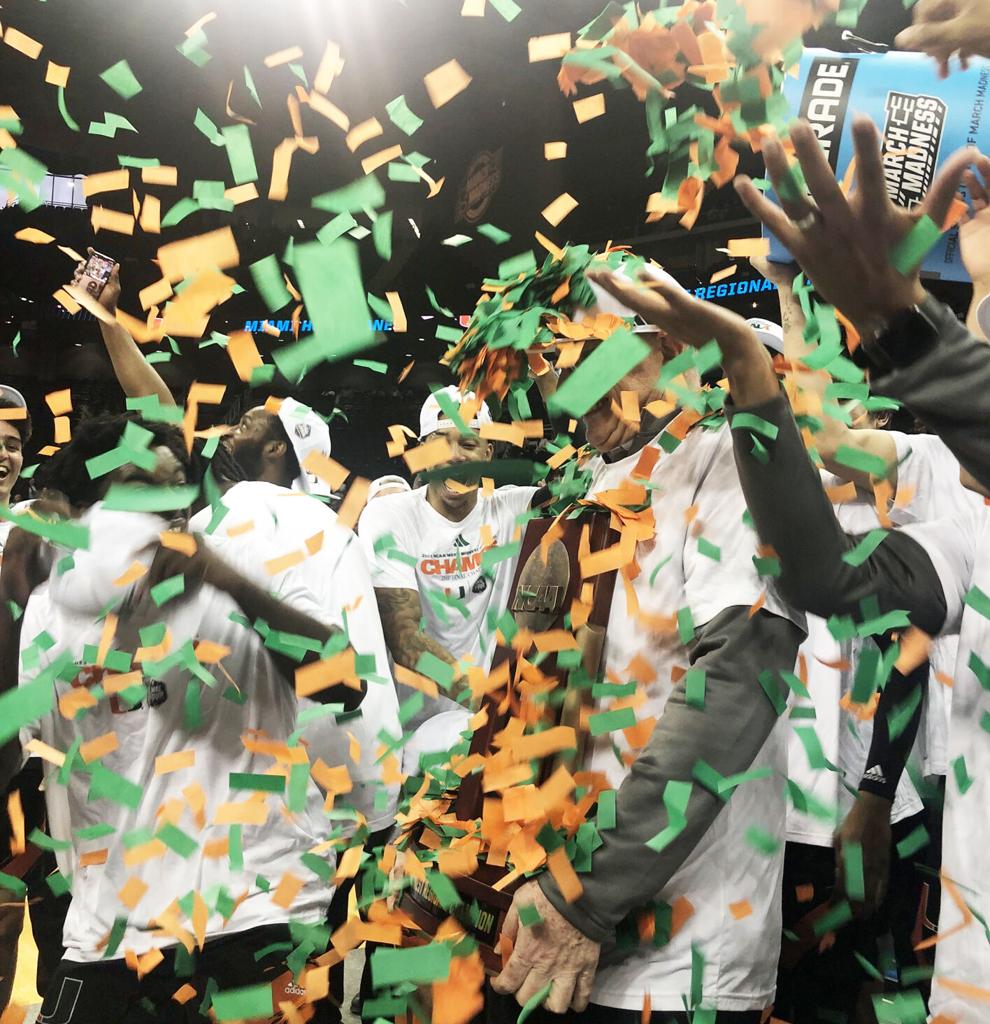 Last weekend, the Hurricanes faced the #1 Mid West region seed and nationally #1 ranked for most of the season Houston Cougars in their Sweet 16 matchup. The Cougars were a heavy favorite but the Canes never blinked.
In a game with seven lead changes and three ties Miami never let Houston take more than a two point advantage. Tied at 31 late in the first half, Miami went on a 16-5 spurt that spanned both halves and went up 47-36.
It's not for nothing that Houston was #1 and they fought back with a 13-2 run shrinking the Miami lead to 51-49 with 14:42 left. The Canes would not back down. In the next 2:10, Nijel Pack drilled 3 three pointers and Norchad Omier had a layup and was up 62-53.
The Canes weren't done. They continued the run with a Jordan Miller three, two free throws from Isaiah Wong and a Wooga Poplar three to take a 70-53 edge with 10:03.
The Cougars never got closer than within 10 the rest of the way. Houston is a very good team but Miami would not be denied. The Canes shot 31-60 (51.7%) and 11-25 (44%) from deep. When a team shoots like that and only commits six turnovers they are hard to beat.
The final was 89-75 and Miami was on to the Elite Eight for the second year in a row, the only two trips there in Miami's history.
All five starters were in double figures. Pack led with 26 including 7-10 from three point range.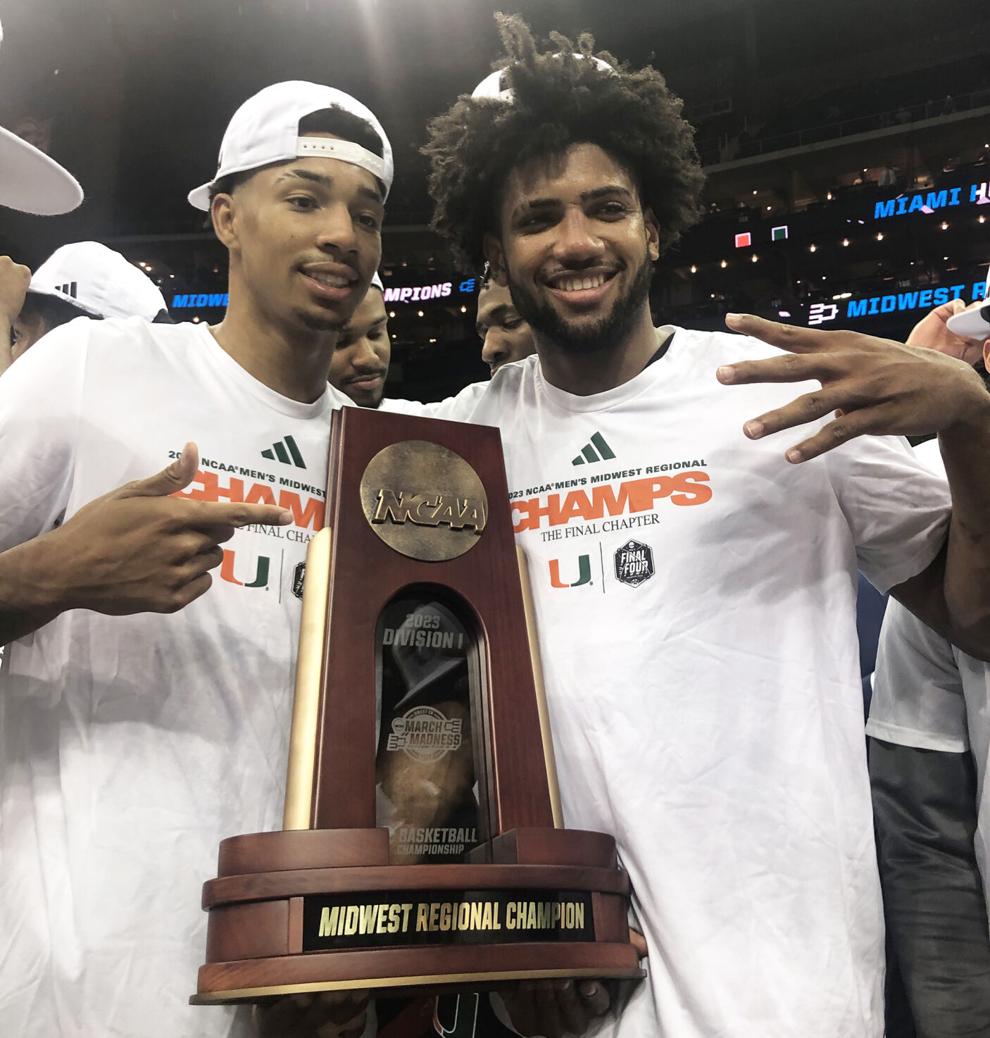 In the post game presser, Larranaga was asked to talk about Pack's performance, he responded, "Yeah , it was a joke. He was ridiculous. I don't know how far those shots are…The guy is a great shooter."
Wong had 20 with 6 rebounds and 3 assists. Miller 13/6/4 without a turnover. Omier had yet another double-double with 12/13/3. Poplar added 11 with 4 boards and was also turnover free.
Miller commented post game, "We just wanted it really bad. We came into this game as underdogs. We had a lead throughout the whole game. I wouldn't say a comfortable lead, but a lead, and we just didn't want to let up. I think we did a good job executing. I think we did a good job getting stops, rebounds. Really with the game plan the coaches came up with, I think we really executed it to a tee. I think that's why we were successful." Pack added, "My teammates, found me early and kept me going. They instilled. confidence in me from the jump ball. They kept feeding me and telling me to shoot the ball, and I shot it with a lot of confidence, and they were able to go in. It feels good to play in this arena today, but it was all for my teammates. If they weren't here helping me, I wouldn't have had the game I had today."
Next up in the Elite Eight ,Miami faced the #2 seed Texas Longhorns. Jim Larranaga was asked if there's a lesson to be learned from last year's experience in the Elite Eight. Coach L responded, " Yeah, don't get in foul trouble. Really, we were ahead by six at halftime against Kansas but we had several guys sitting on the bench in foul trouble, and that really made the difference. We could not sustain the effort.
Jordan Miller was asked about Texas's forwards, "The main theme has been every team in this tournament is a very complete team. Don't sleep on any opponent. Anyone can have a night like Nijel had yesterday, so you just got to make sure you're locked in and don't let your opponents get any easy buckets to get them going."
On to the game. Miami took an early 7-0 lead. Texas immediately responded and went up 11-9. Both teams were excellent in the first half. Miami was 16-25 (64%) on field goals and found themselves down 45-37 at the break as Texas was 7-13 from the three point line and shot 54.3% themselves.
Texas came out of the break red hot and hit four of the first five field goals to take a 53-41 lead. Texas went up 13 points, 62-49 with 14:24 after hitting their ninth three point shot.
The Canes were down 72-64 with 7:50 and went on a 9-0 run in 2:24 to take a 73-72 lead with 5:26.
Texas hit their 10th three and went up 75-73.
Miami came back with the next four and took a 77-75 lead with 3:57.
It was 79-79 with exactly 1:00 when Omier grabbed a rebound and was submarined by the Longhorns Brock Cunningham. After a review, the officials sent Omier to the foul line and Norchad made both for a 81-79 edge.
Texas turned it over, Wong was fouled and made both for 83-79. Cunningham missed a jumped, Miller rebounded and was fouled. Jordan made both and it was 85-79 with 0:24.
The Horns Tyrese Hunter came right down court and made a layup, and it was 85-81 with 19 seconds left.
After a Miami timeout, Miller was fouled and made both for 87-81. Cunningham missed, Omier rebounded and passed to Poplar who was fouled. Wooga made one and Miami had an 88-81 win and earned a trip to the Final Four on a path laid out 38 years ago by Bill Foster, Seth Greenberg and Homestead's Eric Brown.
All five Miami starters again finished in double figures.
For only the second time in NCAA history there was a "perfect game" played. A perfect NCAA game is said to be a game in which a player scores 25 or more points and makes 20 or more combined field goals and free throws without a miss.
Jordan Miller scored 27 going 7-7 from the floor and 13-13 from the charity stripe.
Jim Larranaga commented, " These guys are sensational players, each and every one of them. The game Jordan Miller had was ridiculous. That's pretty good to score 27 points on seven shots."
Poplar had 16/6/4. Pack scored 15.
Wong added 14 and Omier netted 11 and grabbed 9 boards.
Pack was named the Mid West Region Most Outstanding Player. Wong and Miller garnered All-Region honors.
Miller spoke for the team after the win when asked what tonight's victory meant after last year's loss to Kansas in the Elite Eight. "That loss sat with me for a really really long time.
I had to put it in the past because it was a new season, but like I said, having the opportunity to kind of right your wrongs almost and get past something that stumped you previously is a great feeling. I wouldn't say I put the team on my back. My teammates did a good job of getting me the ball, and everyone was in double figures. What I'm most proud of is the will, and the togetherness of this team. I don't think we've been down that much at halftime in a very long time. I can't remember. We just all bought into staying together, keeping that hope alive. And the way we just willed this one through, I think everyone played really well, and I think it really shows the poise of this squad."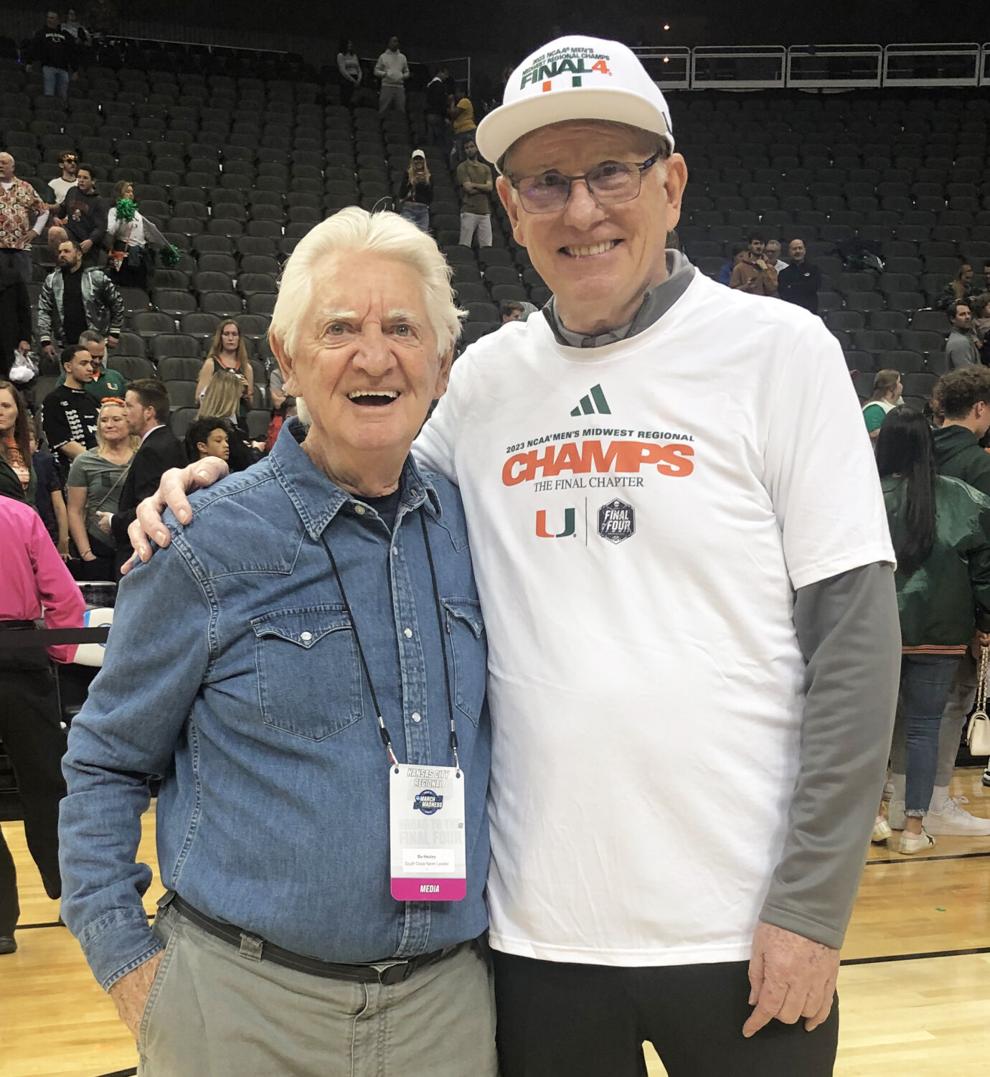 The Hurricanes team made history by being the first Miami squad to ever make the final four.
The quest for a national championship continues in Houston Saturday night at 8:49 on CBS. The Canes (29-7) play U Conn (29-8).
The other semi-final features Florida Atlantic University vs San Diego.
The winners face off for the national championship on Monday night.
Be well all and Go Canes!