It was a very good Thanksgiving week for the Canes on the gridiron. In the regular season finale Miami demolished Duke up in Durham on Brooks Field at Wallace Wade Stadium.
The final score was UM 47- Duke 10 and it was not even that close as Miami took their foot off the gas and played backups the entire fourth quarter.
Miami (7-5,4-3) has won five of their last six after a 2-4 start and now are holding their heads high as they await the December 5 announcement of their Bowl destination. The New Era Pinstripe Bowl at Yankee Stadium, Sun Bowl in El Paso, Holiday Bowl in San Diego are likely with Charlotte and Orlando other possibilities.
This team deserves to be rewarded for never giving up and staying together while making lemonade out of lemons after the tough start.
Tyler Van Dyke was again outstanding with his sixth straight 300+ yard game going 34-49 for 381 yds and 3 TDs leading the Canes to victory.
There were four all time UM receiving records broken at Duke. Senior Mike Harley breaking both Reggie Wayne's (1997-00) career record of 173 with 182. and the single game record of 13 breaking the previous record of 12 held by Willie Smith (1984), Phillip Dorsett (2012) and Charleston Rambo earlier this year against Michigan State.
Redshirt Junior Charleston Rambo also broke two all time records. Rambo's 79 receptions for the season broke Leonard Hankerson's (2010) 72 catches and his 1172 receiving yards bested Allen Hurns (2013) record of 1162.
The All-ACC Awards were announced Monday and eight Hurricanes were honored. WR Charleston Rambo, OG DJ Scaife and P Lou Hedley earned All-Second Team.
Honorable Mention Awards went to RB Jaylan Knighton, OT Zion Nelson, CB Tyrique Stevenson , S James Williams and K Andres Borregales.
Congratulations to all those young men.
- - - - - - - - -
It was not such a good week for Miami Basketball. The Men are now 4-3 and the Women 4-2 after disappointing Thanksgiving tournament play.
The Men played in the ESPN Events Invitational at the Wide World of Sports Complex in Orlando and went 1-2 for the week.
The Canes opened the tournament against eventual Tournament Champions Dayton and the Flyers press defense early on completely rattled Miami leading to a 36-25 halftime deficit.
Miami came out and scored the first six in the second half cutting the lead to five but then Dayton went on a 10-0 run and it was over.
The Flyers shot 58.7%from the field, 57.9% from 3point range and out rebounded Miami 29-24.
The Canes next faced North Texas. The Mean Green are defending USA Conference champs and defeated Purdue this past March in the NCAA Tourney. The Canes looked no better in the first half against North Texas than they did against Dayton going down 40-28 at the break.
UM went on a 24-8 run opening the second half and it was back and fourth from there. Tied at 59 with 3:00 to go Miami outscored N TX 10-4 the rest of the way for a 69-63 win.
All five UM starters played 30+ minutes in this tilt and contributed all the scoring. Zay Wong led with 21 points. Kam McGusty had 18 and 12 boards. Charlie Moore added 16, Sam Waardenburg 8 and Jordan Miller 6.  
The Canes faced Alabama on Sunday and it actually looked competitive for a half as Miami was only down three, 33-30.
Then it happened again. The Canes came apart on both ends of the floor giving up 63 second half points to Bama in the 96-64 loss.
The Tide led 42-23 in rebounds and 22-6 in assists. While Miami has only lost to very good teams this year they have looked very bad in those losses. This team must get better quickly or it could be a brutal ACC season starting Saturday 12/4 at noon against visiting Clemson.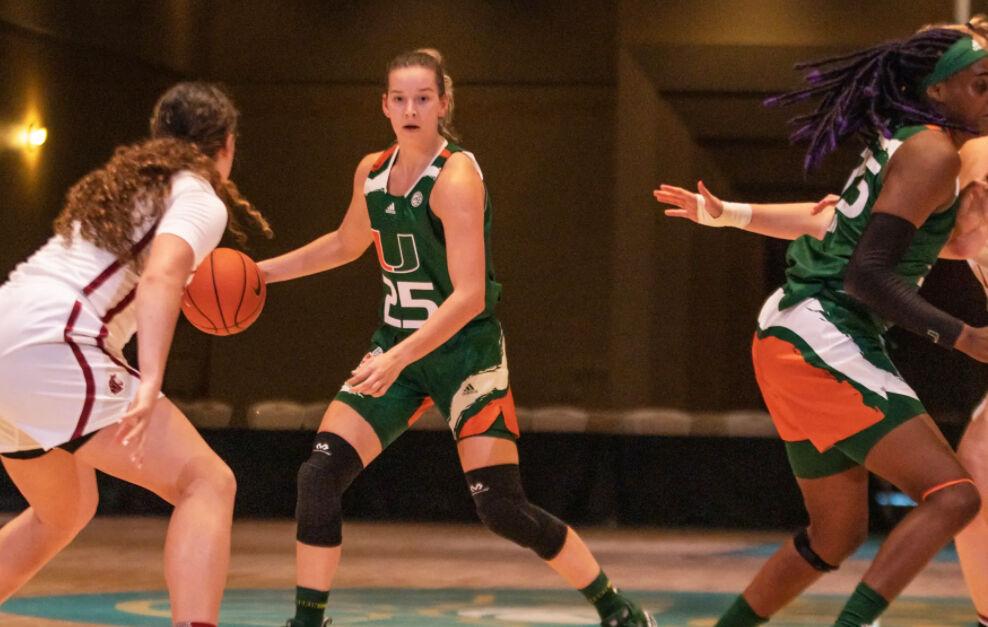 The Women were in Nassau, Bahamas at the Baha Mar Convention Center over Thanksgiving for games against Washington State and #4 Indiana.
Dreadful shooting by the Lady Canes, 29.6% from the floor and 20% from the three did Miami in against the Cougars.
The Lady Canes defense stood out in the first frame and it was 25-25 at halftime but continuous missed shots allowed Wash St to go ahead 50-33 after three and 62-47 at the buzzer.
One thing about the Lady Canes is they never give up and that was the case against the Lady Hoosiers. Down 15 with 5:33 left, Miami's defensive effort,which for the fourth straight game forced 20+ turnovers, pressured IU into repeated empty trips and with Kelsey Marshall's 11 straight points, Miami had a chance at the end, closing it to a one point deficit with 0:43 to play.
The Canes fouled Indiana's Mackenzie Holmes sending her to the line with 0:07 to go and Holmes made one for a two point lead.
Marshall had an open shot at the arc for the win but it would not go down and Indiana prevailed 53-51.
Miami held Indiana to 20 points less than their scoring average but were out rebounded 43-28 and that was the difference.
The Women look to have a much brighter upside than the Men having showed they can compete evenly with top programs. Next up is a trip to #8 Maryland in the ACC-BIG 10 Challenge on Thursday 12/2.