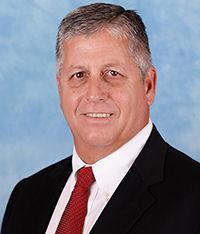 I've spent the last few weeks recalling some of my favorite memories and drivers from the 25 years of racing here at Homestead-Miami Speedway. While I naturally think back to opening weekend in 1995 or some of the older moments in our track's history, there are also a number of recent races that really stand out to me.
Perhaps the race that sticks out the most to me in the last couple of years is the 2017 Ford EcoBoost 400. That year, the Championship 4 were comprised of Kyle Busch, Kevin Harvick, Brad Keselowski and Martin Truex Jr.
Throughout much of the race, Busch and Truex battled back and forth for the lead. Truex eventually took the lead for good with 34 laps to go en route to winning his first career NASCAR Cup Series title.
The race itself was very enjoyable, but seeing the celebration afterwards was what really stood out to me. Truex had one of the most emotional moments after winning a championship that we have ever seen from a driver. That raw display really put into perspective for a lot of people just how special it is to a driver to win the Cup series title.
For Truex, capturing a championship was the culmination of both a long personal and professional journey to the apex of the racing world. From a personal standpoint, you probably remember the first person he embraced after winning was his longtime girlfriend, Sherry Pollex.
For years, Pollex battled cancer, and with the support of Truex, was able to undergo chemotherapy and overcome it. Through their experiences, Martin and Sherry decided to start a foundation to help others going through the same thing. Their mission is to raise awareness, boost advocacy, and generate financial support for underfunded cancer research initiatives specific to ovarian and childhood cancers.
It was incredible to see the two of them on stage after Truex's win. They have been through a lot together and to see them both supporting each other in that manner was really special.
On the track, Truex has also faced plenty of adversity throughout his career. He first came into the spotlight in 2004-05 when he won back-to-back NASCAR Xfinity Series titles while racing for Teresa Earnhardt and Dale Earnhardt Jr.'s Chance 2 Motorsports.
Those two championships put him on everyone's radar early in his career and many thought he was destined for a great career immediately. However, after struggling in his first four seasons in the Cup series as the driver of the No. 1 car, Truex was replaced by Jaime McMurray. 
Truex then moved on to Michael Waltrip Racing, where he continued struggling to find success. His fallout with the team was a difficult one when the team
restructured and scaled back from three full-time cars to two, meaning one driver would lose their ride after the 2014 season. That driver was Truex.
This eventually landed Truex with Furniture Row Racing, a single car team that would allow him to finally experience his long-awaited breakthrough. The first year at Furniture Row was tough as the team cracked only five top-10s, but in year number two they would turn a corner with a win at Pocono Raceway.
During that breakout season in 2015, Truex was a part of the Championship Four for the first time in his career, albeit as a heavy underdog. The next year Truex would win four races and a career-high eight races in his 2017
championship season.
After so many years of failing to compete for wins, Truex became one of the dominant drivers in such a short span with Furniture Row Racing. It was amazing to watch a talent like that shine through eventually after facing so much adversity over the years.
To see him finally reach the pinnacle of his NASCAR career right here in South Florida was even more special. In my time at the Speedway, I don't think that I've ever seen such an emotional celebration. It was really an incredible moment to be a part of and it's a memory I'll never forget.