Both the Men's and Women's teams were in action this week, ladies first.
On Sunday afternoon, the Lady Canes faced their rivals, the Florida State Seminoles. With a great team effort and a timely change of strategy, Miami delivered Coach Katie Meier a 68-53 victory for her 300th win at UM.
Miami came out firing from the three but could not make a thing. The first quarter ended with FSU leading 11-7. Canes had a decent second period cutting the Noles lead to two 24-22 at the half.
Coach Meier changed plans at halftime giving up on the 3 point shot (UM ended up 1-13 for the game on 3 point attempts), fired up the team and had Miami take the ball inside the entire second half.
The Lady Canes came out strong after the break making their first 8 shots, turning a two point halftime deficit into a 12 point lead with a 26-12 3rd quarter going up 48-36.
With a 20-17 4th quarter, UM kept up the strong play right to the final buzzer. The Lady Canes had an amazing season high 48 points in the paint in this ACC battle.
Naomi Mbandu led the Canes with 16 points on 7-11 shooting while adding 7 rebounds and 4 assists.Taylor Mason added 15 points , Endia Banks 12 and Kelsey Marshall had a strong line of 12 points, 3 rebounds and 4 assists. Destiny Harden owned the boards with strong defense and 12 rebounds. FSU was held to 21-58 shooting (36.2%) in the contest while UM went 28-56.
Congratulations to the entire team but especially to Coach Katie who with her 300 wins at The U now has 376 for her career with 76 at Charlotte.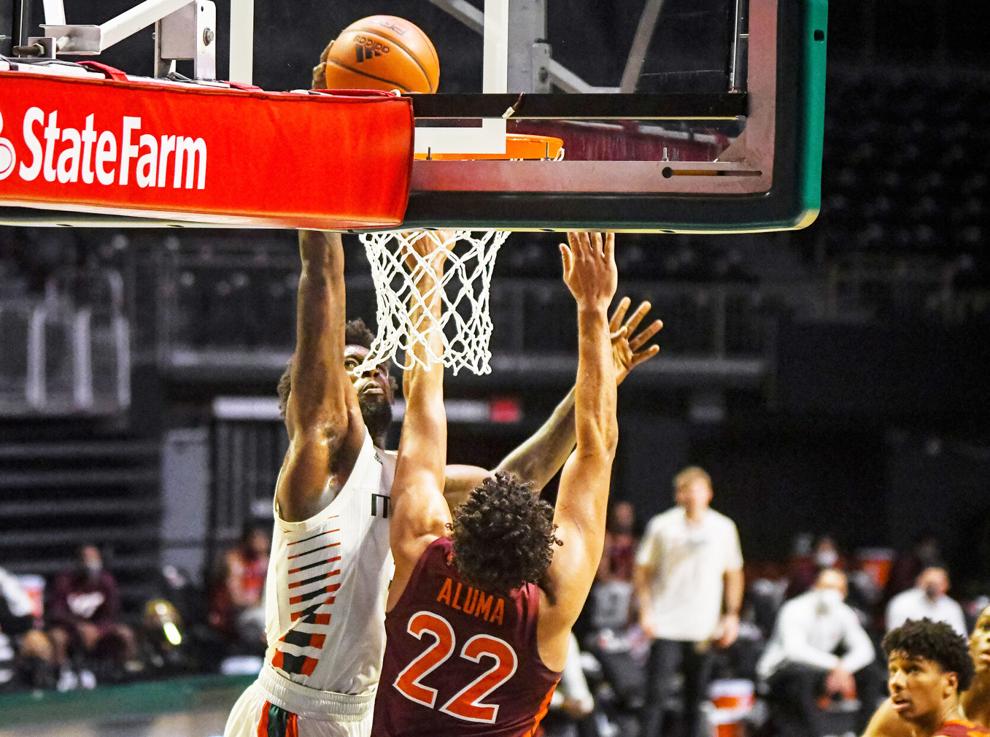 The Men faced Virginia Tech on Saturday again short handed with only seven scholarship players available.
At halftime, Va Tech was up 31-28. Kam McGusty had 11 for UM and Keve Aluma 11 for the Hokies at the break. After 30 minutes neither team had led by more than five. After a back and forth start to the second stanza, Va Tech went on a 9-0 run in 2:14 to go up 59-48 with 8:03 left. Canes responded with a 10-0 run in 1:28 cutting the deficit to one at 59-58 with 6:12 remaining. The game stayed close and Nysier Brooks slammed a dunk with 3:44, to go putting UM up 68-66.
Justyn Butts got loose for a dunk with 2:00 left tying game at 68. Zay Wong was fouled and made 2 of 2 putting Canes ahead 70-68 with 1:37 remaining.
Elijah Olaniyi made a steal and was fouled with 1:15 and made 1 of 2 extending lead to 71-68.
With 0:57.4 Aluma was fouled and made both free throws making it 71-70.
Wong missed a three with 0:26.2 then Mutts went to the hoop with0:11.9 to go and Olaniyi made what looked like a clean block but was
whistled for a foul.
Mutts made 1 of 2 tying the game at 71. Anthony Walker pulled down the rebound on the miss passed to McGusty then back to Wong who drained a three and Canes led 74-71 with 0:024.
Olaniyi knocked the inbound pass away and VaTech inbounded at half court with 0:02.1 left.
Somehow Hunter Cattoor was open for a three and made it at the buzzer sending game to OT at 74-74.
After the first 4:32 of overtime each team only scored two points, then Naheim Alleyene dropped a floater putting Hokies up 2 with 0:28 to go.
With 0:06.6 in OT Olaniyi drove to the hoop and was run over by Cattoor like a Mack Truck but an official saw it as an offensive foul and that was that.
Canes had to foul. Cattoor made both and Va Tech got to go home with the win. Heartbreaking undeserved loss for the Canes.
Olaniyi and Wong both had 19 , McGusty 18 and Brooks had a double-double with 10 points and 12 rebounds for the Canes.
Va Tech had five players in double figures. Mutts led with 22, Aluma 16, Cattoor 14, Joe Bamisile 11 and Alleyene with 10.
NEXT WEEK —- CANES BASEBALL PREVIEW