After the dramatic conclusion of the Hooters 250 Xfinity race Homestead-Miami Speedway quickly transitioned to host the Baptist Health 200. 36 Gander RV and Outdoors Truck Series drivers were commanded to "start your engines" by Homestead Hospital CEO Ken Spell. As trucks moved onto the track and began parade and pace laps Kyle Busch in the number 51 Toyota was required to drop from his starting position on the front row to the end of the field and to serve a pass through penalty due to inspection issues. As the Pole Sitter Austin Hill in the 16 approached the Green Flag, Busch was almost a full lap behind the field.
Hill led the way early, staying in front through both the restart after the Competition Caution and the Yellow for a wreck in Turn 4 involving 4 trucks. However, on the last lap of Stage 1 he was passed by the 44 of Ross
Chastain and the 99 of Ben Rhodes.
Nine laps into Stage 2 Kyle Busch, overcoming his penalties, took the lead for the first time.
He would go on to lead a total of 82 laps winning Stage 2 in the process. Rain threatened during most of the race and occasionally lightening could be seen in the distance, but neither ever became a problem.
The final Stage of the race saw the Yellow Flag wave 3 times. The first was for a spin in Turn 2. The second for a car in in the wall on Turn 4. During these Yellow Flag laps, Sheldon Creed in the 2 slammed into the sand and water barrels protecting the end of the pit wall. The barrels did their jobs, preventing serious damage to car and driver.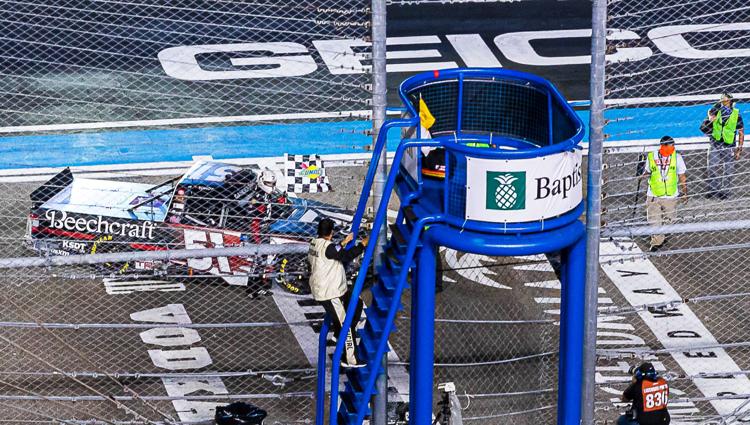 Cars on track were brought to a halt by the Red Flag to allow track personnel to clean up and replace damaged barrels. Cars were stopped for 16 minutes.
Fourteen laps later the final caution set the stage for the end of the race as the 3 car got into the wall in turn 2.
Many of top 10 cars had used all their new sets of tires at this point so they, to include Kyle Busch were forced to change to worn tires with some laps on them. His had been used for 6 laps. After an excellent restart Kyle was able to hold off Tyler Ankrum in the 26 and Ross Chastain in the 44, who finished in second and third. Busch's win was his 211th in NASCAR's top three series.
In a post-race interview Kyle Busch said, " You're always concerned about (other's) tires being better and having the opportunity to out-show you, but I felt like six laps was just the right amount, any more than that and it would probably have been a different outcome."