The UM Men (11-1, 2-0 ACC) rose from #25 to #22 in both major polls this week with a 91-76 win over Saint Francis (Pa) last Saturday.
The Canes had six players in double figures and were led by continued great play from Isaiah Wong, Norchad Omier and Jordan Miller.
An 11-1 record and their rankings are great but here at Canes Corner we believe the overall play especially on the defensive end must improve significantly for both success in conference play and a bid in the NCAA Tournament.
There has been a pattern to Miami's play this year. The Canes, especially early in games, seem to play down to the level of the competition.
Against St. Francis the score was 37-37 at halftime before UM went on a 9-0 run in the first couple of minutes in the second frame. There is only one reason a team like (3-9) St. Francis can play even with the Canes for 20 minutes and that's poor defense.
Miami had Cornell down 75-51and needed an Omier block of a last second shot to hold on to a 107-105 win. Wong has been amazing. He had a double-double with 22 points and 10 assists. He has 24 assists and only 4 turnovers over his last three games. Omier just missed a d-d with 14 and 9 boards.
Sophomores Wooga Poplar with 20 and Bensley Joseph with 14 both had career highs. Miller added 10 and 7.
All that is good but the #6 Virginia Cavaliers (8-1) came to town on Tuesday, Dec. 20 and Miami needs to be much better against the visitors to earn a win.
I was invited to practice Monday and the focus was defense, defense and more defense. Coach Larranaga has said the best thing about this year's group is how they have come together, on and off the court, and how they unselfishly share the ball in games.
His comments on the defense is that they must improve and continue to improve. The Cavaliers are known for their 'pack-line' defense that limits dribble penetration and forces opponents away from the basket. Miami will need to rotate the ball from side to side and create and make open shots to prevail.
Virginia is bigger than Miami and the Canes must step up and match their physicality.
The Hurricanes always have 'Thoughts and Focus of the Day' at practices. For Virginia the thoughts are, "Believe, Trust, Confidence," the focus "Convert, Pressure, Pack, Contest, Rebound."
The team was upbeat at practice and Nigel Pack participated and told me he was ready to go.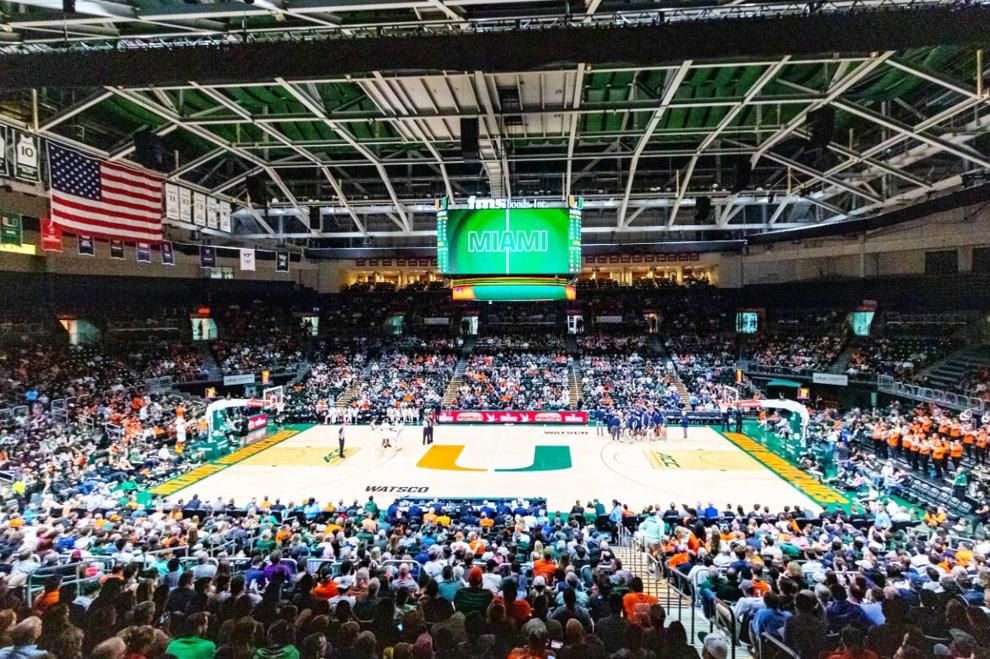 I witnessed a game that had only one tie and one lead change yet was a true nailbiter.
Virginia (8-2,1-1 ACC) opened the scoring and led 2-0 for 34 seconds before Miami (12-1, 3-0) tied it at 2-2 then went on to force six consecutive misses taking the lead by 10 after 5:30, a lead they never surrendered.
The Hurricane defense was outstanding throughout the opening half holding the Cavs to 34.5% on 10-29 shooting including 22.2% on 2-9 from deep.
The score was 36-26 at the break and the Canes kept the pedal down. Miami scored the first five points of the second half and took a 41-36 lead but Virginia is a great team and they went on a 16-2 spurt to get within one at 43-42 with 8:54 left.
Miami was like a boxer that got hit repeatedly, was bloodied but would not go down. The Canes fought back and extended their advantage to 61-51 with 1:56 remaining. Then came nail biting time.
Virginia scored the next eight and were within two, 61-59 with 0:23 left. Miller made two free throws to make it 63-59. A layup by the Cavs was followed by two Wong free throws at 0:14 and Miami was up 65-61. Wong was whistled for a foul in a three point attempt by Virginia's Kihei Clark with 0:05. Clark made all three and it was 65-64. Clark made eight free throws and a layup in the last 3:57. Pack was fouled with 0:04 and made 1of 2. The Cavs hurried the inbound but bobbled it and Miami had a 66-64 win.
The Hurricanes preparation, especially on defense, paid off against the Cavaliers. This was a hard fought contest and Miami was just a little better in a great win.
Wong led the way with 24 points, 6 rebounds and 5 assists. He is only the second high-major player in a decade to post four straight games with 20-plus points, 5-plus rebounds and 5-plus assists.
Omier added 10 and a team high 8 boards. Miller netted 11, Pack 10, Joseph 8 and Poplar 3.
Next up is Vermont at home on Dec. 28th at 8:00 pm, then road games at Notre Dame on Dec. 30th and at Georgia Tech on Jan. 4th.
The LadyCanes had the week off. They are at home against Notre Dame on Dec. 29th at 6:00 pm then play at Pittsburgh on New Years Day.
I'll be at Mario Cristobal's press conference at 4:00 pm on New Year's Eve when the class of 2023 Football early commitments are announced and I'll have a complete update on players coming and going in the Dec. 30th SDNL.
Be well all and Go Canes!