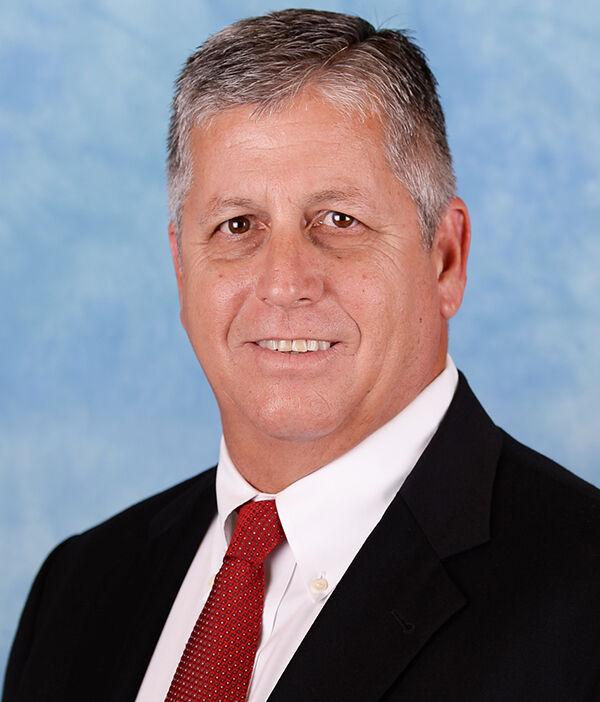 As most of you already know, I have been a proud member of Homestead-Miami Speedway from the time ground was broken in August 1993. While we were ushering in a new era of sorts with that historic event, the City of Homestead at that time was still recovering from the destruction caused by Hurricane Andrew one year earlier. As a result, there's not a whole lot that pleases me more than to witness the continued growth of Homestead, while at the same time see our beloved track honored. Such was the case last week.
With the renovation and expansion of Losner Park in downtown Homestead, a new home was needed for the Veterans Memorial Monument, which contains the names of local residents who served our country in the armed forces. That home will be the main entrance of our track, off 336th Street.
It was quite an honor when we were approached to see if we wanted to serve as the new site for such a key part of, not just our City's history, but one which means so much to the hundreds of families whose loved ones adorn those monuments. Moving it to our front doorstep will allow the physical structure and the memories to remain intact. It also keeps it in a place which attracts many visitors from all over the country and internationally as well.
This move also signals the continued growth and revitalization of this great City. A little more than two years after groundbreaking, I recall vividly the sight of those haulers parading through the streets of downtown, as residents and business owners lined the path to honor the seemingly endless stream of rigs, just as if they were their own. It meant so much to everyone that after being almost wiped off the map a little more than three years earlier. Now, not only were they back on it, but also a key party of it.
It's hard to believe that it's been more than 25 years since our grand opening during that NASCAR weekend in 1995, as Geoffrey Bodine won a Truck Series exhibition race, while Dale Jarrett took the checkered flag in the Jiffy Lube 300 Xfinity Series race. Jarrett would once again be a part of Homestead-Miami Speedway history four years later, when we hosted our first Cup Series race – the Pennzoil 400 on November 14, 1999. That year, it was the second-to-last race of the year. Although he didn't win, Jarrett finished fifth and secured enough points to clinch the only championship of his Hall of Fame career.
Since that time we went on to host an unprecedented string of 18 straight years of championship races. With that came some of the most memorable and iconic moments in NASCAR lore. Many drivers reflect fondly on Homestead-Miami Speedway as the site of the pinnacle of their careers, and for some the start of something special. For Jimmie Johnson, who claimed all seven of his championships here, it was both. His life changed with that first title in 2006, and in 2016 his seventh crown tied him with a pair of legends in Richard Petty and Dale Earnhardt Sr.
So many people have told me how once Homestead-Miami Speedway commenced operations, it started to give the City a different identity. Beginning in '95 and building through the years, the City took on the personality of the track. As the magnitude of races grew through the years, so too did Homestead. With all the different disciplines of racing that have come through here, we have had visitors from all over the globe. And with NASCAR's championship races here starting in 2002 and going through 2019, we annually attracted fans from all 50 states and more than a dozen countries. This blend began to be representative of the population of Homestead.
Today, we continue to see development of this wonderful City that my former boss and mentor, the late Ralph Sanchez, identified as the perfect place to construct his dream facility. Even on that opening NASCAR weekend in November 1995, he talks about how he had dreamt it so many times in the years leading up to the track's opening, that when it came to reality, it's like he had almost seen it before.
While Ralph Sanchez's dream came true a little more than 25 years ago, his entrepreneurial skills and fortitude allowed many more people to realize their dreams, both at Homestead-Miami Speedway and the City of Homestead. Whether it was the drivers across NASCAR, INDYCAR and other disciplines of racing who charted a course for success at our venue, the many residents who have proudly called Homestead home, or the numerous business owners who also have carved careers, you can say that this facility helped to revitalize the City of Homestead and allowed people to do things they might not have otherwise been able.
While racing and hosting other events is our business, we are a resident just like all of you. We are extremely proud of this fact, and now having the Veterans Memorial here is another reason to visit Homestead-Miami Speedway.
BACK TO BACK ON-TRACK EXPERIENCES: Tonight marks the first of two straight week of on-track activity for the public. Starting at 6 pm and running through midnight, we will host another Fast Lane Friday, with the same COVID-19 guidelines in place as we've had for the previous two since they returned. Next weekend, on Saturday, December 26, we will have another Give Back at the Track, where guests can take their street-legal vehicles for laps around our oval for a donation to our charitable outreach program, "Driving for a Cause," a donor-advised fund of the NASCAR Foundation. All the information on both events can be found at www.homesteadmiamispeedway.com. Thanks and we look forward to seeing you there!
UPCOMING HOMESTEAD-MIAMI SPEEDWAY EVENTS
December 18 - Fast Lane Friday
December 26 - Give Back at the Track
HOMESTEAD-MIAMI SPEEDWAY 2021 NASCAR WEEKEND
February 27- NASCAR Xfinity Series race
February 28- NASCAR Cup Series Dixie Vodka 400