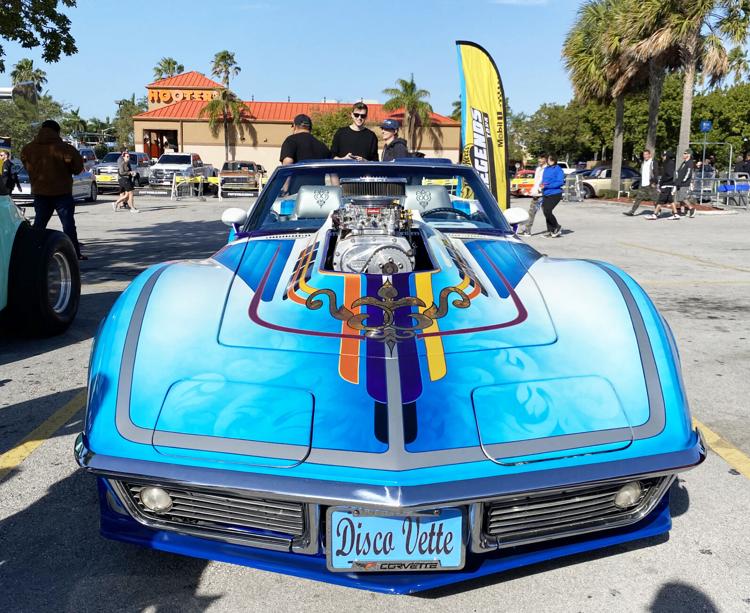 Last Saturday, Homestead was once again on the map for another car event; this time with Hot Wheels!
For Homestead residents Miguel and Michael Sanz, their father/son custom creation -- DiscoVette -- was part of Hot Wheels competition to become the next new Hot Wheels car.
While the event was streamed live at 12 p.m. EST from Jay Leno's world-famous garage in Burbank, CA via YouTube, their presentation was still local all the way around.
For example, after finding out that their portion of the program needed to be recorded, Michael Sanz said he then had to scramble to find someone to assist him with doing so.
Enter: Generation Old School, a local videographer, with their own YouTube channel.
"He helped me a lot to do the video," said Sanz, "because if not, it was going to be really hard."
Also, as joked about in the streamcast, the original concept for the DiscoVette really did come for his father.
"It was always my dad's, he wanted something with a lot of colors, something different," Sanz said.
Taking five years to build the 1969 Discovette, complete with 1,000 Horsepower under the hood, at what Sanz said was an incalculable cost, he first found out about the Hot Wheels competition last year, after being recommended to it by some friends.
In entering the contest, he was further shocked at the results.
"I filled out two cars of mine, and I got 4th place in the Miami show," said Sanz.
Determined to come back this year, Sanz successfully placed first in the March 7 car show, thus making him eligible to be one of the thirteen finalists in Saturday's international Hot Wheels contest, exciting him even more.
"It's a great experience, it's amazing," Sanz said.
"I never expected that, I never dreamt of that."
But even more thrilled, was the rest of the Sanz clan.
"My whole family was there," said Sanz. "My sisters, my mom, they were just there to see the cars and they were like you won!"
Especially his son -- who also helped in building the DiscoVette -- when he found out about the win.
"When he saw we had won, he was stoked, he was saying 'I get to tell my friends'!" said Sanz.
Sanz explained however that he almost didn't make it to the March contest, because DiscoVette's battery died on the way to it, and had to go to a Walmart to get a replacement, thus overcoming one last obstacle.
"It's like one of those things you know," said Sanz, "it was meant to be I guess."
These achievements may have been destiny, but he's been working towards this since he was 14 years old, with his dad by his side all along the way.
"He bought me a toolbox, and we bought two old mustangs for $1,000 each," Sanz said. "And then he goes: 'out of those two cars, we're going to build one; and that's how I started."
That first custom build took them five years to complete it, time that Sanz said was worth it.
"When the car was done it was a showstopper, it was amazing," said Sanz.
Fast forward to their latest car, which will have taken eight years, as they are now working on a classic car with modern trimmings.
"Older Camaro meets newer era, with newer engine, with newer drivetrain," Sanz said.
Additionally, Sanz offered words of advice for others looking to get into custom car building.
"Try to be creative, but keep it to a style you like," said Sanz. "Go with what you think is right, don't try to go after what everyone else is doing."
And while his next car contest will be in Daytona around Thanksgiving, Sanz is still cruising cheerfully in the Hot Wheels finalist line, thankful for this past weekend's fun.
"It was an amazing experience," Sanz said. "Thanks to Hot Wheels, they keep doing what they are doing: making kids and grown-ups' dreams come true!"
To watch the Hot Wheels event, to see if DiscoVette won, go to https://hotwheels.mattel.com/explore/en/legends-tour or Jay Leno's Garage on YouTube.