The Homestead Senior High School football team defeated Miramar 33-13 in a playoff game on Friday, Nov. 25th.
Joshua Townsend had three rushing touchdowns, one from 25 yards, one from 10 yards and one from 26 yards.
David Jester had a 75-yard kickoff return.
Devon Robinson returned a punt for a touchdown.
Javon Robinson ran a punt return back for a touchdown.
Now, the Broncos have qualified for the final four of the 3M division. They will play Jones High School, out of Orlando. The Bronco's will travel to Orlando to play Jones on Friday night, Dec. 2nd at 7:30 p.m.
Jones has an 11-2 record and defeated Edgewater 42-13 to advance in the playoffs.
If Homestead wins on Friday, they will play the winner of the St. Thomas Aquinas (Fort Lauderdale) versus Jesuit (Tampa) game for the state championship.
Homestead Athletic Director Curtis Brown is pleased with the team's victory and believes the team has played well.
"Our offense played well. Our defense was very solid and held Miramar to 13 points and that is really good," said Brown.
"Our next game is in Orlando against Jones. They have a really good football team. To win, we have to play together and limit our turnovers. We have to do what we have been doing all season and use the same recipe. If it's not broke, don't fix it," said Brown.
The Broncos players are exciting about the upcoming game. Many of the leading players on the team are receiving interest from Division One college programs.
The Broncos players are looking forward to the game. The players have a strong bond and they care for one another.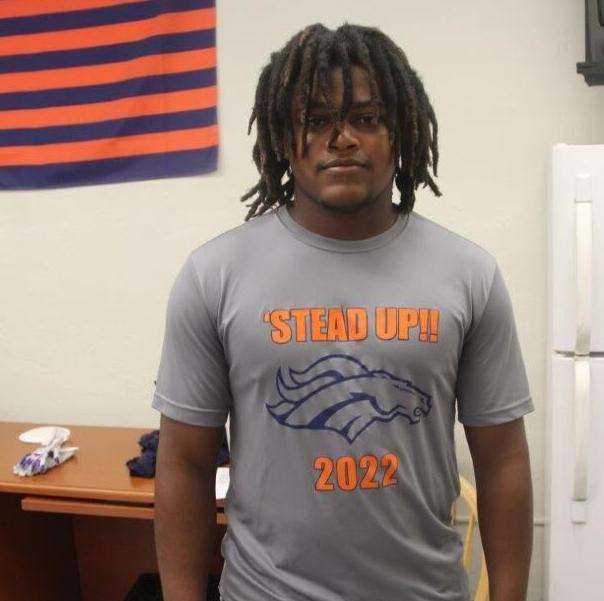 Quarterback Joshua Townsend believes the team can win the upcoming games. "It felt good to score those three touchdowns. It takes hard work to have a winning team. If we listen to our coaches and play hard we can win. We will have to play as a team and execute our plays well," he said.
Townsend is a junior and he has received some interest from Middle Tennessee State, Appalachian State and Tulane.
The Homestead team has come together very well this year. Sir Robertjeau, a defensive back said, "We can make history in the next game. It feels good to be in the state playoffs. We are a brotherhood," he said.
Robertjeau has received interest from Iowa State.
Jameel Carter who plays on the offensive line as a guard said, "We have a good team and we are working hard together. My goal is to protect the quarterback during games," he said.
Jaylen Saintil, a defensive end said, "It takes dedication and effort to do well in football. We have so much teamwork. We are also having fun playing football and winning."
Marcus Woodley, a linebacker said, "It takes hard work and dedication to win. We play together as a team."
Coach Philip Simpson believes the Broncos can win a state championship if they play Homestead style football.
"Jones has a good team and they have done well in North Florida. They have a lot of big players. We have a lot of speed and talent. We have a lot of depth on this team and we are playing well as a team. We have to be prepared for Jones. All the teams at this level are very good," he said.
If the Broncos defeat Jones, they face the winner of St. Thomas and Jesuit. Both teams have strong athletic traditions and St. Thomas has one of the best football programs in the nation.
Simpson believes the Broncos can beat St. Thomas. "We have a lot of depth on our team and we can compete with St.Thomas the entire game," he said.