On Tuesday, April 12, the Miami Hurricanes extended their winning streak to 14 games. The streak was both the longest active among D1 collegiate baseball teams and UM's longest since 2014.
The opponents were the Florida Atlantic Owls (21-13) and it took an escape act the late great Harry Houdini would be proud of to take down the visitors from Boca Raton.
The Canes were lackadaisical coming off their glorious sweep of No. 3 Virginia last week that vaulted them to No. 2 and Miami found themselves down 6-2 coming to bat in the bottom of the seventh.
DH Max Romero Jr. came to bat and singled through the right side plating Edgardo Villegas from second and CJ Kayfus from first when the Owls threw the ball away.
Relievers Ronaldo Gallo and JP Gates and pitched a scoreless eighth. In the bottom of the eighth Gabby Gutierrez and Villegas both drew walks. With two outs, YoYo Morales lifted a sky high fly ball to shallow right field that was misjudged by FAU's right-fielder and allowed Gutierrez to score, also extending the inning.
Next came a balk and a hit-by-pitch that loaded the bases, followed by a wild pitch allowing Villegas to come home, and it was a 6-6 game.
Two pitches later Jacob Burke dribbled an infield grounder to the left side and beat it out at first allowing Morales to score the go ahead run.
Andrew Walters struck out the side in the ninth for his 11th save. Gates (1-0) faced only one batter and was credited with the win.
Five runs scored by Miami in their last two at-bats on two ground ball hits, only one of which made it out of the infield. That's doing it with mirrors. Somewhere Houdini is smiling.
It was an elated Hurricane team with hopes and dreams of Omaha that headed to Blacksburg, Virginia's English Field for a three game series with the Virginia Tech Hoakies.
Famed pugilist Mike Tyson once said "everyone has a plan until they get punched in the mouth".
In the series opener on Thursday, and the series winner on Friday, the Canes were hit in the mouth and beaten like a rented mule.
The Canes were down 3-0 after one, 4-0 after two and 6-0 after three in Thursday's 12-5 loss. Carson Palmquist (6-2) took the loss on a rare off night.
Griffin Green (5-1) went six and earned the win.
On Friday, it was more of the same.
Miami was down 4-0 after one and 11-2 after five in the 13-2 loss.
Karson Ligon (4-2) suffered the loss and the Hoakies Drue Hackenberg (7-0) went eight for the win.
V Tech is an offensive juggernaut especially at the top of the lineup. Their leadoff man RF Nick Biddison was 8-13 with five runs, two RBI and a HR in the series. Number two hitter, CF Gavin Cross was 6-11, 6 R, 2 RBI and #3 hitter SS Tanner Schobel was 7-14, 7 R, 10 RBI and 3 HR against the Canes.
That was just the first three hitters in the lineup.
I think you readers get it!
Miami had not lost a game since March 20. The two losses led to the first ACC series loss of the season and were only the second consecutive losses of the year for Miami.
Saturday's series finale came and the Canes did not want to see any brooms up in coal country. Miami took the 'we were knocked down, not out' attitude with Alejandro Rosario on the hill for game three. For the third time this weekend and the sixth time in the last seven games UM found themselves down early, 1-0 after the first.
Miami came back with two in the third for a lead they never surrendered in an 8-5 win.
Romero had two hits and drove in both runs in the third. SS DominicPitelli hit a 3 RBI bases loaded double in the fifth. Morales had two hits, Kayfus added two including an insurance HR late and Burke also hit a late solo HR.
Rosario went 4 1/3 and gave up only the first inning run. He was in control forcing 7 ground outs in his stint. Alex McFarlane (3-1) went 1 2/3 and got the win. Walters pitched the last two hit less innings and struck out four earning his 12th save.
Miami is now 28-8 (14-4 ACC). Virginia Tech finished the weekend 23-9 (9-7 ACC). Miami's 14 conference wins are four more than Virginia, NC State, Wake Forest and FSU.
Louisville, Va Tech, Pitt and Georgia Tech are next with nine each.
Next up is Bethune-Cookman on April 19 before a weekend home series against the red hot Pittsburgh Panthers April 22 - 24.
Monday morning, April 18 polls. Perfect Game, UM #6 (were 2), Baseball America #5 (2), NCAA RPI #4 (5), D1 Baseball #5(2) and Collegiate Baseball #5 (2). The only poll that really matters is the NCAA announcements of regional hosts and National Seeds coming on May 31.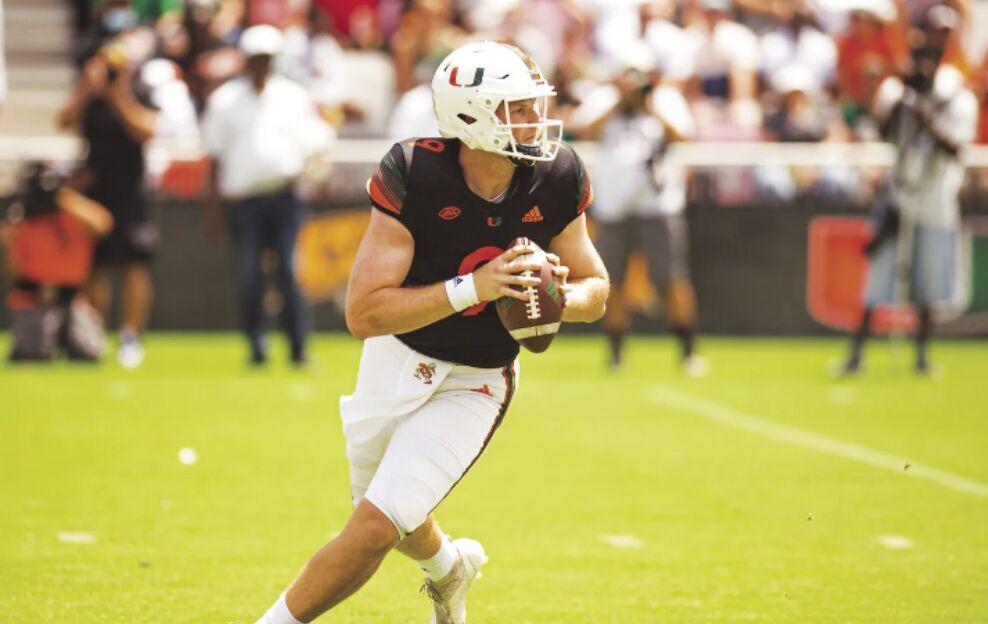 FOOTBALL UPDATE-
Spring practice sessions are over and the annual Spring Game was held last Saturday at DRV PNK Stadium in Ft. Lauderdale. About 10,000 supporters were on hand for their first look at Mario Cristobal Era Hurricane Football.
South Dade HS is well represented on this years team. DJ Ivey a CB,Keshawn Washington a Safety and Clemson transfer WR Frank Ladson Jr. will all play on a regular basis.
Homestead's Don Chaney Jr who played at Belen Jesuit will be in the rotation at RB. Key Largo is also represented with Coral Shores Robert Prosek at TE.
The Spring Game is an offense vs. defense affair. Scoring is normal for the offense while defensive scoring is some sort of cross between Gizmos and fantasy football.
The offense came out on top 31-27.
While the OL and DL go at each other hard every snap there is no real tackling in the game with the first priority, no injuries. All linemen wear extra padding over their helmets and in the open field a touch is a tackle.
Coaches don't want to give anything away in these games so we saw a mostly vanilla offense during the game and heard boilerplate coach speak afterwards.
All that said I've been very impressed by what Mario Cristobal has accomplished since he arrived on December 6.
When Coach Cristobal says we have made great strides but still have a long way to go and adds the team will be relentless in pursuit of winning, one can't help but feel he speaks from his heart. Personally, I've bought in completely and I'm a believer.
There were 16 players out injured Saturday that will play regularly this season. It's likely Miami will add five or more players from the transfer portal before fall practice including at least one starter on both the OL and DL.
This article is running long so here's a quick update. UM is very strong at QB, RB and TE.
Linebackers and Defensive Backfield are almost there. OL and DL are both strong in spots but each need one more top tier starter and depth. At WR a lot was lost last season to the NFL, transfers and graduation.
The talent is there and if production matches the ability this years WRs could help take this team a long way.
The next few weeks will be mostly Baseball coverage with Basketball and Football updates on important happenings.
Go Canes!