Miami (2-3,0-1 ACC) was dominated by Virginia (3-2,1-2 ACC) in the first half last Thursday night at Hard Rock Stadium. Virginia out gained Miami 245-94 yards on the way to a 16-7 halftime lead.
The Cavaliers took a 7-0 lead on a Wayne Taulapapa 1 yard run with 7:21 left if the first quarter and extended to 9-0 with 1:10 left when with the Canes backed up on their own one yard line Miami native and Gulliver Prep standout Mandy Alonzo broke through the UM line making an end zone tackle for a safety.
The second quarter remained scoreless until Cam'Ron Harris ran it in from one yard out bringing the Canes within two at 9-7 with 2:30 left in the half.
Virginia responded immediately driving down to the UM 25 with 0:50 left in the half and Mike Hollins ran it in from there for the nine point lead.
Miami blew many chances leading to that deficit. On Virginia's first scoring drive a sure pick six interception went right through a defenders hands. Missed tackles and sacks abounded and the UM offense never found a rhythm.
Virginia opened the second half scoring going up 19-7 with a Brendan Farrell 43 yard field goal with 11:54 to go in the third. Miami QB Tyler Van Dyke then drove the Canes downfield and capped the possession off with a 16 yard strike to Mike Harley in the back left corner of the end zone bringing Miami within five at 19-14 with 9:42 to go in the third.
With 5:50 left in the third, Virginia QB Brennan Armstrong lofted up a pass towards the Miami end zone.
Miami DB Marcus Clarke leapt up and got both hands on the ball, as he was tumbling backwards the ball came loose and bounced twice off the back of face down Virginia WR Dontayvion Wicks who rolled onto his side then plucked the ball out of the air for a 36 yard TD reception.
Virginia Head Coach Bronco Mendenhall described the play best,"Miraculous"!
Wayne Taulapapa ran in the two point conversion for a 27-14 lead.
The Canes bounced right back closing the score to 27-21 on a Cam'Ron Harris 57 yard burst up the middle closing the third quarter scoring.
Miami was looking like a different team entering the fourth quarter, energized, focused and believing they could win.
With 12:52 left Virginia scored their last points on a 30 yard Farrell FG. With 9:09 to go and UM now down 30-21 Van Dyke took it himself along the right sideline scoring from 25 out putting Miami within two at 30-28.
The crowd who were mostly booing early were now going crazy. Virginia took the kickoff but could only manage one first down and punted the ball back to the Canes who took over on their own nine with 5:29 left. A pass interference got it to the 24. An 8 yard completion to Brashard Smith and a 6 yard Jaylan Knighton run earned a first down at the 41.
A holding penalty pushed Miami back to 1st and 22 at the 26. Another 8 yard Smith reception made it 2nd then 3rd and 14 after an incompletion.
Van Dyke stepped up with a 16 yard toss to Charleston Rambo for a 1st down at the 50 with 3:46. Knighton then ran for 4 and 6 yards for a 1st at the Virginia 40 with 3:12. Knighton fumbled on first down, Van Dyke recovered, leaving 2nd and 13. Harris ran 7 yards leaving 3rd and 6. Harris ran for 22 yards to the Virginia 14,1st and 10 Miami with 1:37. Miami had come all the way back driving 75 yards on 15 plays putting themselves in position to come out of this one with a win.
It was not to be. Miami was content to run the clock down then kick a field goal with no time left for the win.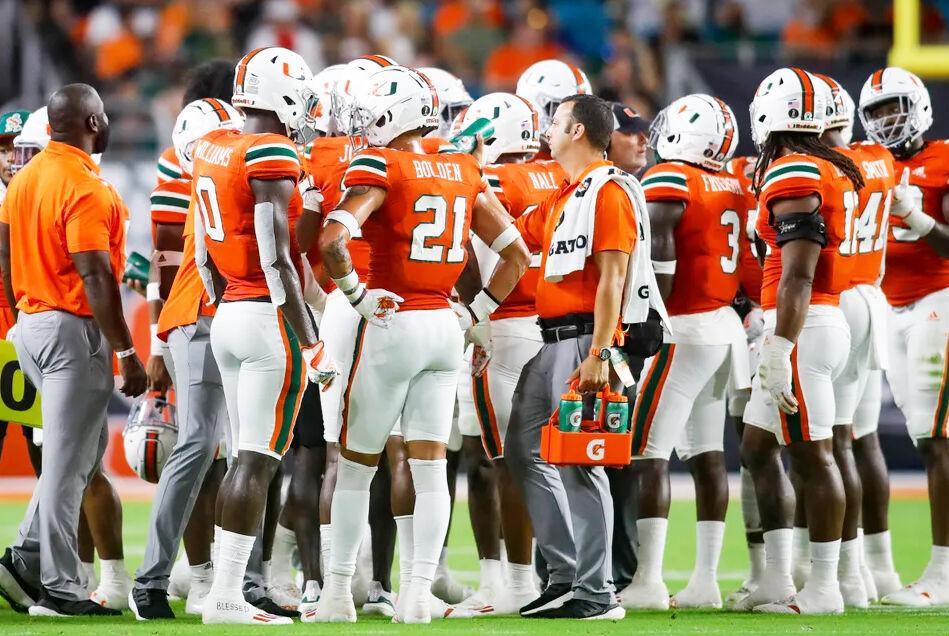 Freshman Andy Borregales who three weeks earlier hit the game winning field goal from 43 yards against Appalachian State hit tonight's try off the left goal post as time expired.
Virginia caught a break tonight with the Wicks TD. Miami did not and just couldn't make up for all the missed opportunities early in the game.
Positives for Miami, coming back and the contributions of the Freshman.
Negative, you just have to win at home against conference opponents.
Miami is off next week. Next up at North Carolina, October 16th.