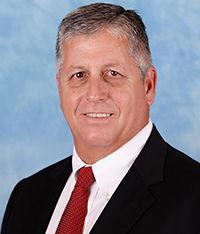 When Ralph Sanchez first envisioned Homestead-Miami Speedway, his idea was to build an epicenter for racing in South Florida and to help revitalize a community devastated by Hurricane Andrew.
As the host of Ford Championship Weekend for the past 18 years, I'd like to think that we accomplished Ralph's first goal to become a mainstay in the racing community. We're the only NASCAR track south of Daytona International Speedway and have become one of the most picturesque sporting venues in North America thanks to the vibrant weather and
tropical setting here in South Florida.
While I'm extremely proud to have been a part of the Speedway's growth as a racetrack, I'm even more grateful to have helped the track achieve Ralph's second goal – to revitalize the community. Over the years, Homestead-Miami Speedway has had a tremendous impact on the City of Homestead.
Although many people think of our yearly
economic impact when thinking about how we influence the community, we are actually able to branch into our local neighborhoods in a number of other ways. Whether it's through our various school programs such as Racing to Read and Write Track Poetry or through Fast Lane Friday, which was originally
created to help combat dangerous and illegal street racing, our impact in the community extends far beyond the tourism we bring in each year to South Florida.
In fact, with Give Back at the Track returning to the Speedway this Saturday, August 17, one of our biggest philanthropic events is right around the corner. Give Back at the Track is one of our most unique events that all of South Florida is invited to participate in.
During Give Back at the Track, attendees can drive their street legal cars around the same 1.5-mile oval where NASCAR legends such as Jimmie Johnson and Tony Stewart have won multiple Monster Energy NASCAR Cup Series championships.
If you've never driven around a racetrack, I must tell you it is a really enjoyable and distinct experience. When you're down on the track, take note of the things that are different than maneuvering through the street.
For starters, unlike the highway, you won't see any lanes going around the track so participants will have the entire 55 feet of width on the track to use while navigating the oval. In addition to the lanes, participants will experience the Speedway's iconic 18-20 degree variable banking.
When watching on television, it might be hard to notice just how steep of angle the turns are at a NASCAR track. Once you're at the track, 
it's one of the first things that stands out even when spectating from the grandstands. As you go around the corners, you'll also feel another effect of the banking – g-force, which is sure to feel unlike any other experience you've had driving before.
As cool as it may be to run your car around a NASCAR track at high speeds, the thing that really makes Give Back at the Track special is that it's all for charity. The cost to participate is $25 for three laps and $10 for every additional lap after that. All of the proceeds from Give Back at the Track will benefit Homestead-Miami Speedway's arm, Driving for a Cause. Driving for a Cause supports charitable programs and initiatives in South Florida that focus on education and youth development.
In addition to benefiting Driving for a Cause, one of South Florida's local food banks, Farm Share, will be joining us once again this year to accept donations. Those who participate in Give Back at the Track are encouraged to bring nonperishable food items that Farm Share will later distribute to those in need. Last year, attendees did an outstanding job at contributing to Farm Share, donating more than 700 pounds of food.
Give Back at the Track has become a yearly staple of the track. Over the years it has had such a positive impact on the community that we are again hosting two dates just like we did in 2018. I hope all of you are able to join us for this great day of charity and community fun.
If you are unable to attend this Saturday, I encourage you to come out and support the community on Saturday, September 21 when Give Back to the Track returns to Homestead-Miami Speedway once again.
NASCAR ACTION THIS WEEKEND
Saturday, August 17 at 7:30 PM (ET)
Monster Energy NASCAR Cup Series Bass Pro Shops NRA Night Race at Bristol Motor Speedway
Tune In: NBCSN and SiriusXM NASCAR Radio Channel 90
Friday, August 16 at 7:30 PM (ET)
NASCAR Xfinity Series Food City 300 at Bristol Motor Speedway
Tune In: NBCSN and SiriusXM NASCAR Radio Channel 90
Thursday, August 15 at 8:30 PM (ET)
*NASCAR Gander Outdoors Truck Series UNOH 200 presented by Ohio Logistics at Bristol Motor Speedway
Tune In: FS1 and SiriusXM NASCAR Radio Channel 90
*First of seven NGOTS playoff races
UPCOMING EVENTS AT HOMESTEAD-MIAMI SPEEDWAY
Aug. 10-11
National Auto Sport Association
Aug. 16
Fast Lane Friday
Aug. 17
Give Back at the Track
Aug. 18
Florida Trackdays
Aug. 24-25
Formula & Automobile Racing Association (FARA)
2019 HOMESTEAD-MIAMI SPEEDWAY NASCAR DATES
Nov. 15
Ford EcoBoost 200 NASCAR Gander Outdoors Truck Series Championship Race
Nov. 16
Ford EcoBoost 300 NASCAR Xfinity Series Championship Race
Nov. 17
Ford EcoBoost 400 Monster Energy NASCAR Series Championship Race
2020 HOMESTEAD-MIAMI SPEEDWAY NASCAR DATES
Mar. 20
NASCAR Gander Outdoors Truck Series Race
Mar. 21
NASCAR Xfinity Series Race
Mar. 22
NASCAR Cup Series Race