The early signing period for the Class of 2023 High School football players opened on Wednesday, Dec.1st.
I was at Mario Cristobal's press conference at 4 PM that afternoon and can say I've never seen him so jovial.
The premier ranking service for high school football players is '247Sports.' Miami finished the day ranked #4 nationally behind only Alabama, Georgia and Texas.
Regular readers of Canes Corner have repeatedly read a few things here.
One, for Miami to reach their goal of being in the national championship picture they will need the HS classes of '23,'24 and '25 enrolled and on the field.
Two, teams that compete for championships are those that have recruited the highest ranked HS players.
Three, Mario Cristobal is the Head Coach that Miami needs to lead them to the top.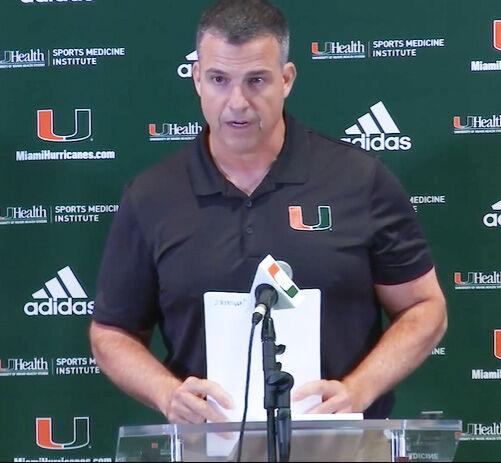 There are 131 teams competing in Division 1 football. All 131 are allowed 85 full scholarships and 35 non-football scholarship walk-ons.
The top level of collegiate football is divided into two subdivisions, the 'Power 5' which includes 66 teams and the 65 teams in the 'Group of Five.'
The Power 5 includes the teams of the ACC, BIG 10, BIG 12, PAC 12 and SEC plus Notre Dame.
The Group of 5 includes the AAC, Conf USA, Mid-Am, Mountain West and Sun Belt plus independents Army, U Conn and UMass.
The vast majority of the highest ranked HS players attend Power 5 schools. Only Power 5 schools have won national championships.
Division One football is a multi-billion dollar business annually. The ranking of HS players and all it entails is a multi-million dollar business.
247Sports, ESPN and Rivals are the premiere ranking services. These days, 247Sports is clearly the industry's most trusted and reliable service. In 247's system of star rankings, the service attempts to mirror the NFL. The NFL has 32 teams and each has a first round pick. 247 tries to project what players will be NFL first round draft picks and only 35 players received that grade this year.
4 star players are those that are projected to be drafted by NFL teams after college. All players are given numerical rankings. 1.0 is highest theoretical possible ranking.
This year Arch Manning rated 0.9999,he has signed with Texas.
The second highest ranking was 0.9974 for UM commit Cormani McClain, a CB from Lakeland, Fl. McClain did not sign his Letter of Intent during the early signing period but is expected to sign in the regular period in February.
Miami's class includes three 5 Star recruits, McClain, and the #1 and #3 ranked offensive tackles in the class.
Francis Mauigoa, of IMG Academy in Bradenton, is #1 and Samson Okunlola of Massachusetts, the #3 OT nationally.
Miami signed fourteen 4 Star recruits and eight 3 Star recruits. Seven of the eight 3 Star recruits signed have rankings with 'NFL Upside'.
The Hurricanes have added four transfers in the portal, all are expected to start or be major contributors.
OL Javion Cohen, who started 24 games for Alabama over the last two years is now a Cane. LB Francisco Mauigoa, brother of 5 Star Francis, has transferred from Washington State. CB Davonte Brown comes from UCF. Davonte is the brother of 4 Star CB Damari Brown of American Heritage (FtL). Thomas Gore, a DL from Georgia State is the fourth incoming transfer.
Cristobal stated he is looking to continue to add from the portal, specifically two interior DLs and two WRs that line up on the boundaries. Six interior DLs are gone to transfers or graduation.
Only four DTs return. Gore and 3 Star recruit Joshua Horton have been added but depth is needed.
Both incoming WRs are 4 Star but Nathaniel Joseph (Edison) and Robby Washington (Palmetto) are most comfortable in the slot where Miami's best receiver, Xavier Restepo will start. In the third and final brother story of the day, Robby is the twin brother of 4 Star LB Bobby Washington also from Palmetto.
Eighteen of last years scholarship players have entered the transfer portal, another fourteen will graduate, have declared for the NFL draft or will likely leave the team for various reasons.
The importance of recruiting in college football cannot be overstated. The teams with the most 5 Star and 4 Star recruits are the teams that win Power 5 Conference and National Championships.
Alabama has added seven 5 Star players and twenty with 4 Stars in this cycle. That's 27 players likely to be drafted, five first rounders from one recruiting class.
What Miami has accomplished is the continued building of a foundation. There's a chance Miami will compete for a conference championship next year but this team is still in a rebuilding and reshaping mode.
The ACC has eliminated the Atlantic and Coastal Divisions. Now the two teams with highest winning percentage in conference games will meet in the championship game.
It's hard for HS players to make the major jump to competing at the Power 5 level of play. It would be great if three or four newcomers start and another ten or twelve earn time as rotational contributors.
As you've read hear repeatedly, patience from the Hurricane Nation and trust in Mario Cristobal and his staff is needed. Canes Corner truly believes the path Miami is on will lead the program back to greatness.
One thing Cristobal said at his presser especially stood out for me, "Size and specs cannot be improved in the weight room." He meant you need bigger and faster players to start with, then you can make them stronger, smarter, more competitive and improve their technique to levels where they can compete with the best in college football.
Here are the rest of the recruits. Australian Dylan Joyce is aboard as punter, replacing his countryman Lou Hedley who has graduated. Lou has big shoes to fill, the hope is Dylan is is up to the job.
Max Preps Florida HS Player of the Year, 4 Star DE/LB Rueben Bain who was part of four consecutive state championships at Miami Central is now a Cane.
Here are the other 4 Star signees -Jayden Wayne, Edge, IMG Academy.
Malik Bryant, LB, Orlando. Riley Williams,TE, IMG.  Robert Stafford, CB, Melbourne.  Collins Acheampong, DL, California.  Raul Aguirre, LB, Georgia.
Antoine Jackson, S, Dillard, Ft L. Mark Fletcher, RB, American Heritage, Christopher Johnson, RB, Dillard.  The 3 Stars, Tommy Kinser, ILB, Ocala.
Emory Williams, QB, Miami Milton.  Jackson Carver, TE, Connecticut.
Antonio Tripp, IOL, IMG.  Marcellius Pulliam, LB, Georgia.  Kaleb Spencer, LB, Virginia. Frankie Tinilau, OT, Miami LaSalle.  Miami signed 12 of Florida's top 48 players and 2 of the states eight 5 Star recruits. It's great to see the Canes improved Miami-Dade/Broward and statewide recruiting.
Cristobal made a point of thanking the returning players for their help in recruiting the Class of 23. It appears a brotherhood is being reestablished and this bodes well for the future.
Miami Men's Basketball (12-1,3-0 ACC) has risen to #14 in the AP National Rankings.
The Canes next home games are against Boston College at 7:00 on Wednesday, January 11th and Syracuse at 7:00 on Monday, January 16th.
All Canes fans owe it to themselves to get to those games. The Watsco Center will be rocking like it never has before.
Be well and Happy New Year to all. Go Canes!