When you think of a prototypical athlete, most people immediately think of stick and ball sports such as football, basketball or baseball. Your mind sculpts an image of a tall, muscular individual who can accomplish almost any feat on the field of play – someone like Bo Jackson or LeBron James, both of whom stand head and shoulder above everyone else and is as big, strong and fast as any of their competitors.
It's unlikely, however, that when thinking about the ideal athlete that you would settle on a race car driver. In fact, it's a question that I've encountered many times as both a lifelong race fan and track president. Are motorsports drivers athletes?
For a lot of people, their answer is no. They see NASCAR on television and simply think how hard could it be to ride around in a car for about four hours each. They may try to rationalize this thought by comparing driving a race car to driving a regular car on a long road trip for vacation. What they don't realize is the many differences that make driving a race car be such a grueling task on your body.
For starters, there is no air conditioning in race cars whether it's open wheel such as IndyCar or Formula 1, or stock cars like we see in NASCAR. This can become very problematic in stock cars as the season spans from February to November, meaning drivers have to race in the intense heat of summer. When NASCAR heads to Daytona International Speedway in July each year, the temperature inside the car normally heats up to about 160 degrees.
While the drivers have ventilation hoses to help air circulate throughout the car and in their helmets, it's only able to cool the car down about 10 degrees, barely making a difference. The extreme heat can cause a number of problems for drivers that are taxing on the body. The first is that the boiling temperatures by the pedals can actually cause burns on drivers' feet despite wearing specially designed racing shoes.
The other issue caused by the heat is rapid weight loss. During a 400-mile race, a driver can lose upwards of 10-15 pounds. This is particularly daunting for a driver because once this weight loss starts to cause a decline in reflexes, focus and reaction speed. One way drivers help offset this problem is by drinking water to replace the weight that is lost. In Formula1 one for example, a driver will consume more than three liters of water during a race to help them stay on top of their game.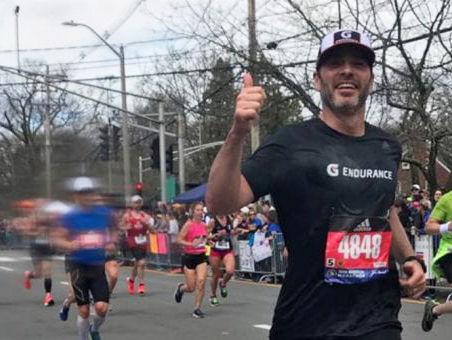 Another incredible obstacle that drivers overcome is the g-force they feel during the race. Due to banking and high speeds, NASCAR drivers experience up to three G's while Formula 1 drivers experience as much as eight each race. To draw a comparison, astronauts typically feel three G's during a spaceship launch.
So when thinking about whether or not racecar drivers are athletes, keep in mind how taxing on the body a race can really be. Because of this, many drivers spend their weekdays in the gym making sure they maintain a high fitness level.
Perhaps one of the best examples of this is Jimmie Johnson. You may have seen in the news last week that Johnson competed in the Boston Marathon. Johnson has long been an advocate of the importance of fitness for a racecar driver. Throughout his career, he has become known for his intense cardio workouts that include both running and biking. If you visit the infield of our Speedway or many others during race weekend, you can often find Johnson taking in a morning jog before on-track activity begins.
Johnson's performance in the Boston Marathon was particularly impressive as he qualified for next year's marathon with a time of three hours, nine minutes and seven seconds – about two minutes slower than it took him to win his record-setting seventh championship here at Homestead-Miami Speedway in 2016.
After he crossed the finish line, Johnson talked about how his career in NASCAR helped him with the marathon. He mentioned the endurance, focus and dedication being some of the key factors that affected both his ability to drive and run long distances.
The endurance is what stood out to me the most. During a NASCAR race, drivers average a sustained heart rate of 135-150 beats per minutes, very similar to what marathon runners experience during their 26.2-mile journey. It's difficult to replicate a heart rate that high during training, but it's still important for drivers to push themselves as hard as possible in the gym so their body can handle the accelerated rate during a race.
As more and more data becomes available to race teams, the value of drivers being in shape continues to become one of the most important factors in auto racing. While you may not see the athletic feats of drivers during a race like you would a basketball or football player, the drivers and their bodies are still overcoming some unbelievable obstacles each race, and their fitness level remains a top priority.
NASCAR ACTION THIS WEEKEND
Sunday, April 28 at 2:00 PM (ET)
Monster Energy NASCAR Cup Series GEICO 500 at Talladega Superspeedway
Tune In: FOX and SiriusXM NASCAR Radio Channel 90
Saturday, April 27 at 1:00 PM (ET)
NASCAR Xfinity Series MoneyLion 300 at Talladega Superspeedway
Tune In: FS1 and SiriusXM NASCAR Radio Channel 90
The NASCAR Gander Outdoors Truck Series is off this weekend and will return to action at Dover International Speedway on May 3.
UPCOMING EVENTS AT HOMESTEAD-MIAMI SPEEDWAY
Apr. 27-28
Championship Cup Series
May 3
Fast Lane Friday
May 4
Miami Exotic Auto Racing
May 5
Florida Track Days
May 11 Performance Driving Group
2019 HOMESTEAD-MIAMI SPEEDWAY NASCAR DATES
Nov. 15
Ford EcoBoost 200 Gander Outdoors Truck Series Championship Race
Nov. 16
Ford EcoBoost 300 XFINITY Series Championship Race
Nov. 17
Ford EcoBoost 400 Monster Energy Series Championship