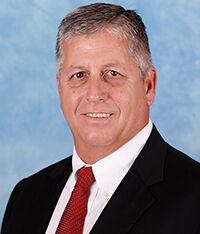 It's hard to believe that it's been about 11 months since I penned a column talking about how eager I was to welcome all of our fans to the 25th anniversary celebration of Homestead-Miami Speedway during the Dixie Vodka 400 race weekend. The same day that column ran in March 2020, our race weekend was postponed.
All of the pent up energy and excitement that everyone here at our track had for putting on a tremendous spectacle in commemorating a key moment in our history had to be put on hold.
As it turned out, while we recognized our 25th anniversary throughout the year, we never were able to welcome back fans for that special occasion.
Our race weekend, which expanded to four races, was eventually held in June. While most of it was run in the absence of fans, we are able to say that we were the first major sporting event to welcome back fans, as we hosted 1,000 military members and their families to the Dixie Vodka 400. In all of the disappointment that has come with the pandemic, one of the bright spots is that we had a key role in setting the stage for all sports methodically allowing fans back to its events. Now, just about every sport has had some number of fans at its stadiums and arenas.
And that takes us to this year, where we will get another chance in just a little more than a week – February 27-28 – as we host the NASCAR Xfinity Series Contender Boats 250 and the NASCAR Cup Series Dixie Vodka 400. Both entitlement partners are in their second year with us, and each have local connections.
First, Contender Boats, which will have their name on Saturday's race, has been a neighbor of ours since we opened our doors in 1995. Located less than a mile from our facility, Contender is one of the most respected fishing boat manufacturers in Florida, having been in business in Homestead for 35 years. Dixie Vodka, which is also the official vodka of NASCAR, has their corporate headquarters just up the road in West Palm Beach.
Besides being two good partners, Contender Boats and Dixie Vodka represent what our NASCAR weekend will become in subsequent years. It will be hyper-local, providing all of our guests – whether you live in Coconut Grove or travel here from Michigan – a "Miami slice of life." I wrote about this heading into our scheduled March 2020 weekend, and you saw a little sampling of it during our championship weekend in November 2019.
Besides having – in my opinion as well as that of many of the drivers – the most competitive 1.5-mile ovals on the circuit, we also possess another advantage in that we are situated in one of the most unique settings in all of motorsports. Where else can you drive past endless nurseries full of palm trees and a plethora of roadside stands with some of the most exotic fruits on your way to watch the world's best stock car drivers? And once there, be treated to many of the same amenities that you would find by being on South Beach, Little Havana, Wynwood or Key West, among other iconic Miami neighborhoods.
We want to make our facility both inclusive and a microcosm of all of the great things that Miami has to offer, which as many of you know is quite extensive. While the Ally Beach in the infield that we unveiled in 2019 will not be open this year due to COVID-19 restrictions, a new Container Bar that sits just outside of Turn 1 will make its debut this year. Built out of actual
shipping containers and decorated by some of the most respected local artists, this area will put you right on top of all the action while enjoying one of the most relaxing atmospheres in all of motorsports. Excitement and relaxation – two of the things that many people enjoy when in Miami. And now you can experience both at Homestead-Miami Speedway.
It's the job of the race teams and the drivers to provide you with as many thrills as possible on the track. It's our responsibility to offer you an environment full of entertainment, and especially in the times we are in, an atmosphere where the safety of all of our guests is paramount. It's something that we, as both a track and the NASCAR industry, take very seriously, and realize that it is now a priority for many of you.
As I mentioned earlier, we were the first major sport to return to action, the first to welcome back fans in limited numbers and the first to complete a full season. We've talked about how our industry came together to make this a reality, but the credit also has to go to our outstanding fan base, which has
followed these guidelines meticulously, allowing for increased capacity as we have evolved over the past eight months. It's something that we are both grateful and humbled.
Now, we will have the chance to see this progress as we host the Dixie Vodka 400 NASCAR weekend in just a little more than seven days. And more importantly, we can't wait to have our fans back at Homestead-Miami Speedway, where once again they can continue to create memories that had become a custom here for almost 25 years.
NASCAR ACTION THIS WEEKEND
Friday, February 19 at 7:30 PM (ET)
NASCAR Camping World Truck Series BrakeBest Brake Pads 159 at DAYTONA Presented by O'Reilly at Daytona Road Course
Tune In: FS1 and SiriusXM NASCAR Radio Channel 90
Saturday, February 20 at 5:00 PM (ET)
NASCAR Xfinity Series Super Start Batteries 188 at DAYTONA Presented by O'Reilly at Daytona Road Course
Tune In: FS1 and SiriusXM NASCAR Radio Channel 90
Sunday, February 21 at 3:00 PM (ET)
NASCAR Cup Series O'Reilly Auto Parts 253 at Daytona Road Course
Tune In: FOX and SiriusXM NASCAR Radio Channel 90

HOMESTEAD-MIAMI SPEEDWAY 2021 NASCAR WEEKEND
February 27
- NASCAR Xfinity Series Contender Boats 250
February 28
- NASCAR Cup Series Dixie Vodka 400
Tickets: 866-409-RACE; www.homesteadmiamispeedway.com
UPCOMING HOMESTEAD-MIAMI SPEEDWAY EVENTS
March 5 - Fast Lane Friday
March 12 – 14
- Challenge Miami Triathlon
March 19 - Fast Lane Friday