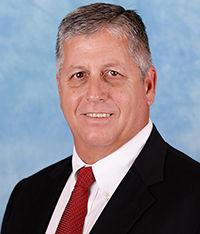 Every year at Homestead-Miami Speedway, we look forward to our NASCAR race weekend. Since opening our doors in 1995 with a NASCAR Gander RV and Outdoors Truck Series exhibition race and NASCAR Xfinity Series points race, NASCAR has served as our marquee event.
While most people think of NASCAR at Homestead-Miami Speedway as a three day event featuring all three of NASCAR's national series, it's much more than that. It takes months of preparation to hold NASCAR races and involves much more than just the three races in three days. It also includes thing such as in-market appearances by drivers and testing days for teams who will be participating in races at Homestead-Miami Speedway.
One of those tests was held this week as the Speedway was the site of one of NASCAR's most important tests. With the sport preparing to use a new car for the 2021 season, Erik Jones and many of NASCAR's officials came down to South Florida as they continue to work on the "next-gen car" and build the best possible product for the sport moving forward.
It was an honor to be a part of such a notable event for auto racing as the sport continues to develop for the future. Knowing our track will play a role in how they determine to eventually make the car is special. Since being founded by Bill France Sr. in 1948, NASCAR has transformed the make of the stock car on several occasions. You may remember the "Car of Tomorrow" or the "Generation 6 car," as the two most recent changes to the body of the car.
It's really interesting to see how the cars change over the years. From the beginning of NASCAR when the cars were street cars to what we see nowadays with the bottom of the car scraping against the racetrack, it has changed quite a bit.
This upcoming change is being viewed as one that could really benefit race teams and the industry and help a lot of people's bottom lines. It's something that a lot of the industry is looking forward to as funding an entire racing season can be very expensive. With the cost of operating a team running so high, a cheaper entry barrier could bring a lot of changes to the sport.
For example, it could become more feasible for new sponsors, teams, drivers or even manufacturers to become a part of our sport. It could also allow teams that currently run on a smaller budget to become much more competitive than ever before.
Of course, they have to test these cars several times to make sure it still provides exciting and competitive racing on the track. The test here in Homestead marked the third time this next-gen car has been run on a track. The first two tests saw Austin Dillon and Joey Logano get behind the wheel of the next-gen car at Richmond Raceway and Phoenix Raceway, respectively.
Both drivers gave positive remarks about the car as Logano talked about how the car drives and how exciting it is to be able to help develop the future of NASCAR. He mentioned one of the biggest changes being the brakes and handling of the car and how he thinks it will create more passing opportunities moving forward.
During all three tests, the drivers tried out many different things and the crew made countless adjustments to the car. When teams test, some of the things they change from run to run are tires, tire pressure, aero packages and downforce, among many other things.
Just like in a race, the goal is to see what combination of changes on the car lead to the best lap times. Of course, teams are able to do this with wind tunnels and simulators nowadays, but there is nothing as efficient as getting on the race track and seeing what a car is capable of – especially when it is a new car like the next-gen one that was being tested.
I can't wait to see what the next-gen car ultimately looks like in the future and how it runs on the track in 2021. But before we get to that, we still have the 2020 season to look forward to as the season commences at Daytona International Speedway on February16 with the DAYTONA 500. And then not too long after that NASCAR will be back in South Florida March, 20-22 as we celebrate our 25th anniversary, highlighted by the Dixie Vodka 400.
UPCOMING EVENTS AT HOMESTEAD-MIAMI SPEEDWAY
Jan. 17-18 24-Hour Ultra Skate
Jan. 19 Performance Driving Group
Jan. 24 Fast Lane Friday
Feb. 1 Miami Exotic Auto Racing
Feb. 7 Fast Lane Friday
2020 HOMESTEAD-MIAMI SPEEDWAY NASCAR DATES
Mar. 20 NASCAR Gander RV & Outdoors Truck Series Race
Mar. 21 NASCAR Xfinity Series Race
Mar. 22 Dixie Vodka 400 NASCAR Cup Series Race