On Monday, Dec. 6th, UM President Julio Frenk announced both the firing of Football Head Coach Manny Diaz and the hiring of new Head Coach Mario Cristobal.
Diaz finished his three year tenure with a 21-15 overall record. He was 7-5 this year and 0-2 in bowl appearances.
Cristobal is a Miami native attending Columbus HS and UM where he was an offensive lineman on two National Championship teams, one under Coach Jimmy Johnson and another with Dennis Erickson.
Cristobal is known as an elite recruiter and has had great success at Oregon in his four years there with a 35-13 record including two PAC-12 Championships.
Cristobal is a Double Alum at UM and his BA and Masters degrees in Business Administration have apparently served him well as he inked a ten year, $80 million dollar contract upon his return.
Miami Athletic Director Blake James and UM parted ways on November 15. As of this writing, a replacement has not yet been selected but we can expect an announcement very soon.
The Canes have accepted a bid to face Washington State (7-5, 6-3 PAC-12) in the Tony the Tiger Sun Bowl at noon on New Years Eve.
Wednesday, Dec. 8th (tomorrow as I'm submitting this write up) is NCAA Football National letter of intent signing day and I'm quite sure Cristobal has not had more than a couple of hours sleep this week as he tries to bolster Miami's 2022 class.
On a final football note, Tyler Van Dyke has been named ACC Rookie of the Year and Offensive Rookie of the Year. Both awards are well deserved. Congratulations to young Tyler.
- - - - - - - - - - - -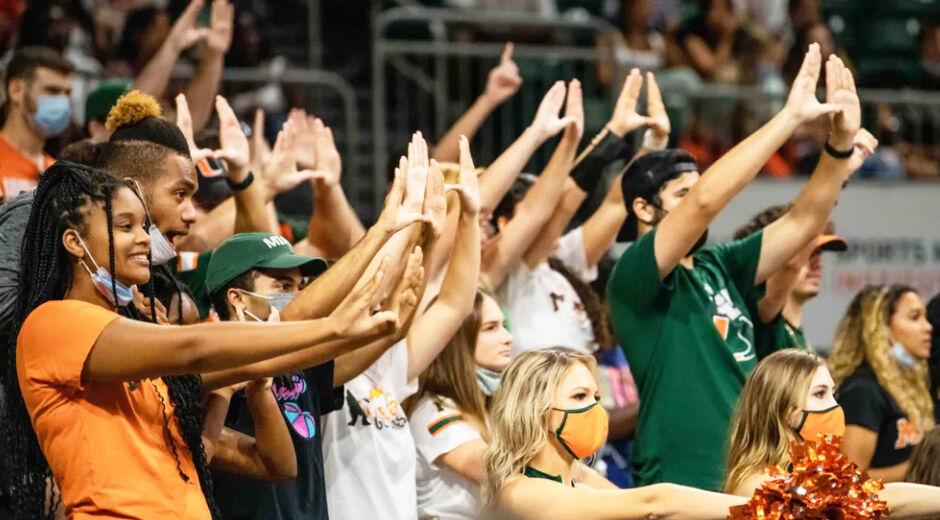 Good news abounds in Hurricanes world as both the Men and Women Basketball had great weeks following mixed results in their Thanksgiving Week tournaments. Both squads looked reborn and ready for conference play.
On Dec. 1st the UM Men were up at the Bryce Jordan Center in Happy Valley to take on Penn State in the Big 10-ACC Challenge.
Miami had a great start as Sam Waardenburg scored 11 in the first seven minutes leading the Canes to a 14-13 lead in this back and forth affair that had 6 ties and 11 lead changes. Penn State went up 21-20 with 6:40 left in the half, but Miami scored 9 of the next 11 for a 29-23 half time lead.
Starting guards Kam McGusty and Charlie Moore both were in foul trouble early and sat most of the first half.
Freshmen Bensley Joseph and Wooga Poplar came up big as their replacements, especially on the defensive end. The home side closed it to one early in the second half before Miami hit two 3s in a 71 second 9-2 run going up 38-30 with 17:19.
The Nittany Lions then surged, going ahead 45-40 on a 15-2 run that included 10 in a row and 7 straight shots made.
There was 12:14 left and McGusty scored 7 in a row putting the Canes up 47-45 with 8:59. Miami continued their run scoring 6 of the next 9 for a 54-48 advantage,6:36 left.
Penn State fought back and got within 2, 60-58, on two FTs with 1:31.
McGusty who scored all his 12 points in the 2nd half hit a three with 0:38 left sealing the win.
Coach Jim Larranaga called it "…a terrific team win."
Waardenburg led the scoring with 14 including four from beyond the arc. Zay Wong and Moore each added 12.
On Saturday, Dec. 4, Miami (6-3,1-0 ACC) was back home facing Clemson (5-4,0-1) in the conference opener for both sides.
There was only one lead change as the Tigers dominated and never trailed in the first 37:05 but Jordan Miller's three pointer on an assist from Waardenburg with 2:55 gave the Canes a 71-70 lead they never relinquished. The Canes were down 40-34 at halftime and nine (70-61) with 4:49 left when Waardenburg hit a three starting a 12-0 run that put Miami up 73-70 with 2:29. Clemson got within one on a layup with just under 2:00 left before Miller answered with a layup of his own at 1:31.
The Tigers were forced to send the Canes to the charity stripe at the end and Miami made 5-6 going up 80-73 with 0:05 before a meaningless 2 pointer at the buzzer made it an 80-75 Miami win. Waardenburg led the scoring with 18 hitting 4 three pointers for the second game in a row. McGusty had 15 and Wong and Miller 13.
Jordan Miller's defense in the second half denying the ball to Clemson's outstanding PJ Hall was the difference in this one. Miami could do nothing to stop Hall until Miller took over.
For the second straight game Miami only turned the ball over 8 times while Penn State gave it up 14 times and Clemson 18.
The future is looking a little brighter for the Men in most areas of play. They must rebound more consistently for continued ACC success. Next up Lipscomb 7:00 at the Watsco on Dec 8. Then up to the Barkley's in Brooklyn on Sunday 12/12 playing Fordham in the Hall of Fame Invitational 'Hoop Hall' Classic.
After visiting #2 Maryland last week and taking the Terps to the final minute before falling, the Lady Canes are confident they can compete with anyone.
Miami hosted Tulane and Arkansas Pine Bluff this past Sunday and Monday in the Miami Holiday Classic. Both the Green Wave and Golden Lions are expected conference winners and likely NCAA Tournament participants this season.
Tulane went up 15-8 on Sunday before the Lady Canes closed the 1st quarter with a 9-1 run for a 17-16 lead. The Green Wave responded with a 14-11 2nd quarter taking a 30-28 halftime edge. Miami came out cold in the 3rd missing their first five shots, then hit the next four taking a 41-35 lead. But Tulane started hitting their shots and managed a 48-47 lead after three.
The Wave hit a 3-pointer early in the 4th before UM's defense tightened with six straight stops. On offense the Canes were on an 11-2 run going on to win the 4th quarter 23-15 and the game 70-63.
There is a new energy in these Lady Canes.
Kelsey Marshall (19 points with 5 three's) and Karla Erjavec (12 pts) are the floor leaders and three freshman, Ja'Leah Williams (15 pts), Lashae Dwyer added 10, while Jasmyne Roberts came off the bench with important minutes.
Upperclassmen Lola Pendande, Naomi Mbandu, Moulayna Johnson Sidi Baba, Maeva Djaldi-Tabdi and Chiso Okafor all contribute, while starters Mykea Gray and Destiny Harden and contributors Paula Fraile Ruiz and Kenza Salgues are out injured.
On Monday, Ark-PB was up and the Lady Canes came out with their best 30 minutes of the year, taking a 19 point advantage into the final frame. The Golden Lions are tough and fought to the end with an 18-12 4th quarter in their favor but Miami was too strong winning 78-65 and earning the Holiday Classic Championship.
Marshall again led the scoring with 19 including 4 more threes.
This is a true team with 8 players having two or more baskets in the final.
Next up Robert Morris at home Sunday at 2:00.
Both the Women and Men's programs need and very much deserve more fan support. Come out and take a look at these teams for yourself. You will come back!