The University of Miami Athletics Hall of Fame induction banquet was held at the Watsco Center on Thursday, May 4th. There were six inductees from the four sports we cover at Canes Corner.
Men's Basketball Head Coach Jim Larranaga was clearly the headliner. In his twelve seasons, Coach L has led Miami to its first Final Four, two Elite Eights and four Sweet Sixteens.
Point Guard Riquna "Bay-Bay" Williams played Women's Basketball 2008-12 and led Miami to the 2010-11 ACC Championship. She has played professionally since graduation and is currently a member of the WNBA champion Las Vegas Aces.
First Baseman Kevin Brown played 1998-2001 and was a member of the '99 and '01 national championship teams.
Pitcher David Gil, 1997-2000 was also a member of the '99 champs.
Tight End Willie Smith, 1983-85 was part of Miami's first football national championship in 1983.
Kicker Todd Sievers, 1998-02 was the leg on the 2001 championship squad.
Thanks and congratulations to all those well deserved inductees.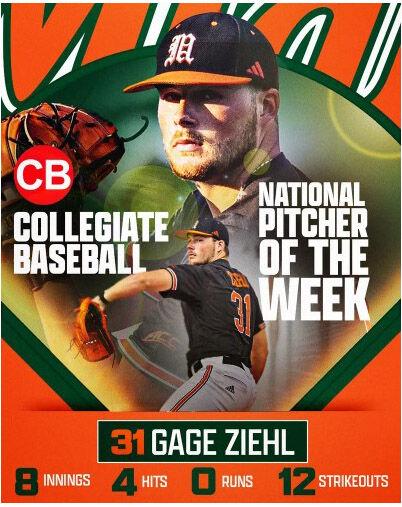 Canes Baseball remains #11 in the NCAA D1 poll after a sweep at home against the clearly overmatched Presbyterian Blue Hose. The visitors play in the Big South Conference and have a good team but ACC play is on a different level.
On Friday night, starting pitcher Gage Ziehl went eight innings with 12 strikeouts while surrendering only four hits in a 13-4 win. Ziehl was named National Player of the Week by Collegiate Baseball for his outstanding performance.
Shortstop Dominic Pitelli had two singles early in the contest and went off the charts in the late innings with a three run homer in the sixth, a two run shot in the seventh and a grand slam in the eighth. Nine RBI, three HRs and 5-5 at the plate made quite a night for young Dom.
Miami's unquestioned offensive leader Yohandy "YoYo" Morales was out sick for the first two games of the weekend and his replacement, Freshman 3B Jason Torres played in his spot and showed he was ready for prime time, going 3-5 including a grand slam with 5 RBI.
Torres was 10-15 for the weekend, showing he can be an important bat in Miami's quest for a national seed.
After a couple of tough starts, right hander Alejandro Rosario went six shutout innings giving up only 3 hits. Rosario had 12 strikeouts including 11 of the first 15 batters he faced in the 12-1 win.
Morales was back in a big way on Sunday. YoYo was 4-4 with 5 RBI and his 11th HR.
Freshman 2B Blake Cyr hit his team leading 13th HR while going 3-4 for the afternoon with 3 R and 3 RBI.
It was a team effort for the short handed pitching staff on Sunday.
Ben Chestnutt (6-0) came on in relief and retired the first 10 and 11 of the 12 batters he faced in the 12-2, break out the brooms victory.
The Canes are now (31-16, 14-10 ACC) and sit 1/2 game behind Duke in the Coastal Division standings. Miami is tied with Clemson for third place overall. The Wake Forest Deacon Demons (39-7, 18-5) are the #1 team in the nation after unseating LSU this week.
Miami is at Pittsburgh for a three game series this weekend. The Canes
return home to play Duke and close out the regular season Thursday, May 18th through Saturday, May 20th. The ACC Tournament runs May
23rd to 28th in Durham, NC at Durham Bulls Athletic Park.
Every game is extremely important with a national seed within grasp. A national seed would allow Miami to play all their games at Mark Light Stadium while competing for a spot at the College World Series in Omaha.
Both the Men's Basketball and Football programs have added players from the transfer portals in the last few weeks.
Just last Sunday Jim Larranaga announced the addition of highly
regarded SG/SF Matthew Cleveland, a rare transfer from in-state rival FSU.
6'7" Cleveland averaged 13.8 points and 7.4 rebounds and was named ACC Sixth Man of the Year while playing for the Noles last season.
The football program has added RB depth with the addition of Ajay Allen from Nebraska. Two CBs, Jadais Richard from Vanderbilt and Jaden Davis from Oklahoma are now Canes. Both programs are active daily in the transfer portals doing all they can to improve in any way they can.
That's all for now.
Be safe, be well and Go Canes!