A few months back I talked about the anomaly that we encountered when for the first time, the NBA, NFL, NHL, MLB and NASCAR all played on the same day. This full schedule also included others such as golf. Now, several months past that, we are in another unique period where we crowned champions in three of those leagues – NHL, NBA and MLB – all within the last three weeks. It was capped by the Dodgers' win over the Rays in the World Series earlier this week.
And in another week, we will be crowning champions in all three national series of NASCAR. That will make four championships decided in about a one-month period. It's pretty remarkable, and not only because they will have taken place within a short time span. It's says more about how far we have come, the things that we have been through and how we have had to adjust in order to get to this point.
In that earlier column I alluded to the fact that basketball and hockey utilized "bubbles" in order to make it through the completion of their seasons, which each came to a halt with about a month left in the regular seasons. Baseball had yet to get their regular season underway at that time, as they were still several weeks away from completing spring training. While their season got off a rough start, through some creative scheduling each team played 60 regular season games before they embarked on an expanded playoff format. Now, the Tampa Bay Lightning (NHL), Los Angeles Lakers (NBA) and Los Angeles Dodgers will forever be known as champions in the most unusual of seasons for any sport.
While those three sports will now have a brief respite before starting their 2020-21 campaigns as early as December, NASCAR will now take center stage as we hit the penultimate races this weekend in Martinsville before moving on to Phoenix. As of the time of this writing, only one of the Championship 4 spots had been filled after Joey Logano took the checkered flag at Kansas Speedway two weeks ago.
But this NASCAR season has been about much more than who advanced to the Playoffs or the Championship 4. It has been about being able to resume a season in a methodical way, while undergoing many drastic changes to a schedule that – starting with the return to racing in mid-May through the start of the Playoffs in September – bore very little resemblance to the one that was unfurled in March 2019.
It consisted of many elements that the sport had never seen in a long time – or in some cases never previously. It contained things that nobody thought could happen – or not happen – and still deem it a successful season. Some of the things I'm referring to include mid-week races, doubleheaders, shorter races, no practice and no qualifying, among many others. These are all things that under normal circumstances would never had been a consideration. With what we were facing, they became mandatory in order to get to where we ultimately wanted to be – celebrating three champions in Phoenix.
A majority of the season has been run without fans in attendance. As time has gone on, we have found ways to incorporate fans back into some of our events in a safe, methodical way, similar to what we were able to do from the competition side.
In retrospect, I'm proud to say that the 1,000 military members who we hosted at Homestead-Miami Speedway on June 14 for the Dixie Vodka 400 laid the groundwork for this aspect to gradually expand, which it did at Talladega and Daytona twice apiece and Kansas, among several others. While you as fans are an important component to any of our events, it's imperative that we do it smartly.
The drivers and teams look forward to performing their crafts in front of crowds, but as we have come to discover through this pandemic, their pride in what they do and succeeding to be the best has usurped hearing and seeing the grandstands full of fans. I know the winner would like nothing more than to grab that checkered flag following a race and share the thrill of victory with the sport's most ardent supporters at the start/finish line. Like most elements of our life, we've had to adjust in ways that we never imagined, and milestones that we have attained in this pandemic would have previously been considered a step backwards.
So as we head into the penultimate race in Martinsville this weekend, not only can we see who will join Joey Logano in the Championship 4 in the NASCAR Cup Series, but it also will be an opportunity for the sport to collectively celebrate what we all have achieved in 2020.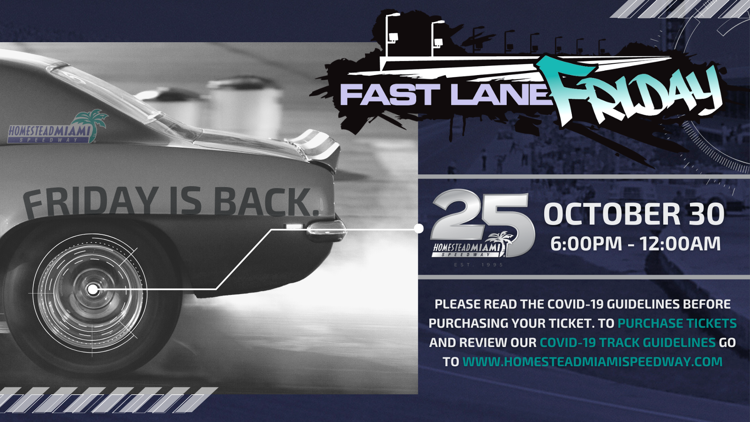 FAST LANE FRIDAY: We look forward to getting Fast Lane Friday back up and running tonight with a capacity of 200 participants at any one time. We encourage everyone to purchase their tickets in advance by going to our web site at www.homesteadmiamispeedway.com. We hope it's the first of many more as we look to get back a regular cycle. Remember, 6 pm to midnight. Can't wait to see you there!
This Week's Racing Schedule – Martinsville Speedway   
Friday, Oct. 30 - NASCAR Gander RV & Outdoors Truck Series Hall of Fame 200, 8:00 pm (FS1)*
Saturday, Oct. 31 - NASCAR Xfinity Series Draft Top 250, 3:30 pm (NBC)*
Sunday, Nov. 1 - NASCAR Cup Series Xfinity 500, 2:00 pm (NBC)*
*Denotes Playoff race
All races will air on Sirius XM NASCAR Channel 90
Homestead-Miami Speedway 2021 NASCAR Dates
Sunday, February 21 NASCAR Cup Series Dixie Vodka 400
*2021 dates for NASCAR Xfinity Series and Camping World Truck Series to be announced in the near future