The players and coaches from the 1988-89 Homestead Broncos Undefeated Season reunited last week to honor their legacy of a legendary season.
The 1988-89 Undefeated Season 10-0 team honored Coach Dale Hardy and Coach Bobby McCray both recognized for their 39 plus years of service.
Joining in the ceremony were Circuit Court Judge Miesha Darrough and School Board Member District 9 Luisa Santos.
So much has happened to those young students and athletes, this was an opportunity to remind everyone that there is a rich heritage coming out of Homestead.
Recognized were: Melvin "Rocky" McCormick - the first African-American to graduate and be elected to Council who founded the South West Advisory Committee, Homestead Councilwoman Patricia Faircloth-Staggers, Homestead Vice Mayor Julio Guzman, Former County Manager Steve Shiver was a part of the first graduating class, and Michael Welsh, is now with Commercial Lending at Community Bank.
A wealth of coaches and head coaches including Alex Johnson, Michael Barrow, Donald Chaney, Jeff Atkins and Mandell Nickle.
Also attending were a host of principles and educators including Renita Lee, Rhonda Moss-Donaldson, Earl Burth, Archelena Bruce-Coats, Carl Robinson, Alphonso Pendergrass, and Alphonso Bryant, Sr.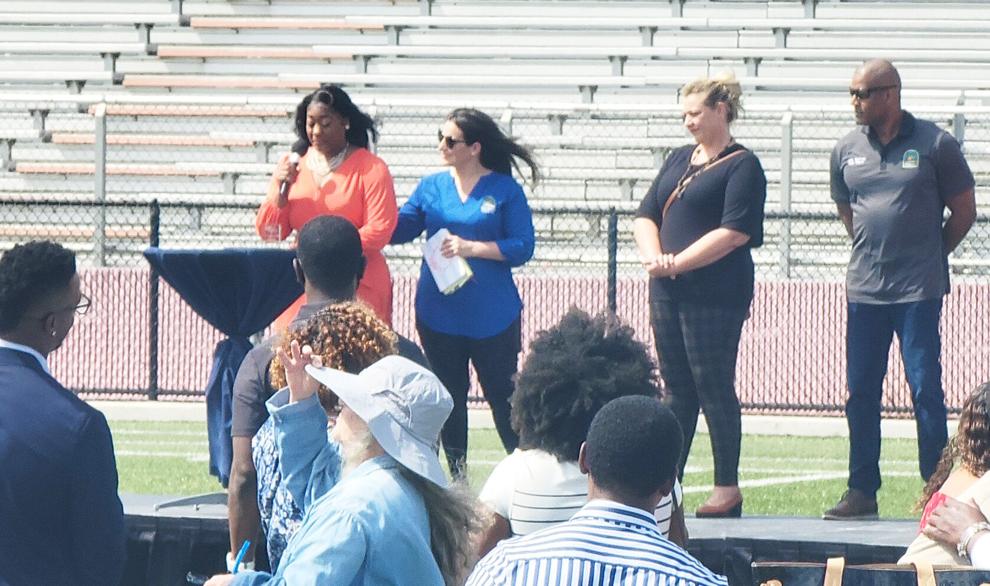 Also at the ceremony, the Bronco Legacy Community Service Award was presented to Homestead Councilwoman Patricia Fairclough-Staggers. In her
introduction, Councilwoman Erica Avila said, "As one of the first to graduate Homestead Senior High School and be elected to serve on City Council, and to hold the position of Vice Mayor not once but twice, Patricia's exemplary commitment to community service does not go unnoticed. Her sacrifices to service are countless."
"This day served as a reminder that to our current youth that good things and good people, as well as City/Community leaders come out of Homestead," says Kevin Myles, Sr., "This the continuation of something beautiful."