The Homestead Broncos should have been enjoying a celebration on the field following a win to end a losing streak against rival South Dade.
Instead, they filed onto the team bus after given the all-clear by police offers following several minutes of both teams lying flat on the field because of a shooting scare resulting in a fight in the crowd as fans scurried away from the bleachers.
There was no weapon according to officers on hand, but by the time the situation was under control the game had already been called off with 4:29 left in the fourth quarter with Homestead ahead 42-14 in front of a packed crowd of 2,756 at Harris Field.
"It was my understanding that a young lady slapped a boy and it was taken out of proportion after that," Homestead coach Philip Simpson said. "People just reacted to what could possibly happen more than what actually did happen. The game could have continued, but safety first and that's what they felt in the moment. I'm never going to go against that split decision."
Homestead (1-1) ended a 10-game losing streak to South Dade (0-2) and won for the first time in the rivalry since 2011, the year before South Dade coach Nate Hudson took over.
"We preach program, changing the culture and creating a new version of Homestead and that comes with new outcomes and beating the teams you weren't able to beat before," said Simpson who is in his third season. "We can't preach changing the program and changing the culture with the same outcomes. Even though we were confident going into the game, it was important that we took care of business and we did so convincingly. That win was more for our community, fan base and our alumni than the team itself."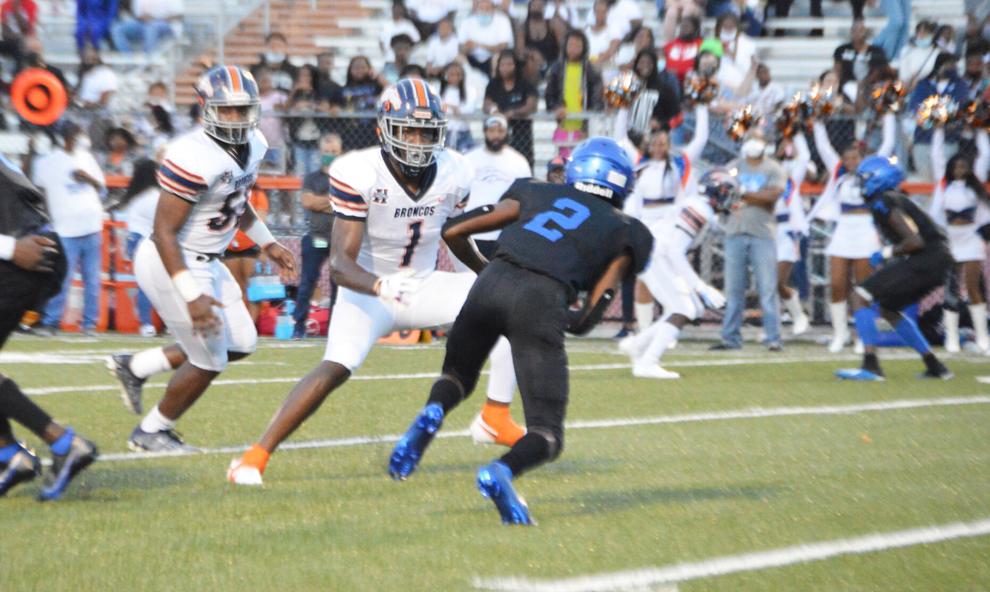 Homestead sophomore Joshua Townsend threw for 277 yards and connected with four touchdown throws to four different receivers— Da-Vonte Calexte, Richard Dandridge, Cortez Mills and Isaac Brown, who also returned a kickoff for a touchdown. Tyrone Maxwell ran in for the other score.
The Broncos eventually pulled away after the teams traded touchdowns for the first 15 minutes of the game with the score tied at 14.
"Special teams was a back-breaker, that's what really deflated us," Hudson said. "But I've got to give credit where it's due, they were the better team. We'll just look forward to next year."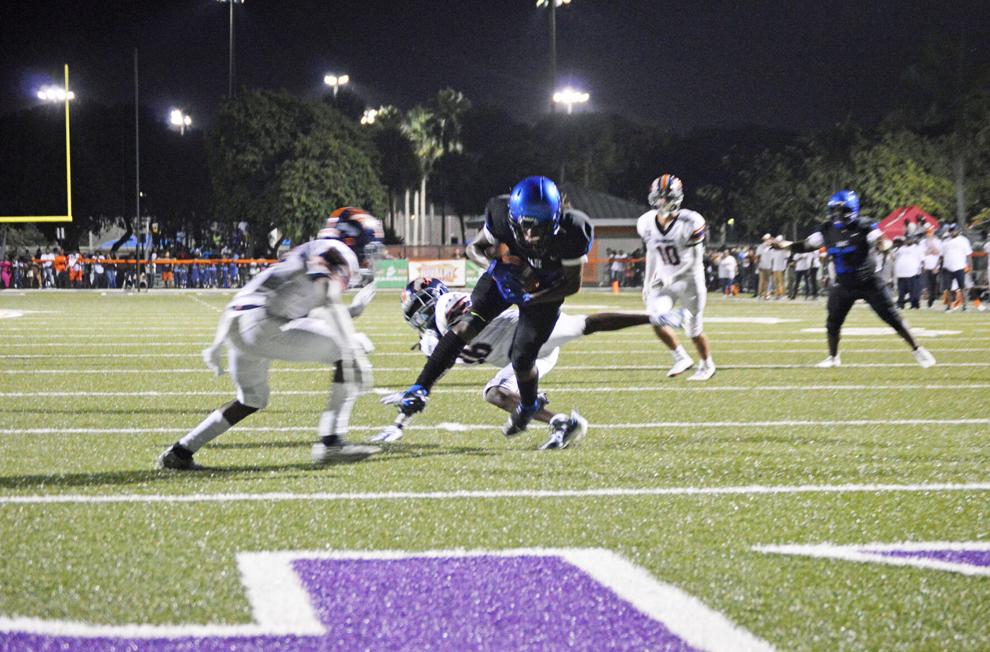 Maxwell's 23-yard touchdown run broke the tie midway through the second quarter and the Buccaneers were unable to bounce back after.
Townend's 5-yard touchdown pass to Richard Dandridge just before halftime gave the Broncos a 28-14 lead at the break.
Mills, a freshman, hauled in a 36-yard score and Brown, a sophomore, caught a 51-yard touchdown pass in the third quarter to cap the scoring.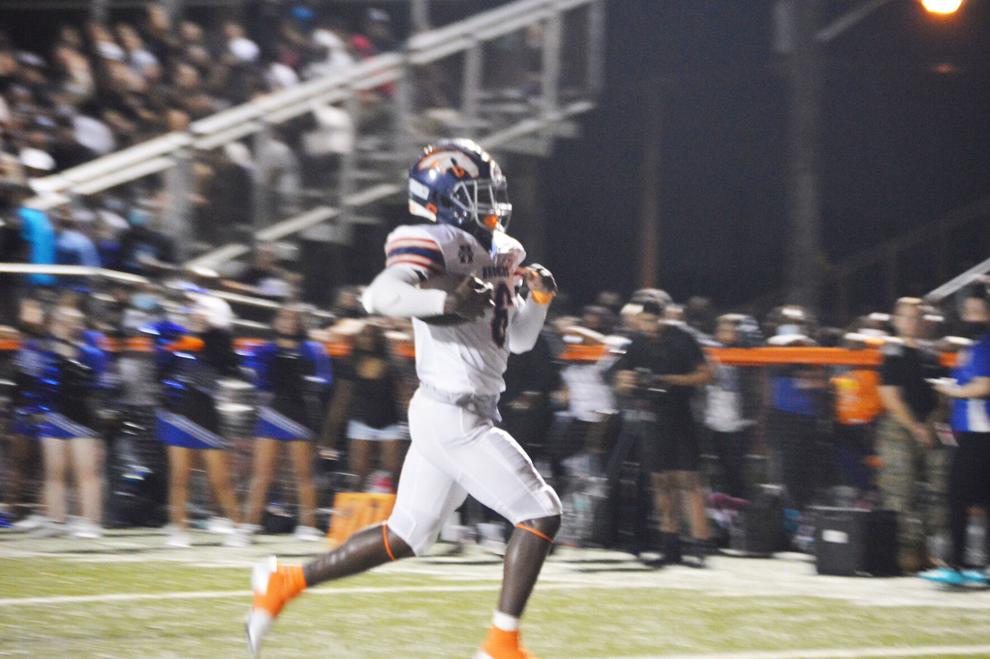 "Just settled in," Simpson said. "We jumped out 14-14, but we also felt very in control of the game. We just had to be patient. The outcome was inevitable, we just had to see it through."
South Dade sophomore Demetrius Williams had a 10-yard touchdown run and freshman X'zayvion Clayton threw a 14-yard touchdown pass to sophomore Franquan Warren.
Clayton and the Bucs were held to 85 yards of total offense with three turnovers.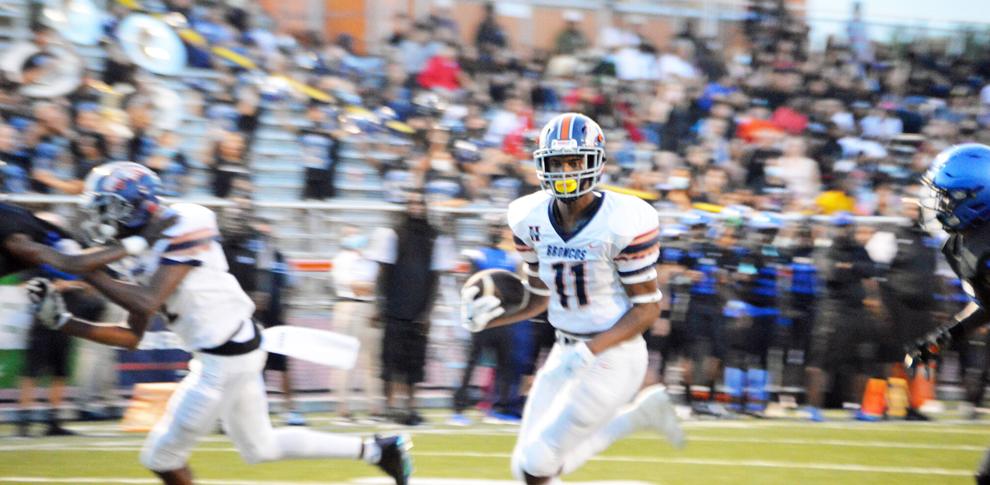 "I hate to say it, but sometimes youth sank in with the inconsistency," Hudson said. "It was a challenging week to get a practice in, but they had to line up too. The biggest part is going through the growing pains and sometimes there was some confusion with what we wanted to do. They threw some pretty good defenses at us."
Homestead piled up 342 yards of total offense with one turnover and bounced back after a heartbreaking 21-19 loss to Palmetto in the opener.
"We benefited more from that loss than actually walking out of there win a win," Simpson said. "Although I would have liked the win, that win would not have served purposed to us as much as that loss did in the long run."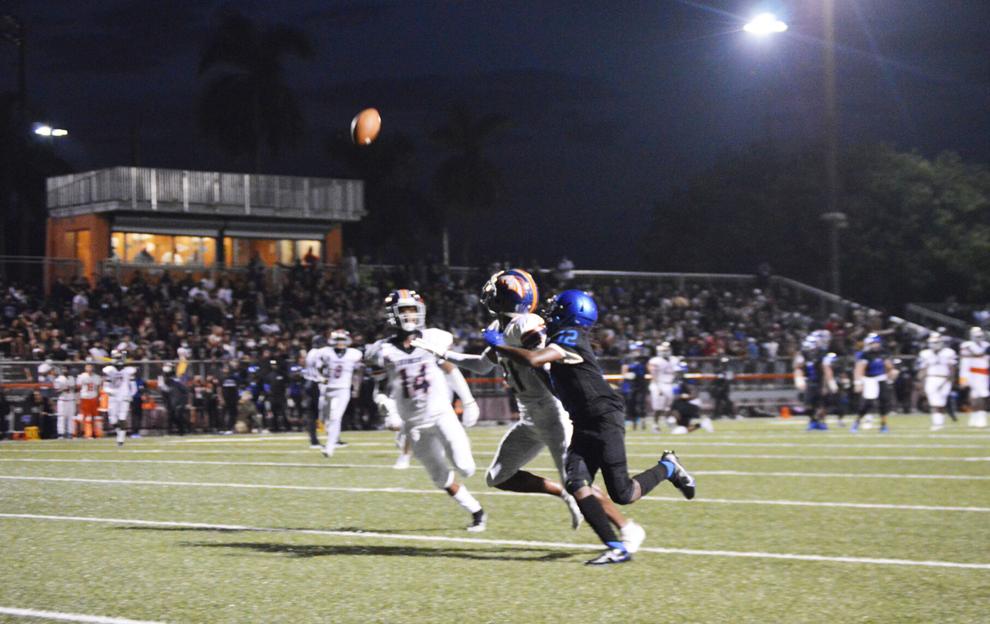 The situation in the fourth quarter happened with the Broncos having the ball before groups of fans ran out of the bleachers. Instructions were given over the stadium speakers to get down as officers around the stadium, including some in plain clothes, took control and guiding people on the field to lay down on two separate occasions while gathering groups of fans, some visibly shaken, before the situation was resolved.
"I'm thinking about safety, I've got my two boys at the game on the sideline with me," Simpson said. "I'm always a father, but I've also got 50 other kids on the team to worry about. I've got a band and cheerleaders and as one of the leaders at the school, it's important to see our kids through. It's frustrating because it's important these kids come out, bust their butts and work hard for these moments. It shouldn't be taken away from anybody in the stands and these kids earned that night."
Homestead plays Jackson (1-1) at Curtis Park on Friday while South Dade takes on American (1-1).
"Looking forward to more intensity," Hudson said. "I expect the intensity to pick up a little bit better. The guys get out there and they fight, it's just some of the growing pains we're going through."
Homestead (1-1) 14 14 14 0 – 42
South Dade (0-2) 7 7 0 0 – 14
Homestead – Calexte 10 pass from Townsend (Calderson kick)
South Dade – Williams 10 run (Moreno kick) 
Homestead (1-1) 14 14 14 0 – 42
South Dade (0-2) 7 7 0 0 – 14
Homestead – Calexte 10 pass from Townsend (Calderson kick)
South Dade – Williams 10 run (Moreno kick)
Homestead – Brown 79 kick return (Calderson kick)
South Dade – Warren 14 pass from Clayton (Moreno)
Homestead – Maxwell 23 run (Calderson kick)
Homestead – R. Dandridge 5 pass from Townsend (Calderson kick)
Homestead – Mills 36 pass from Townsend (Calderson kick)
Homestead – Brown 51 pass from Townsend (Calderson kick)
INDIVIDUAL STATISTICS
RUSHING: Homestead: Brown 3-45, Maxwell 3-20, Williams 4-9, Townsend 4-5. South Dade: Williams 8-37, Jordan 1-5, Miller 8-2, Clayton 8—23.
PASSING: Homestead: Townsend 16-20-0, 277. South Dade: Clayton 5-14-2, 89.
RECEIVING: Homestead: Stokes 3-92, Brown 3-54, Williams 4-50, Mills 1-36, R. Dandridge 2-22, Calexte 1-10, Riley 1-7, Gatewood 1-6. South Dade: Griffin 2-50, Warren 2-37, Falcon 1-2.
INTERCEPTIONS: Homestead: Talley, D. Dandridge.
OTHER WEEK 2 LOCAL SCORES
Coral Reef 10, Ferguson 0
Wellington 27, Southridge 6
Somerset Silver Palms 58, Everglades Prep 0
Somerset South 14, Westminster Christian 7
Florida Christian 40, Coral Shores 12