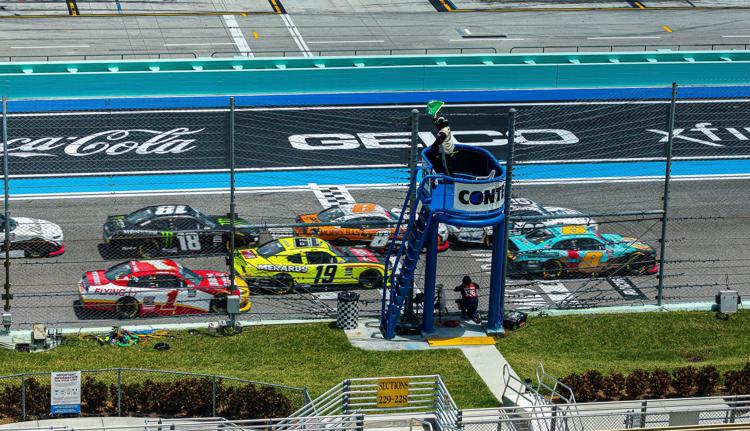 The second Xfinity Race of the weekend, the Contender Boats 250, got underway Sunday with the 93 car of Myatt Snider in the pole position.
Under NASCAR's No Practice and No Qualifying procedures top 15 finishers from the last race are inverted for the start of the next race. Hooters 250 winner Harrison Burton started 15th. Before the Competition Caution on lap 20 there had been 4 different race leaders, with Austin Cindric in the 22 leading into and out of the pits during this Yellow Flag. Indicative of the close racing there would be a total of 20 lead changes throughout the race.
Both Ryan Sieg and Michael Annett were able to pass Cindric at the
conclusion of the First Stage. Cindric fought back to lead early in the
Second Stage. As was the case in the Saturday race, the number 9 car of Noah Gragson showed that it was the car to beat on long Green Flag Runs. Noah would again lead the most laps, 81, in the race. He won Stage 2 with Cindric and Brandon Jones in second and third.
Gragson continued his domination as the race ran caution free. As the laps counted down the 98 car of Chase Briscoe continued to climb towards the front of the field. Chase was running without his regular Crew Chief, Car Chief, and Engineer due to penalties imposed for losing ballast weights in the Saturday race. Filling in was Greg Zipadelli, now an executive at Stewart-Haas Racing. No stranger to sitting atop a pit box or to wining at Homestead,
Zipadelli was Crew Chief for Tony Stewart in his two Cup Championships.
As Noah Gragson approached the Start/Finish Line to take the White Flag a Yellow Flag waved instead.
The number 22 Car of Austin Cindric then running in third, had spun in Turn 4. With a quickly executed pit stop Briscoe was able to beat the number 9 out of the pits.
After a great restart Briscoe held the lead over Gragson as they raced towards the White Flag only to have another Caution as 4 cars wrecked on the Backstretch.
In the second overtime Green White Checkered session Chase was able to hold off Brandon Jones in the 19 all the way to the Checkered Flag wining by .072-seconds. This was Briscoe's third win of the season. Florida's Ross Chastain was third and A. J. Allmendinger finished fourth also
wining the $100,000 Dash For Cash bonus as the highest finishing of the 4 drivers who were eligible.
A disappointed Noah Gragson finished fifth.
After the race Chase Briscoe said, "Trying to run down Noah took
everything I had." When asked about working with Zipadelli, his answer was, "It was cool for me growing up as a diehard Tony Stewart fan. I hate the
circumstances, but it was cool to work with Zippy."