National Championships were decided in both Women's and Men's Basketball over the past few days.
South Carolina is the Women's winner and Kansas took home the Men's trophy.
We learned it took the eventual Champions in both competitions to eliminate the Miami Hurricanes. The LadyCanes faced the South Carolina Gamecocks on their home court in Columbia, SC in the second round. Miami had knocked out in-state rival South Florida in the opening round but were unable to advance past the No. 1 overall seed.
The Canes did not go down easy as Katie Meier's squad held South Carolina to their lowest point total of the season.
Congratulations to Coach Katie and all the LadyCanes. They will be back in the tournament next year ready to advance to the second weekend and more.
For the first time in their history the Miami Men advanced to the Elite Eight before falling to the only remaining No. 1 seed, the Kansas Jayhawks. It was a great and very exciting season for the Canes.
Coach Jim Larranaga has signed an extension and is hoping to get his group to the Final Four soon. The Canes were ranked No. 16 in the final Coaches poll. Associate Head Coach Chris Caputo has accepted the Head Coaching job at George Washington University. We thank Chris for all he had done and wish him and his Family nothing but the best in this new endeavor.
BASEBALL -
The Canes are 21-6 and ranked No.8 in the NCAA D1 poll that was released on Monday, ASpril 4th. The top 8 ranked teams normally receive invitations to host 'regional play' and 'super regionals,' the last stop before eight teams advance to Omaha to play for the whole enchilada! Here's how they earned their ranking.
The Canes were anywhere from 22-25 in most preseason polls. Miami started strong sweeping a four game series from Towson and taking a midweek game from FAU.
The following weekend Harvard came in and took the Friday night contest. UM recovered winning the next two and they were 7-1 and still ranked in the twenties.
The Gators were up next. Miami took the opener but UF took the series 2-1 and Miami at 8-3 was out of the polls.
A win at FIU, a 2-1 series over Boston College, a loss at UCF and Miami taking 2 of 3 at Clemson were next.
Miami was now 13-6 but still on the outside looking in. Things got better from there. A FAU road win and a sweep of of the highly regarded North Carolina Tar Heels earned a No. 17 in last weeks poll. Miami went on the road and took down Florida Gulf Coast then swept Duke at Bull Durham park and at 21-6 are now No. 8.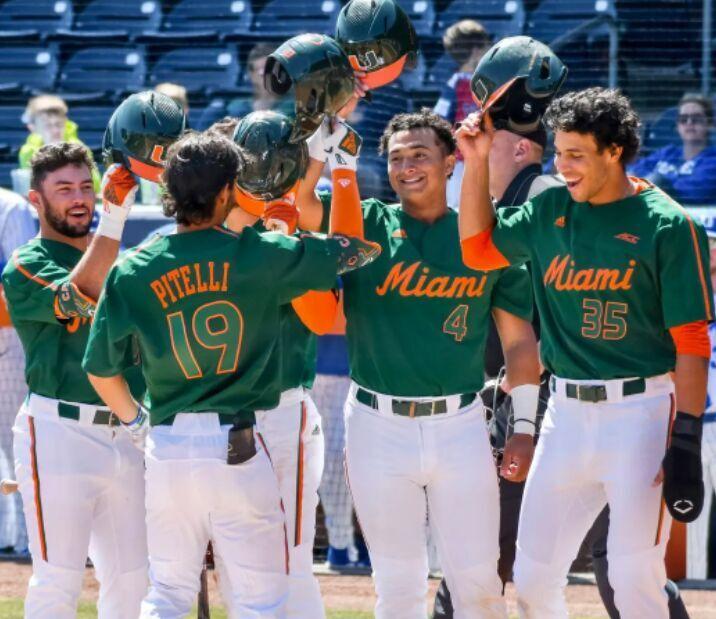 I'm in the Alex Rodriguez Park at Mark Light Stadium press box as I'm penning this missive. It's UM 3 - FGCU 2 after five.
Now a rundown on the players. Pitching first. Last years All-American loser, Carson Palmquist (5-1, 3.22 era) is now the Friday starter. Sarasota freshman Karson Ligon (4-1, 1.45) and sophomore Jake Garland (4-1, 2.45) are the other weekend starters.
Alex McFarlane, Alejandro Rosario and Jordan Dubberly are the spot and midweek starters. Andrew Walters is this year's closer and has taken over right where Palmquist left off. In 11 appearances Walters has a 0.00 era and 8 saves. He has only surrendered 3 hits in 15.2 innings striking out 28 with only 2 base on balls. Absolutely amazing!
Freshmen New Yorkers Gage Ziehl and Rafe Schlesinger as well as Miami Belen sophomore Alejandro Torres have been excellent in set up roles.
First Baseman and lead off hitter CJ Kayfus is the Canes leader in batting average (.364) , runs (30) and hits (39). Outfielder Jacob Burke (.333), a transfer from Southeastern Louisiana is second in runs (27) and tied for the lead with 27 RBI. Third baseman YoYo Morales (.320) leads the Canes with a .573 slugging percentage and his 5 dingers tie for the team lead with SS Dominic Pitelli (.317). Freshman OF Edgardo Villegas (.301) from Vega Alta, Puerto Rico has been a revelation and provides much needed outfield run production.
Freshman Dorian Gonzalez Jr. (.265) another Belen grad has started every game and provided excellent defense. Vanderbilt transfer Max Romero Jr. (.216) has started most games at Catcher. Romero has handled the pitching staff very well. Max also is tied for the team lead in RBI with 27.
So what do the Hurricanes need for a legitimate shot at Omaha? Run production is the answer. Miami needs a third outfielder that can produce at the plate. The Canes also need someone to step up and claim the Designated Hitter role.
This team has a shot at the brass ring. We will know more after a midweek matchup with FIU and No. 3 Virginia (25-3) coming in this weekend for a three game series.
Miami is now up 5-2 after eight. I'm tired and hungry but will stick this out for my loyal readers. Walters is on the bump. Three pitches, three strikes = 1 out. Another K for two outs. Three up, three strikeouts for Walters. Canes (22-6) win 5-2.