The #20 Miami Hurricanes (16-4,7-3) traveled to Tallahassee on Tuesday, Jan. 24th with revenge and paybacks on their minds.The Canes had lost nine in a row to the rival Noles including two heartbreaking one point losses last season.
Coach Jim Larranaga said earlier this week, "I hope we can turn that around Tuesday night." That they did.
Florida State (7-14, 5-5) were up 4-1 after 01:25 but that was their only lead. The onslaught was on.
The Canes led by as many as 28 with 2:33 left in the opening half after a balanced attack that included 9 made three pointers and an 18-0 run. It's said a game ain't over 'til a certain lady sings, she might of sang the National Anthem Tuesday night.
Guards Isaiah Wong and Nijel Pack led the attack. Both had 18 and were 4-7 from deep. All five starters we're in double figures.
Norchad Omier had his typical double-double with 12 and 11. Wooga Poplar added 14 and Jordan Miller 12.
Wong also had 9 rebounds and zero turnovers in just under 30 minutes.
Last year's team had Charlie Moore hitting occasional threes from 30 feet out. Nijel Pack has been draining them from a different zip code, Steph Curry would be "What the?"
Twelve Canes got on the floor and the starters got rest they will need as they remain on the road for a visit to Pittsburgh to face the (13-7, 6-3) Panthers at 4:00 pm, Saturday, Jan. 28th. The game will be televised on ESPNU.
Miami will be back home to host Virginia Tech on Tuesday, Jan. 31st at 7:00 pm (ESPNU).
Longtime Hurricane supporter Diego Arredondo was especially impressed with the road win over a conference rival, the outstanding first half, rebounding and second chance points. UM alum Diego added, "I can't wait until they get back home." We here at Canes Corner are in total agreement with the astute Diego.
On Saturday, Jan. 21st the Canes traveled to Durham, NC to take on the Duke Blue Devils (14-5, 5-3) at Cameron Indoor Stadium. Somehow 9,314 attendees were crammed into the old gymnasium, almost all raucous "Cameron Crazies." It was a tense contest, tied 38 all at the half with fourteen lead changes.
It went down to the last minute when a Miami turnover with 0:13 left, one of only six the Canes had all game, proved the difference. A last second
desperation full court shot with 0:02 would have been a winner but there was no such luck and Duke had a 68-66 win.
The Blue Devils have multiple players 6'11" or taller and Miami's biggest player is 6'7" Norchad Omier but size wasn't the difference Saturday.
Jordan Miller led Miami with 19 points, Nijel Pack had 18. Miller and Pack shot a combined 13-28 from the floor while the rest of the Canes were 9-35. It was a game with many ifs that could have made the difference but giving credit where it's due, Duke's Captain Jeremy Roach, coming back from a three game absence due to injury was the main reason the game went Duke's way.
Roach scored 14, had 4 assists and 2 steals but his floor leadership was the key to the hosts victory.
Freshman seven footer and sure NBA lottery pick Kyle Flipowski led the winners in both scoring and off the boards with 17 and 14.
Miami gets a chance at a payback when Duke visits on Feb. 6th.
The LadyCanes were at NC State (14-5, 4-4) on Thursday, Jan. 19th. Miami came in on a four game winning streak. The wins against top 20 North Carolina and top 10 Virginia Tech were very impressive and well earned with standout play. The last two, not so much.
Georgia Tech and Wake Forest are bottom tier ACC Women's teams and should have been put away early but there was no intensity by Miami and although they won both, their play would never suffice against top level opponents. The Wolfpack can never be taken lightly and the LadyCanes learned the hard way up in Raleigh. State led 20-14 after Q1, 30-19 at the half and went on to a 71-61 victory.
The LadyCanes (12-7, 5-3) are 'on the bubble' for an NCAA bid right now. If they don't start to play like in the wins over NC and Va Tech that bubble will surely burst.
Boston College is in town Thursday, Jan. 26th at 6:00 pm, hopefully we will see Miami playing to their ability.
Georgia Tech visits at noon on Feb. 5th and Florida State comes down on Thursday, Feb. 9th at 6:00 pm.
Football - the transfer portal closed last week. Players can not enter until May 1. Players in the portal can still transfer.
The Hurricanes have signed eight scholarship players from the portal and two walk-ons. Twenty Canes from last season's squad have formally transferred out.
QB Jake Garcia has left and signed with Missouri. Offensive lineman John Campbell has left for Tennessee and OL Jakai Clark has not yet picked a school. Those three saw the writing on the wall and left knowing they will have a better chance of starting elsewhere.
Seven DBs , four DLs, two LBs, RBs and WRs have also left. Most were backups and a couple had spot starts. Of the eight signees IOL
Javion Cohen from Alabama and Center Matt Lee from UCF both have great chances at starting. Branson Dean from Purdue and Thomas Gore from Georgia State will be in the defensive line rotation. Both LB Francisco Mauigoa from Washington St and CB Davonte Brown will be joining their brothers who are part of the 2023 recruiting class. This week Iowa CB Terry Roberts joined Miami and he will play immediately. Duke LB Rocky Shelton, Oregon TE Cam McCormick and Michigan St long snapper Michael Donovan are the other newcomers.
Head Coach Mario Cristobal has said he's looking for a couple of boundary WRs, and depth at CB and DL. Miami winning 9 or 10 games this year is not the goal. Miami football is being built from the ground up, they are looking to compete for a national championship in '25 or '26. Supporters must be patient, Canes Corner believes in Cristobal's vision.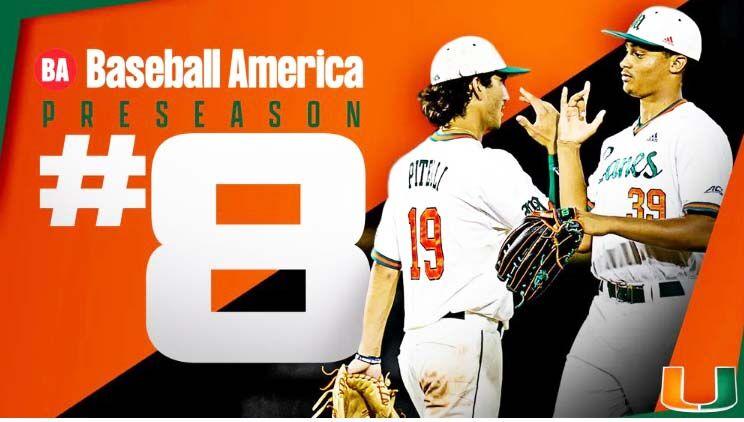 Baseball - Hurricane Baseball is 28 days away!
On Feb 17th, the Penn State Nittany Lions come to 'The Light' for a weekend series.
The Canes are preseason #8 in both the D-1 and Baseball America polls. Six other ACC teams are in the top 25 and Miami plays them all this season.
RHP Andrew Walter is a first team preseason All-American in most polls. Third Baseman Yohandy Morales has garnered 2nd or 3rd team All-American in multiple polls.
Fifteen letter winners return and are joined by eight freshmen and seven transfers. My guess at the starters would be all returners. C-Carlos Perez, 1B- CJ Kayfus, 2B Dorian Gonzalez, SS Dominic Pitelli, 3B YoYo Morales, OFs
Edgardo Villegas,Jacoby Long and Zach Levenson with Lorenzo Carrier at DH.
FGCU transfer Ian Farrow is the one newcomer I've seen play a few times and he should compete for a spot at OF or DH. Gage Ziehl , Karson Ligon and Alejandro Rosario are the likely weekend starters and Andrew Walters and Ronaldo Gallo should be first up in the bullpen.
I'll have been at Baseball Media Day on Friday, Jan. 27th and will have more info next week.
On Saturday, February 11th the annual Alumni Game takes place at 6:00. Admission is free and events go on most of the afternoon with free posters, autograph signings and batting practice open to all. I'll have more info soon.
Be well all. Go Canes!