Since Mark Light Stadium opened on February 16, 1973 the Miami Hurricanes have been among the elite college baseball programs with 25 College World Series appearances, four national championships , two runner ups and an NCAA record 44 consecutive years advancing to regional play.
Miami has won 29 NCAA Regionals setting a standard every new Canes team hopes to uphold.
The 2020 team was ready and able to take on the challenge at 12-4 overall and undefeated in the ACC. Then the COVID-19 pandemic struck and the season was cancelled squashing Miami's dreams.
Miami lost significant pitchers in the MLB Draft with Slade Cecconi going in the first round and Chris McMahon in the second. Brian Van Belle and Tyler Keysor signed free agent professional contracts and both will be missed in the UM pitching staff.
On the hitting side Canes faired well, only losing starting shortstop and second round pick Freddy Zamora.
The Hurricanes rebounded with Baseball America's #1 recruiting class. UM has four preseason All-Americans. Baseball America has catcher Adrian Del Castillo and first baseman Alex Toral on their first team. Collegiate Baseball selected USC graduate transfer and Canes likely closer Ben Wanger as a second teamer while Perfect Game honored two-way standout JP Gates as a third team selection.
Canes incoming freshman include top 100 recruit RHPs Victor Mederos and Alejandro Rosario as well as SS Yohandy Morales.
Miami's lineup will likely consist of returning starters Del Castillo, Toral, infielders Anthony Villar and Raymond Gil, outfielders Tony Jenkins and Jordan Lala and versatile Gabe Rivera and Gates who play 3B and OF.
Among the challengers for lineup spots are Rosario, freshman OF Chad Born, OF /1B CJ Kayfus, Adrian Del Castillo's older brother and Seton Hall transfer Christian and IF/OF Adam Frank who throws right handed playing infield and left handed when in the outfield. Freshman catcher Carlos Perez will be a valuable contributor as a spot starter allowing A. Del Castillo to DH especially in Sunday day games following Saturday nights.
Starting pitching rotation is not yet set with eight arms competing for spots in the rotation.
Veteran Daniel Federman, returnees Alex McFarlane and Jake Garland, transfers Jake Smith and Jordan Dubberly and freshmen Mederos, Rosario and Nick Regalado are all working every day hoping for their chance.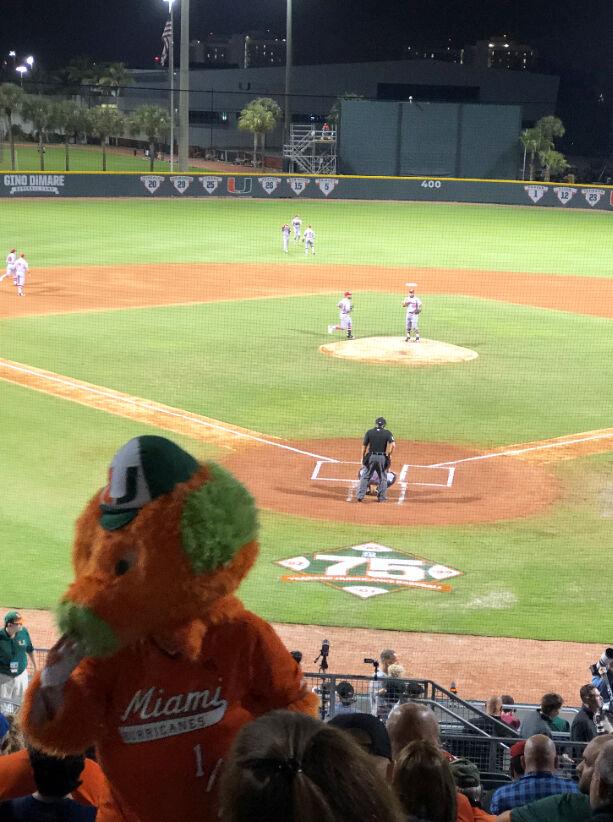 Miami opens play this weekend against consensus #1 Florida Gators with games Friday 2/19 @ 3:00 and Saturday and Sunday at 1:00.
Canes play first home games against Virginia Tech Friday 2/26 ,Saturday 2/27 @ 7:00 and Sunday @ 1:00.
UM is planning on allowing 1,000 fans to attend each game. I'm an anxious season ticket holder myself awaiting more information on seating policies.
Let's hope Gino DiMare, his staff and players continue the great Miami Baseball tradition this year and lead us back to Omaha.