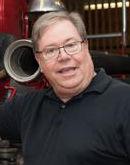 With time on our hands, long-delayed home projects are picking up. And we're reaching out to family and friends we usually only hear from through Christmas cards.
Here's a sample email, very long, from a good friend in northern England whom I'll call Jane. She writes "Our schools are not yet closed but my Anne would welcome that as she could do with a good rest working twelve hour days sometimes."
Her daughter is a first-year teacher. Jane says it all took an upturn when the President announced without warning that the UK and EU could not fly into the United States.
"Things took a rapid increase in panic!" she writes. Her nephew and his wife were stranded in Los Angeles on their way to the Cook Islands. (The British were always inveterate travelers.)
Working for the local Catholic Bishop part-time, Jane was surprised when all masses were cancelled. She says most of the parishioners are elderly.
She then has a rude comment about her Prime Minister who "ran the National Health Service down so they cannot cope." But her medical procedure through the NHS has been delayed to May. "There is a lot of talk that our Government have failed to ban mass meetings," she added.
The best stories came from her recent shopping trip. "No toilet rolls, pasta and a limit to two jars of pasta sauce per person," she exclaimed. "I popped out for a carton of milk for tea and BOOM it was like Christmas with all the queues!"
Jane says the worst news of all comes from Ireland. Not only are masses banned but all the pubs have closed! Her prediction is that the UK will follow suit next weekend. She texted again today that St. Patrick's Day was indefinitely postponed and no one is allowed to kiss the Blarney Stone!
Emails continue to come in from friends around the United States as well.
In Jacksonville Florida, my contact texted "no necessities missing in the stores except water and toilet paper. I happen to be out of toilet paper so everyone else is a hoarder!"
The U.S. military banned domestic travel this week that had the effect of shutting down most military trials and hence the courts.
But court martials are still scheduled although "continuances are liberally granted. Which means most court martials are postponed."
A teacher cousin from Cleveland writes that her schools are closed for two weeks, and maybe through the end of the year. With her kids at home, she was surprised at all the home projects she found for them to work on. Ever efficient, she's started some lesson plans for on-line learning if it comes to that.
An aunt in Delaware had her nursing home locked down, as an especially 'at risk' population.
Her son insisted on visiting but found some scarcity at local
convenience stores to bring her (forbidden) coffee. His work at UPS continues as deliveries are up, however they expect service cut-backs in the next ten days.
From Houston, Texas a friend writes that his step-daughter and her family had the flu last week. They're concerned for the baby who's less than a year old but is recovering. Their schools are closed this week but a final decision is still to be made about how long they remain closed.
"Grocery stores were a madhouse last week but calmed down after they modified hours and put police officers at the entrances," he said. "This is just crazy!"
Good friends from Sacramento, California were planning to stop here on a visit to Brazil this summer but re-scheduled. They're both retired but still teach some classes. There's not yet any news about state school and
college closures.
Finally, a college roommate texted from southern Virginia, "I have to babysit
grandkids while their mom is trying to set up to work from home. This is really putting a crimp in the ability to check off my to-do list!"
Reminded that he's "retired", he replied, "but there's too much work to do!"
For the latest CDC report, see https://www.cdc.gov/coronavirus/2019-ncov/downloads/community-mitigation-strategy.pdf.