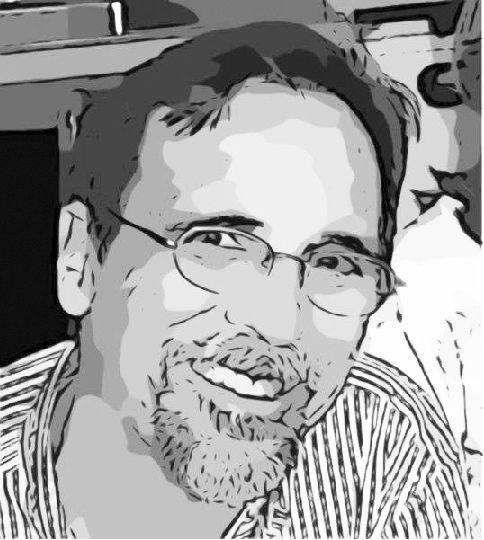 Recently someone mentioned that, for some, the Christian life is one of great sacrifice, for others, not so much. They implied, with no malice, that mine was a life of minimal sacrifice. Disagreement registered in my heart but did not escape my lips. It set me to thinking.
I remember a Christian song lyric by Keith Green, "To obey is better than sacrifice. I don't need your money. I want your life." God prefers obedience to sacrifice. Check. God also prefers obedience to laziness, or selfishness, or fear. Obeying God is our best evidence of loving God. And the best evidence of loving God is actively loving the people and things God loves.
Since, late in life, becoming a pastor I've stupidly told people that I see my job as easy. I rather should have said it feels like a good fit for me. Being available 24/7, being invited into the grief, tragedy, and trauma of others, or offering to step into them uninvited, is no one's idea of a good time; Being held to a 'higher standard', being put up on or pulled down off of pedestals not of my own making; working holidays, dealing with wide ranging and sometimes incompatible expectations; Be a leader. Be a servant. Be humble. Be charismatic. Be present. Be strong. Take initiative. Be resourceful. Be wise. Be responsive. It all adds up. And it all, and more, is part of the work. I've read that some pastors and their families suffer mightily under the expectations, or crack from the pressure. Yet Jesus says to the weary and heavy laden, "Take my yoke upon you. My yoke is easy. My burden is light." See Matthew 11:28-30.
I heard a bible expert suggest that Jesus' 'yoke' that he offers his followers is not one which we share with him; we don't shoulder a common burden with Christ. Rather, each one's yoke is a duty, role or responsibility designed for us – a well-fitting, not tiresome duty. That, for the most part, has been my experience.
Each of our Christian lives, all of our Christian lives, are subject to this same kind of sacrifice.
Sacrifice a sheep, or an hour, or money, or a queen, or one's life. Sacrifice doesn't always hurt. It does not necessarily make one worse off. To sacrifice is to 'offer up' something of value to another, generally for a higher good. That's the story of the Christian life.
However, one's view of higher good often has no relation to God's idea of higher good.
We are blessed to be a blessing. And I've certainly been especially blessed. Beyond being a racially favored, globally privileged, male – my family comes from, what my grandfather used to lecture us is, "good blood." I was reared in a stable, loving, healthy Christian family. I went to a world-class Christian college and went on for a master's degree in a field I love – all debt free. My first job out of grad school was at another highly respected institution of higher education in beautiful southern California. And then I also 'married up,' as they say. My family's assumption was that we would enjoy some miraculous melding of the American Dream with Christian influence. That's why they
sacrificially and happily paid my college bills.
Yet, we are blessed to be a blessing. My wife and I thought it wise and good for the Kingdom to leave posh Santa Barbara, California to move into a derelict section of Chicago where society's outcasts were swept… or kicked. An education program to train up the next generation of urban and global ministers needed a new director. Homebase was a homeless day-shelter/long term addiction rehab facility. It was worthwhile work full of excellent growth challenges and lessons about the Kingdom of God.
We are glad we gave up our comforts and career path of higher education administration at elite Christian schools. Was it a sacrificial move? Yes, in several ways. But mostly we did it for the love of Christ and His Kingdom.
We are blessed to be a blessing. After about 15 years of urban life lessons, and two children later, we were invited to leave our now-beloved Chicago to move to a mission opportunity in a fast-growing fishing town in Brazil. Global English speaking immigrants engorged and stressed the city because oil was found offshore.
We thought they needed Christian witness, evangelism, and community.
We acquired Brazilian work visas and a jobs, which enabled us to support ourselves financially while we reached out in Jesus' name. It was a risky move, stressing our family and leaving behind our established network of Chicago relationships; moving to a foreign country, language, and culture where we knew no one.
But the work was potentially fruitful for God's reign. We went with a 10-year plan. After 2 years of settling into the culture and the language, we were forced out – victims of our own Brazilian work success. But for those two years we daily reveled in God's hand at work in, through, and all around us. We were glad we had taken the risk and made the sacrifices.
We are blessed to be a blessing. Unexpectedly, we were invited into the world of pastoring. I ended up at a smaller than average church. Pastors of large congregations tend to get more attention and rewards than we who pastor 10-12 families. In addition, we Mennonites make up less than 3% of all Christians.
A commitment to Christian pacifism in a warring world does not attract many Christians to our fellowship. Mennonites usually don't even get mentioned when popular surveys rank church denominations. We have to imagine ourselves included in the tiny category of 'other' at the bottom of the list. But God loves us, nonetheless. And I love my congregation. If it's a sacrifice to be here, we are glad we sacrificed. The needs are real, the work is great. But the fit has been astonishing; I'm a hand in a bespoke work glove (get the yoke?). We are blessed again. Thank you, God. Thank you, Homestead Mennonite Church.
That's how I should have been saying it all along.
A message to my church:
Keep finding ways to love our neighbors with all our heart, soul, mind and strength – as God does, in this time of pandemic and unrest.