Brett Moffitt and Justin Allgaier each took home a checkered flag last weekend
For most of the year, many racing fans hone in on NASCAR's biggest series – the Monster Energy Cup Series. While the Cup series gets the most coverage and attention, many of NASCAR's future stars can be found in both the XFINITY series and Camping World Truck series. Similar to how Major League Baseball teams groom prospects in their minor league system, racing teams often do the same with younger drivers by having them compete in the XFINITY and Truck series before eventually having them race in the Cup series. This allows the drivers to gain experience in NASCAR, while mostly racing against similarly ranked drivers. Although many fans may not know these drivers, names are made here.
During the racing season, Cup series veterans have the opportunity to compete in the same races as the full-time XFINITY and Truck drivers. There are times during the season, however, when Cup series drivers are not able to compete in the other series, and this is when either series has a stand-alone race.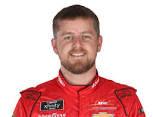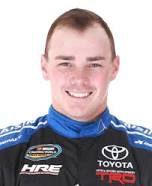 This past weekend saw a pair of stand-alone races, as both the XFINITY and Truck series races were staged at Iowa Speedway, while the Monster Energy Cup Series had the week off. While it was actually two former Cup series drivers who stole the show in each race this weekend – Iowa native Brett Moffitt won the truck race and Justin Allgaier took home the checkered in the XFINITY race – plenty of NASCAR's up and coming talent was on display.
In the Truck series race, Allgaier crossed the finish line just ahead of Noah Gragson after Gragson found himself in the wall following an aggressive move in turns three and four to briefly take the lead. Gragson's potential has been clear all season as he's been a consistent performer throughout the year, scoring six top-10s through nine races, including a win earlier this year at Kansas, where he beat out 2015 Cup Series champion Kyle Busch.
Gragson wasn't the only young driver to show promise in the truck race. His 2016 NASCAR Next classmate Harrison Burton, son of former driver Jeff Burton, scored his first-career pole position and finished third, a career-best in the Truck series. Burton, only 17 years old, benefited from the stand-alone race as he got to compete in only his third race of the season, driving the No. 51 truck, the truck that is typically occupied by Kyle Busch when he competes in the series. In all three races that Burton has gotten to drive the No. 51, he has placed in the top 10.
The XFINITY race on Sunday also showed signs of young drivers who are close to breaking through to NASCAR's top series. It was an eventful day for Christopher Bell as he started at the back of the field and ultimately finished the race in second place. For the 2017 Camping World Truck Series Champion, it was his eighth top-5 finish of the season. Bell knows the importance of taking advantage of racing without Cup drivers all too well. In his other two second-place finishes this season, only Kyle Larson and Brad Keselowski finished ahead of him.
In Iowa, Bell was joined in the top five by Cole Custer, last year's Ford Ecoboost 300 winner. In his second full-time season in the XFINITY series, the 20-year-old driver has learned from his experience of racing against Cup drivers all of last year, having already notched 11 top-10s through 14 races this season after only scoring six through the first 14 races last year.
When it comes to Cup drivers racing in the other two national series, it has its share of benefits. Racing against the best in the sport helps young drivers like Custer learn from each race and figure out what it takes to make it to the top series. It also serves as a confidence builder for a young driver like Gragson, who discovered early in his career that he could compete and win against one of NASCAR's top drivers.
At the end of the day, it's always nice to see XFINITY and Truck drivers get their own spotlight. With the playoffs approaching, many of these young drivers will have the opportunity to compete for a championship here at Homestead-Miami Speedway.
While most of the attention will be turned to who takes home the trophy on Sunday of Ford Championship Weekend, make sure to also take note of who else wins throughout the rest of the weekend. After all, some of our most accomplished Cup drivers made a name for themselves in NASCAR's other two national series. Whether it's retired drivers such as Dale Earnhardt Jr. or Carl Edwards, current veterans Martin Truex Jr. or Kevin Harvick, or even newer faces such as Chase Elliott or Daniel Suarez, many great Cup series careers began with being crowned an XFINITY or Truck Champion.
NASCAR ACTION THIS WEEKEND
Sunday, June 24 at 3:00 PM (ET)
Monster Energy NASCAR Cup Series Toyota/Save Mart 350 at Sonoma Raceway
Tune In: FS1 and SiriusXM NASCAR Radio Channel 90
Saturday, June 23 at 8:30 PM (ET)
NASCAR Camping World Truck Series Eaton 200 at Gateway Motorsports Park
Tune In: FS1 and SiriusXM NASCAR Radio Channel 90
The NASCAR XFINITY Series is off this week and will return Saturday, June 30.
UPCOMING EVENTS AT HOMESTEAD-MIAMI SPEEDWAY
June 23-24 Sports Car Club of America (SCCA)
June 29 Fast Lane Friday
July 7-8 Championship Cup Series (CCS)
July 15 Chin Motorsports Car Club
July 21 Miami Exotic Auto Racing
2018 HOMESTEAD-MIAMI SPEEDWAY NASCAR DATES
Nov. 16 Ford EcoBoost 200 Camping World Truck Series Championship Race
Nov. 17 Ford EcoBoost 300 XFINITY Series Championship Race
Nov. 18 Ford EcoBoost 400 Monster Energy Series Championship Race