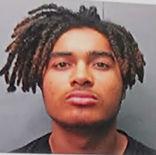 Daniel Weisberger, 17, the suspect in the murder of his 14-year-old brother and stabbing of his father, Ariel Jacob Poholek, 43, early Thursday morning reportedly jumped in front of and was struck by a moving car on U.S. 1 near Founders Park at Mile Marker 87 at approximately 7 p.m. Thursday. 
Trauma Star was en route at that time to land at Founders Park and take Weisberger to a hospital in Miami.
His injuries were described as severe. 
The Florida Highway Patrol is investigating the crash. 
The Sheriff's Office continues to investigate the murder/stabbing from earlier in the day.
--------------- 
Monroe County Sheriff's Office Deputies, Detectives and multiple law enforcement partners are asking for the public's help in locating 17-year-old Daniel Weisberger, (see attached photo) who is a suspect in a fatal stabbing that occurred early Thursday morning near Mile Marker 87.2 in Islamorada.
Anyone with information about this suspect's location should call 911 immediately.
The suspect should be considered armed and dangerous.
A resident of the Executive Bay Club townhomes called 911 at approximately 6 a.m. after his neighbor — Ariel Jacob Poholek, 43 — approached him and stated his son, Weisberger, fatally stabbed his 14-year-old younger brother earlier in the morning and then stabbed him multiple times, including in the neck.
It was unclear Thursday morning what spurred Weisberger to stab his younger brother and then his father.
Weisberger left the scene sometime after Poholek went to the neighbor's residence.
Weisberger's younger brother was pronounced dead at the scene.
Poholek was airlifted by Trauma Star to Ryder Trauma Center in Miami. His immediate condition not immediately clear as of this writing.
There were no other people in the residence at the time of the incident other than Poholek and his two sons.
Myriad South Florida law enforcement partners are assisting the Sheriff's Office in the search for Weisberger. Helicopters, K9 units and other resources are currently being employed to find him.