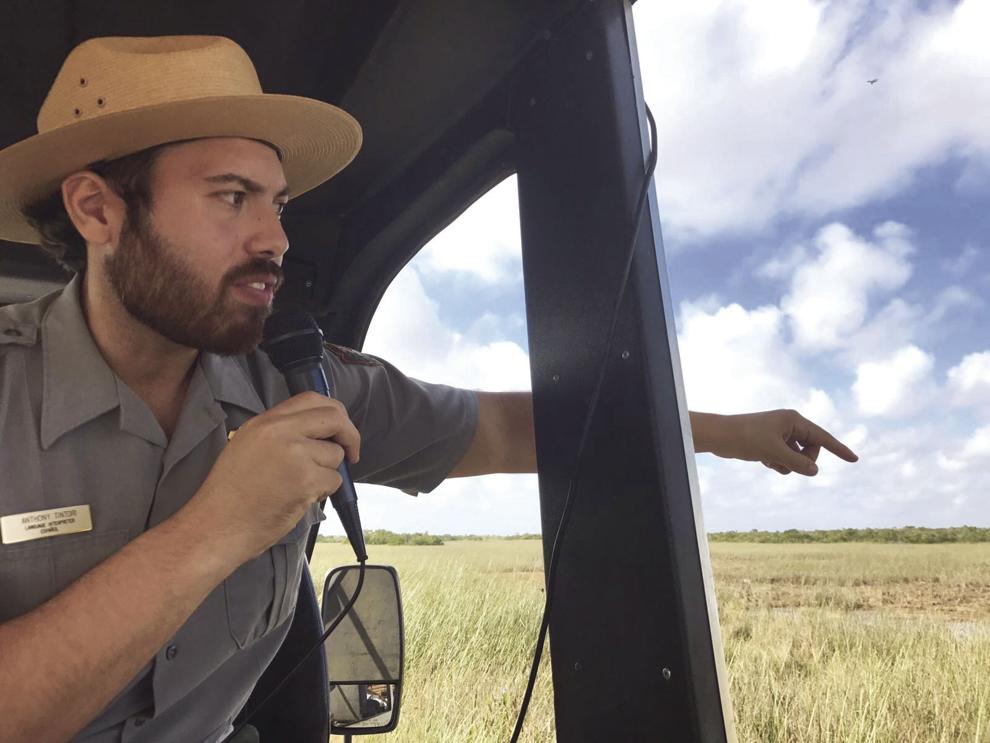 Living in South Florida has been a great experience for me.
Our region's multicultural identity is extremely rich and its natural beauty is impressive.
This is one of the few places in the world where you have the privilege of interacting with so many nationalities and embracing their unique cultures. South Florida is definitely much more than just warm weather. For many, it represents a new beginning.
As member of the third generation in a family of immigrants, I understand the adversity that people have suffered when forced to leave their home countries. My grandparents fled from Cuba and Italy. They immigrated to Venezuela in search of a better future for their families. After years of hard work, they exceeded their goals. Along the way, they were never afraid to step out of their comfort zone. They helped shape the person that I am today by always telling me to appreciate life and to never stop learning.
As a teenager, my life changed drastically and after years of struggle, we had the privilege of becoming citizens of this great nation. Two years before graduating from high school, I began to think seriously about what I wanted to do with my life. I realized there were two things about which I felt passionately: public service and natural science. What moved me above all was how they applied to the protection of the environment.
Understanding that, led me to realize becoming a park ranger was my calling. More than most other professions, rangers understand this delicate relationship between man and nature. Park rangers are in an invaluable position to trigger and promote beneficial changes in this complex relationship. Rangers create emotional, intellectual and spiritual connections between people, places and events. Rangers teach others to be more observant and more aware of the natural world. They truly demonstrate the potential of what nature has to offer.
I have moments when the job is as exciting as anything you can imagine. I have had close encounters with alligators, assisted on air rescues, worked on prescribed fires and explored remote locations. I currently work at Shark Valley, one of the four entrances in Everglades National Park. It is one of the best places in south Florida to get in touch with nature. Every day is unique. Each season brings changes in the endless cycles of water level and wildlife migration.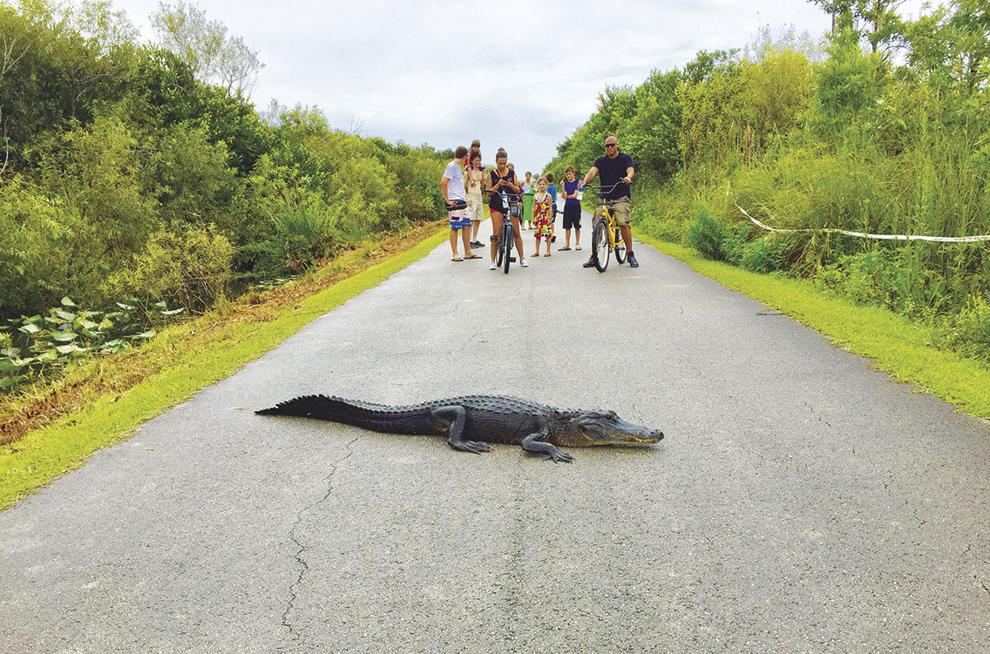 The best time to see alligators is between November and March. During the cooler months, alligators climb out of the water to bask in the sun. They sometimes cover the road! Dozens can sometimes be seen on Shark Valley's 15 mile Tram Trail.
The Everglades is a very special place; one that shelters a diversity of wildlife and plants found nowhere else. It also has a very unique climate, complete with heat, high humidity and powerful thunderstorms.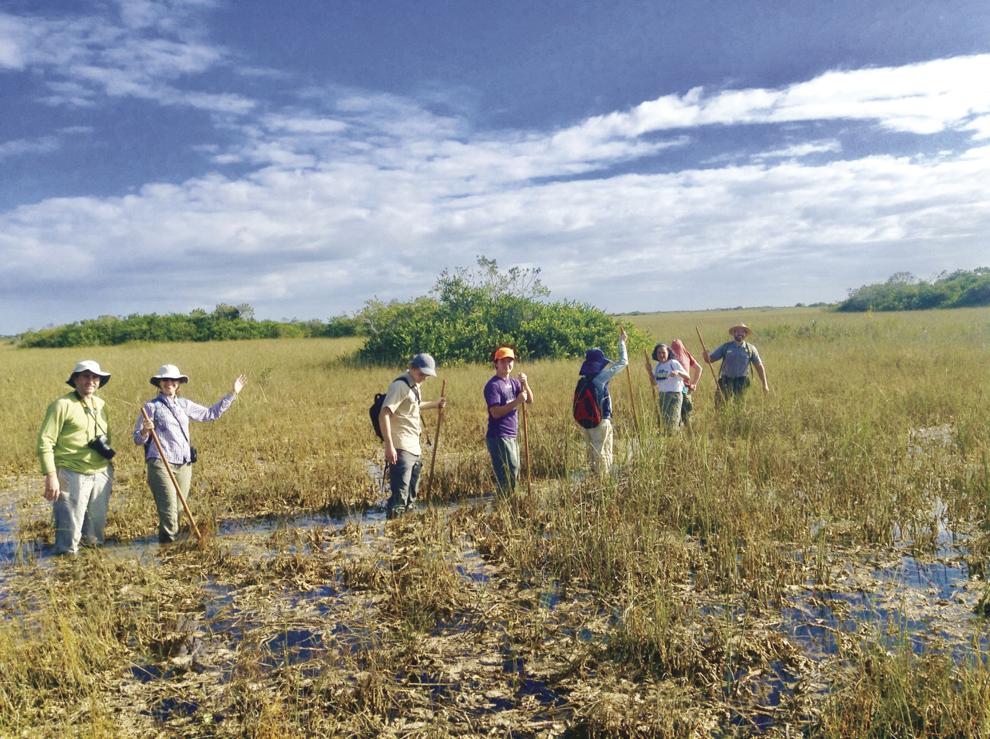 The Everglades comprise the largest subtropical wet-land ecosystem in North America and it is an important asset to humans as well. Thousands of Floridians rely on Everglades for drinking water and crop irrigation. It is said that the Everglades has only two seasons, the hot and the hotter season, which are also known as the dry and wet seasons.
South Florida is known for its tropical beaches, its warm weather and its unique night life. It is also an example of how destructive we can be to our own environment. For the past ninety years, the Everglades have been subjected to environmental problems that range from wildlife poaching to oil drilling, from the introduction of invasive species to water pollution. It is undeniable that human impact to this ecosystem has been very significant, but we can work to correct our errors and educate our future generations.
Einstein once said, "look deep into nature and then you will understand everything better." We all have a sacred connection with each other and with the world. The only way we can feel this connection is by surrendering our egos, clearing our minds and listening to the language of nature. Knowledge has always been a very powerful tool, but we can hopefully start to use it more wisely.
Today more than ever, I feel great pride when people call me "Ranger". There is nothing more rewarding than working for an agency whose goals are to protect the environment and to serve as the voice of nature. Working for the National Park Service has changed my perspective in many different ways. Our parks have a lot to offer everyone, and I deeply encourage you to visit, explore, volunteer or work for the parks. I assure you that it will change your life forever and you will receive far more than you seek!
Anthony Tintori is a Park Guide for the Shark Valley District of Everglades National Park. He was hired as a seasonal employee under the Pathways program in the summer of 2015, and moved into a permanent position in early 2016.