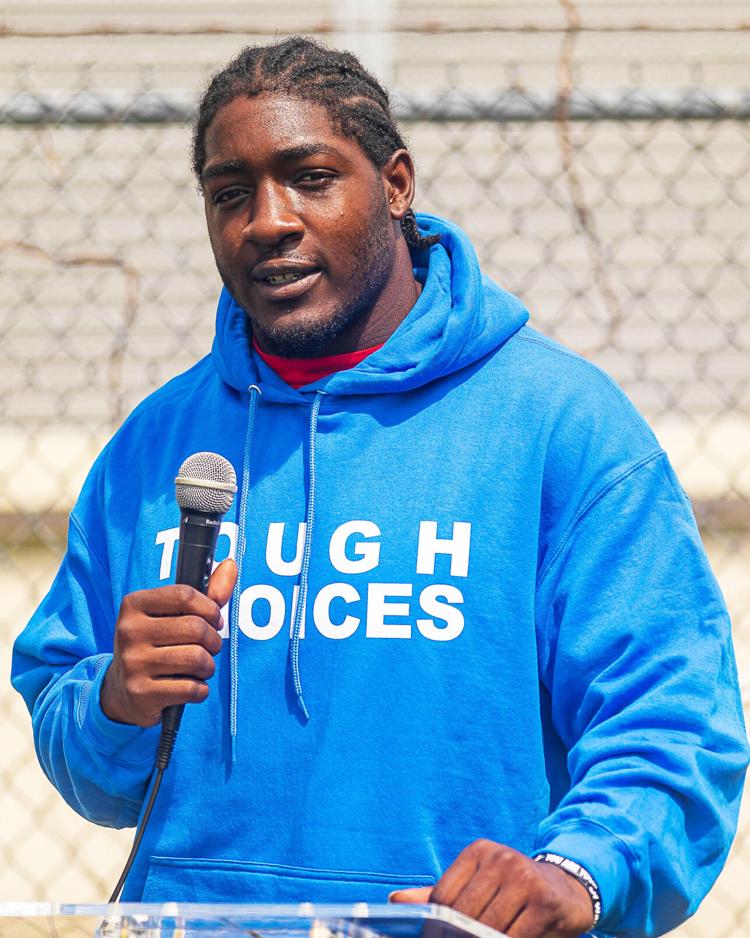 Giggling, excited children under the watchful eye of the staff gathered to thank the Mayor for his continued support and to kick off their partnership with the Tough Choices Foundation. Tina Meadows, Director of the Academy, brought the younger students to the stage set up outside where they gave the opening prayer followed by older students giving a welcome to everyone. In the short, cheerful ceremony, Meadows presented a large, framed certificate expressing their appreciation for the Mayor's contributions to their school.
"Every day is a success here. In looking out, I see the next Mayor, County Commissioner, or President. Remember, success grows when the community grows," were among the Mayor's brief remarks.
Students Ar'Zyrea Robbins, Myricle Brown, and Princess Thomas performed an inspiring dance to the sound of, "Praise", and then former National League Football player and founder of Tough Choices Foundation, Tevon Coney was introduced. "I want to find out more about you. I'm here to build a relationship."
Coney, originally from West Palm Beach, was an All-American player in high school and went on to the University of Notre Dame. As is shown on the Foundation's website, "Despite facing adversity as a young man, Coney strived to be great in academics and football because he was confident this would lead to his success. His efforts have achieved him excellence both on and off the field." His college football record was equally impressive in playing as a true freshman and in most games during his years at Notre Dame. He was selected as a Midseason All-American by Pro Football Focus (first team) and to numerous award watch lists. 
Furthermore, he recorded a career-best 17 tackles (top by any player in a bowl game) in the 2018 Citrus Bowl. The linebacker played for two years with what are now the Las Vegas Raiders and is on a different path at this point in his life.
In 2020, Coney launched Tough Choices Foundation. "The objective of Tough Choices is to educate, inspire, and mentor the youth in communities that are in dire need of additional, equitable support. Tough Choices is not a brand, but a movement crafted to encourage change, reform education, and spark growth."
He paused on his way inside to meet with the children. "After sports, my number one passion is building community," he said. "We have five or six schools now, and hope to have more in the future."
Meadows had explained to the children they would be meeting with Coney and filling out questionnaires, to include the opportunity to choose to have special mentor times via Zoom set up. "Be sure to talk about your dreams," she reminded them.
The new partnership came about unexpectedly as Meadows attended a function in Miami and struck up a conversation with Coney. Not being conversant in football, Meadows' interest was sparked when he began to talk about his foundation. She looked it up after and saw how closely aligned his objectives were with the school's goals of, "Mentorship, Education, Success".
"I knew we had to start a partnership with him," she said. "Our plans are to open schools in Miami and Palm Beach in the future and they will have an athletic component," she added.
This is not the first time Meadows has been creative in seeking ways to reach out to children to better their lives. Meadows' husband, Pastor Mark Coats, mentioned their schools in Goulds and Liberty City. The school in Goulds has been in operation for ten years. Many of the high school students participate in a work-school arrangement. "In speaking with the students, their desire was to be able to work part time to help their families financially," Meadows said. "We help them find jobs and for those who don't work, they come here [the Florida City school] and volunteer."
Grace Success Academy is also designed as an all-day program with before and after school care where they provide three meals a day to students, some of whom are from the Chapman Partnership Homeless Shelter.