On April 18th, 2022, South Dade Senior High School received an email from a very special someone.
The son of William (Bill) Squiers contacted the school's media center on a very important mission.
Mike Squiers was searching for pictures of his father, who had attended South Dade in his youth, as a surprise gift.
Bill Squiers was a freshman in his time at South Dade in 1954, 68 years ago. Bill had been a member of the driver's education program with the school and was an avid player for the school's baseball team. Out of love for his father, Mike began a search to find old pictures of Mr. Squiers from previous schools, including South Dade.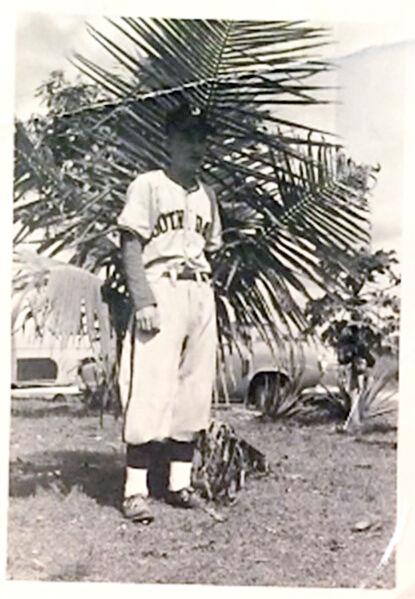 Mike vacationed in Largo and found this to be a perfect opportunity to complete his mission. He began with an email to the school regarding the situation from which he got transferred to the school's Media Specialist, Rosa Vazquez, who cares for all the previous year's yearbooks. With that, a search began. Flipping through pages of books and looking at each individual picture, finally it came down to two photos that could possibly be Mr. Squiers: the first, the Driver's Education class; the second, the school's baseball team photo.
After taking pictures of each and sending emails back to Mike Squiers, they came to the discovery that he was in the Driver's Education photo.
After a few emails back and forth, the next day they planned for Mike to drop by in order to pick up a copy of the Driver's Education photo his father was in. Along with the photos, he had asked to see if there were school shirts he could purchase to bring back as a token for Mr. Squiers.
Mrs. Rosa Vazquez called around the school and found two available in the right sizes; including a current 'South Dade Baseball' t-shirt.
After hearing the heartfelt story, Coach Burnside of the baseball team donated the t-shirt to Mike as "a special gift for a previous baseball player".
Finally, after much excitement, it was time for Mrs. Vazquez and Mike Squiers to meet in order for him to receive the items. He met with Mrs. Vazquez at the Senior High School, receiving the items with great appreciation. He had told her how much this meant to him and his wife, and that his father would be overjoyed. Mike Squiers and his wife then left after many hugs and tears shed.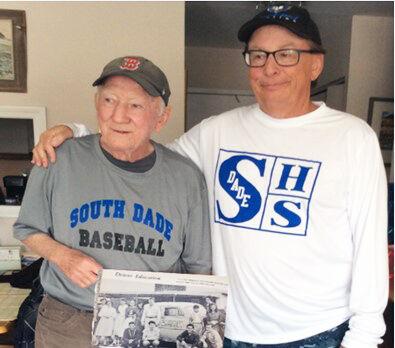 A few weeks after the event, upon Mike Squiers's arrival in South Portland, Maine, he sent a photo (above right) picturing both him and Mr. William Squires in the South Dade t-shirts, holding the Driver's Education class photo.