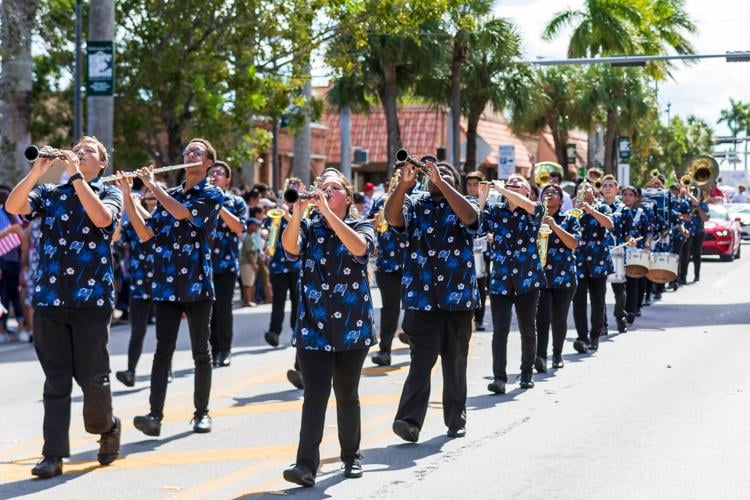 In the back-and-forth of what schools would do about re-opening for the 2020-2021 school year, there were always questions about sports programs and other extra-curricular activities.
For South Dade Senior High School, Scott M. Davis, Director of Bands and Orchestras, had been busy planning how their program can continue to build on what is a growing reputation for excellence.
Davis, who teaches Jazz Band, Wind Ensemble, Symphonic Band, Marching Band, Beginning Band, Beginning and Advanced String Orchestra, has been with the school for four years. He took over the Orchestra program last year and has become well-known in the local communities for the wide range of talent they can provide for different events. One of the reasons they are likely to be seen such as when the Jazz Band performed at the March 2020 Seminole Theatre Gala is because he's added elements like the smaller Chamber Groups. By having quartets and trios available as a unit, organizations can book them as did Homestead Center for the Arts with the South Dade Jazz Band Saxophone Quartet. They were the opening number for the Second Annual Homestead Showcase of Artists and Artisans.
Just last year, the Wind Ensemble and Symphonic Band participated in the Florida Bandmasters Association Music Performance Assessment, which was hosted at South Dade Senior High School.
People are more familiar with the entire Marching Band of the Buccaneers who have participated in the Junior Orange Bowl Parade, Homestead Veterans' Day Parade, Homestead Main Street's Christmas Parade, and of course all the football games.
"This year, we have about 50% of our students in the building and the other 50% are staying online," Davis explained. "Right now, we are rehearsing with 3 1/2 feet distance between us. Wind Players are using 'Musician Masks', which have a hole for their mouthpiece.
The Marching Band started to rehearse on Monday, October 12th. The Buccaneer Marching Band will have about 51 members with band members and color guard."
As with a number of the extra-curricular programs of the school, the SDSHS Buccaneer Band Booster, Inc., is a non-profit 501c (3) that helps support the needs of the band. For alumni and those within the community who enjoy listening to the students, the Boosters provide the opportunity to donate to the many efforts of the band.
Their Facebook page highlights their six-plus decades of dedication to music. "South Dade Senior High School has a rich tradition of strong band programs, dating back to the school's opening in 1953. Since moving to its new campus in 2008, South Dade has become a magnet school with a strong Visual and Performing Arts Academy."