Twenty years ago when Linda Fagan wanted to reach out to some of her patients she knew were unable to afford a special holiday meal, she didn't realize her requests for help to do so would be met with such support.
On Tuesday, November 24, 2020, almost two dozen individuals and organizations responded to provide food, money, and/or hands to put together 150 baskets.
"This is a community effort. Some of these people have been with me from the start," she said. "This is the first time we've done it at the Seminole Theatre." The operation quickly outgrew assembling and distributing the baskets at her medical clinic and with COVID-19 restrictions, the Homestead Community Center wasn't a practical option this year. Fagan, who is also the President of the Board of Directors for Seminole Cultural Arts Theatre, Inc., thought of the historic facility.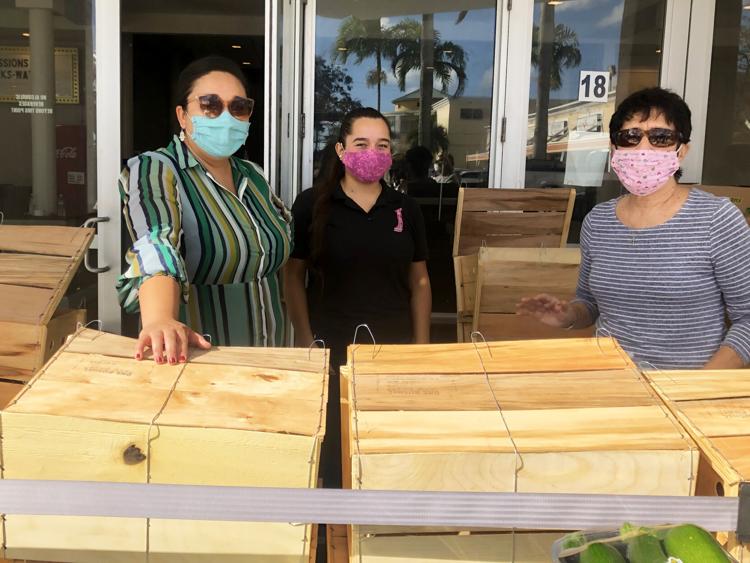 "We're glad to help," said Katherine Rubio, Director for the Seminole Theatre, as sturdy baskets were being filled with fresh local produce, boxes of stuffing and mashed potato mixes, packets of rolls, cans of cranberry sauce, and pumpkin pie. Turkeys were ready to hand out as the center attraction. Thirty baskets were designated for military families among the other recipients.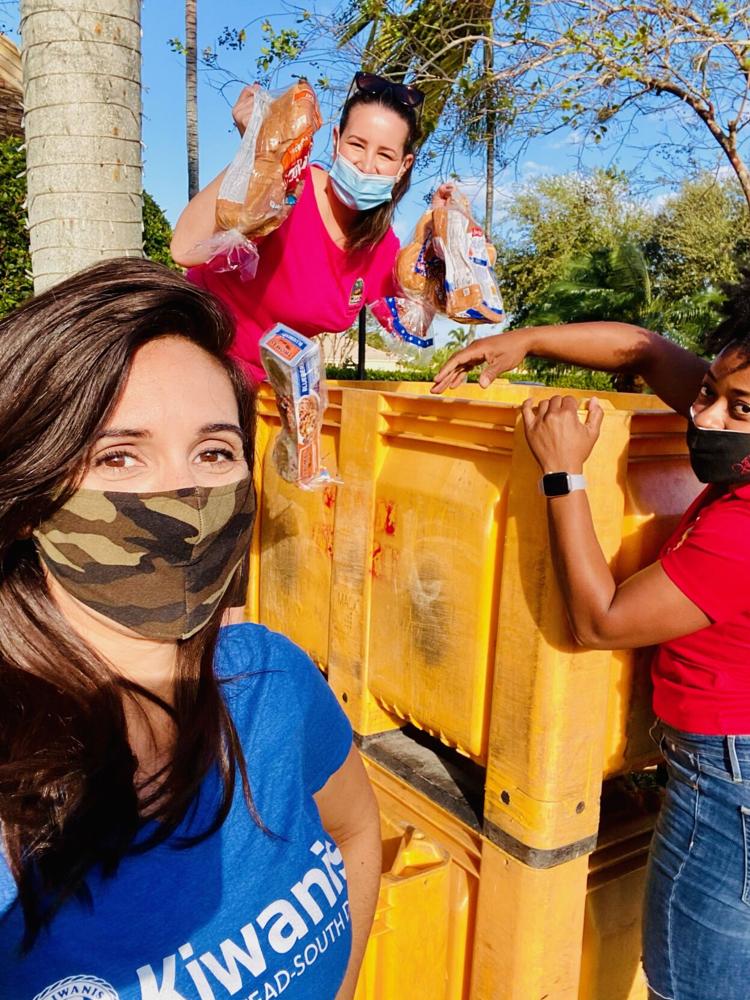 "I'm thankful to be out here," said Councilmember Larry Roth in between sorting items. Councilmember Erica Avila had gone out to bring back more gravy and it was Councilmember Sean Fletcher's first time to contribute to this cause. 
Councilmember Stephen Shelley is another longtime supporter as are Sam Accursio and Five Brothers Produce.
Roxanne Jeghers, the Homestead Rotary and Military Affairs Council lent their support. Others were the Agramontes, Aguirres, Cases, Claude Condo, Dr. Chunduru, Ron Hyde, Bruce Lee, the McMullens, Arnold Perez, the Skippers, Symons, Trejos, and Vasquez's.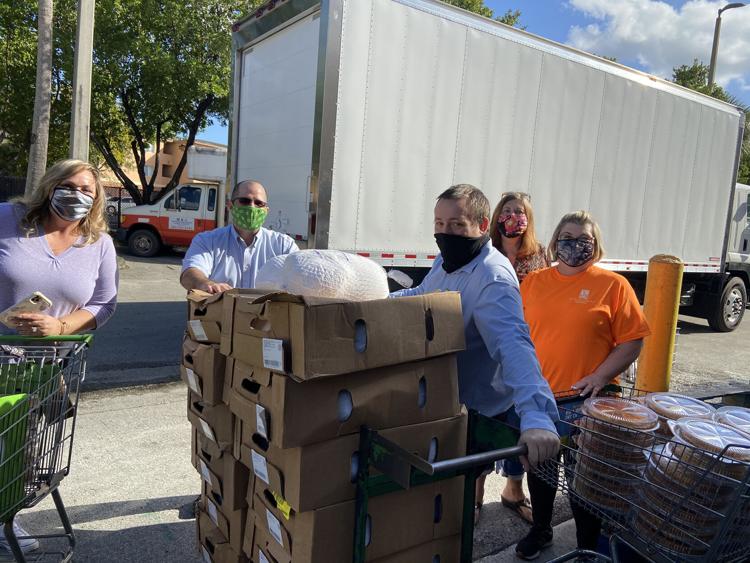 In another area of town, Homestead Soroptomists and members of Homestead Rotary were busy, gathered at the Homestead Pavilion Publix to prepare fifty baskets for families or their annual event. They packed everything in a truck donated by TruckMax and went directly to Redondo Elementary School. "The members of Soroptimist International of Homestead along with the Rotary Club of Homestead were determined to uphold a tradition that is in its fourth year," said Yvonne Knowles, Vice-President.  "We all felt that with the hunger situation posed by this stressful year, it was even more important that those meals be distributed."
The Kiwanis Club of Homestead-South Dade, recently joined Miami Dade County Farm Share, GFWC Woman's Club of Homestead and the City of Homestead to feed more than 500 families in a Thanksgiving Farm Share Food Distribution drive-through at the Malibu Bay Clubhouse.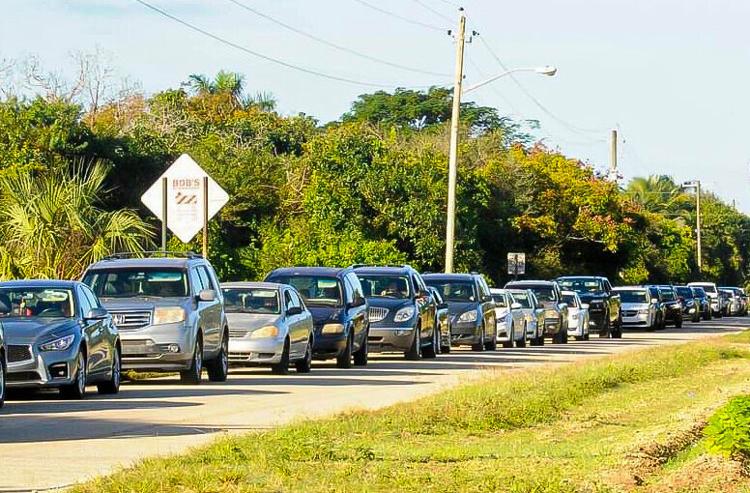 Led by Councilwoman Ávila, current Lt. Governor for District 26 of the Florida District of Kiwanis, the event benefitted families in the Malibu Bay and  Waterstone commu-nities.  This was the third food distribution at the clubhouse location since the pandemic hit. 
  "This was an incredibly successful event," said Ávila as she surveyed the blocks-long line of cars.  "It was especially important to help the people of Malibu Bay and Waterstone, who, like everyone else, has been affected by the economic slowdown brought on by COVID-19 but are often forgotten when relief efforts are coordinated. Prior to COVID, we've never had food distributions on this side of town in our communities so I took the opportunity to bring Farm Share here the first chance we got." 
  Kiwanis members were also joined by Airmen from nearby Homestead Air Reserve Base. Cars, with their trunks open, pulled into the semi-circular driveway in front of the clubhouse, stopping at each food station to get a variety of food including breads, canned goods, chickens, orange juice, and bags of potatoes.  
  On Wednesday November 25th, the weekly food distribution at the Haitian Evangelical Baptist Church of Homestead (every Wednesday 2:00 p.m., at 344 W Mowry Dr) augmented their regular offering with 300 turkeys. Homestead Councilmember Jennifer Bailey and the Southwest Advisory Committee, Truly Local Cares, and Mac Edwards Produce & Co., helped make this possible.
Among the numerous efforts around the communities, the Homestead Woman's Club did double duty. Members shared thanks to an anonymous donor who donated 100+ hot meals from Pinecrest Bakery. The Woman's Club stopped by MDPD Station 4 [Miami Dade Police Department] and took them lunch and then together we went out to serve the community.
They thank MDPD Major Charles and his team for always supporting their food distributions and for all their hard work keeping our communities safe.
Then on Saturday, November 27, 2020, they held a drive-thru distribution at the Woman's Club where 800 families were provided with 1,000 baskets. The ambitious outreach was supported through the offices of State Senator Ana Maria Rodriguez, County Commissioner Kionne McGhee, and Councilmember Avila.