In last week's South Dade News Leader, we covered the creation of Joint Task Force Haiti (JTF-H) to command and control the United States Military efforts providing humanitarian aid to Haiti in the wake of the August 14th earthquake.
On August 25, Rear Admiral Keith Davids, commander of JTF-H, took a few minutes out of his busy schedule to discuss the rescue efforts from his headquarters located at the Port-au-Prince airport.
When asked about his overall assessment of the damage and need of humanitarian support RADM Davids said, "That's one of the things we've been working on from day one. How bad is it is how we have framed it. If we know how we can best help. A lot of people have compared it to 2010. I was not here in 2010, but the epicenter was a lot closer to Port-au-Prince. A lot more casualties and because of the urban area a lot more damage. This one is to the west and a more rural area. The good news is fewer fatalities… That being said, the location of the epicenter made delivering aid logistically a whole lot harder… There are plenty of damaged buildings, particularly some of the bigger buildings. I saw schools, homes of course, and a hotel significantly damaged, some complete loss, some partial. So there is damage. So that's a long way of saying it's not of the extent of 2010 but given the location it presents different challenges to the relief effort."
When asked how long the mission in Haiti might last. RADM Davids responded, "I don't know. Since we've gotten here, we have been focused on two things, support of USAID, the lead federal agency, (and) working very closely with our partners to save lives and minimize suffering to the extent we can. We're kind of hyper-focused on that, working with our Haitian partners to develop a concept of how we're going to support and trying to optimize all of the US assets we've brought to bear to help USAID in their relief efforts."
He continued, "We've all been really busy, trying to coordinate across a whole host of organizations. From various UN (partners), of course USAID which we are very well lashed up with, but also the Haitian Civil Protection Agency, and even NGOs. I've gained a new appreciation for what NGOs do for people all over the world, it's really heartwarming."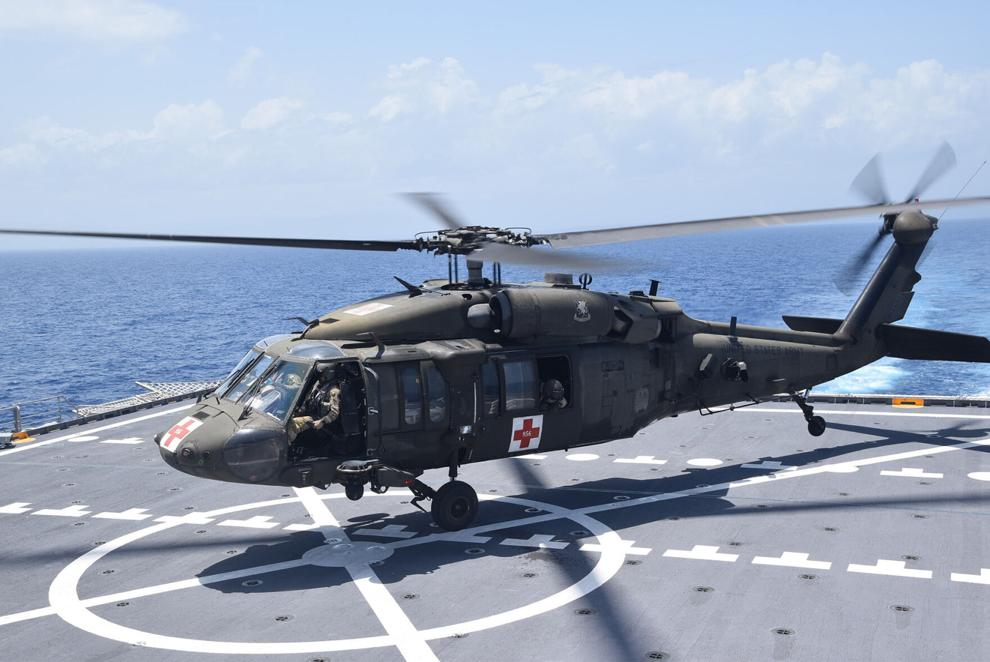 When asked about transitioning from a military mission to a humanitarian one the Admiral began with a story, "I was out flying the other day and was on the headset talking to the pilot, and we talked about the importance of being here. The unique capabilities the US Department of Defense can bring to bear to help. This was an experienced pilot, he has spent a lot of time in Iraq and a number of other places, and we both have.
We talked about how this is a different mission, but frankly in many cases more rewarding. He told me that he would much rather do this mission, saving lives, delivering aid, reducing suffering to our friends and partners. You know we have this shared region with close cultural ties. He (the pilot) said 'You know this is just fantastic, the team is motivated, and we just want to make a difference.' So we can bring a lot of the same skills that have application in a more traditional military sense perhaps, but doing it in this way is inspiring. It's inspiring for me to watch our Sailors, Soldiers, Airmen, Marines, and Coast Guardsmen just embrace this mission each and every day. I will tell you the team is working tirelessly. In any disaster of this magnitude the early hours are critical to saving lives, particularly."
He continued, "While we have a relatively small footprint on the ground in Haiti, fewer than 100, we have a lot of people who live in Doral and Homestead that wake up every morning and look at this problem set. They have been a huge help in using some of the intelligence and informational assets the government has to analyze the roads, to help with delivery options, to understand where mud slides are.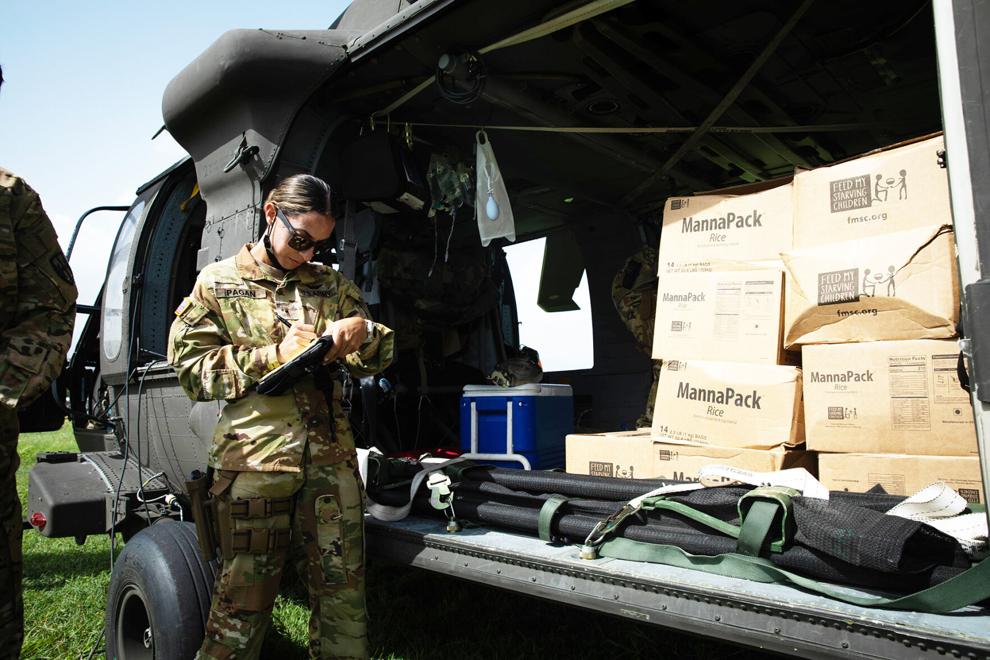 A whole range of logisticians figuring out how we might help the fuel situation. It's a team of people in Miami Dade who contribute to this effort even though their boots are not on the ground, their hearts and minds are here in Haiti."
As discussed in last week's article JTF-Haiti has a number of naval vessels assigned. When asked to discuss what capabilities they provide, the Admiral's response also touched on one of the significant problems in providing disaster relief, the competition for scarce resources by the organizations that arrive to help.
He said, "Having the assets at sea is hugely helpful for a number of reasons. We deliberately tried to come here with what we needed but not anything more. We're trying to keep a relatively small footprint in Haiti because, frankly space is at a premium. The airport here in Port-au-Prince was initially a little overwhelmed with military aircraft, commercial aircraft, NGOs, and so we're trying to keep a relatively small footprint in Haiti while bringing to bear what we need to be effective. So the Guard aircraft out of Puerto Rico are operating out of the Dominica Republic today. We've got helicopters out of JTF Bravo taking advantage of our presence in Guantanamo Bay. That's a long flight, I'm proud of our folks who are flying hundreds of miles over water just to begin missions to deliver aid. What the ships give us is the ability to refuel at sea, they give us a safety net, a lily pad, a divert airfield for the long flights, and these ships came with aircraft. In one case a Scan Eagle drone. So they've got a lot of capability and help us extend our legs. One of the choke points has been the airfield here. We're trying to optimize every flying hour and it has been tough. Port-au-Prince airport really was not designed for this level of activity. Our team has worked with the Haitians to optimize every movement on the airfield.
Anytime I can send aircraft to refuel at sea means they are not getting in line here for gas and slowing NGO Flights and other efforts so hugely helpful.
Depending on the next step in the recovery plan, It is quite possible we might take advantage of the at sea platforms to load up and deliver aid most expeditiously and efficiently. Drive the ships closest to the point of need and have shorter helicopter flights. We're looking at all options working with direction from USAID, working with UN partner organizations, with input from NGOs and of course working very closely with the Haitian Civil Protection Agency which is the designated lead agency in Haiti for the relief efforts."
In conclusion RADM Davids offered the following observation, "I've seen a lot of media on this. I want to give you a perspective that I don't think many people in the media have right now. This is a tough situation. My heart goes out to the Haitian people who are affected here. All the media has seemed focused on gang violence and aid disruptions. So I went around and visited a number of towns out in the rural terrain in some of the most affected areas. As time goes on I have no doubt they will become more desperate as they don't have the basic needs, anyone would. Access to food, water, shelter, and basic medical needs, that's understandable. But I'm out there fist bumping with children, they are all giving me a warm welcome. I'm walking around with a crowd of one or two hundred people and at no point do I feel threatened. So there is another side, a warm side to the Haitian people. They've got a tough circumstance, but there is some sensationalism is my sense. Now to be clear the distribution of aid has to be done in an orderly way and I'm not saying there is not risk. If people are desperate for food and water, then drastic situations can cause drastic measures. I don't want to downplay the potential, and no doubt we've seen aid disruptions. I just want to tell your readers that there is another side to the story. That there are a lot of wonderful, warm people here, so far that has been my experience."
As of August 30, JTF-Haiti has conducted 593 missions, transported 370,000 lbs of relief supplies and equipment, and assisted, rescued or evacuated 477 people.