Last month, on August 21st and August 24th, Mayor Otis Wallace met with residents of the Florida City Camp Site and RV Park to discuss the next phase for the area, as it goes to sale towards the creation of Caribbean Village and Plaza I.
Following the Florida City Board of Commissioners unanimously approving the August ordinance to rezone the area, at the corner of Krome and Davis
Parkway, Mayor Wallace sought to inform the tenants of the city's plans to sell the space, and to dispel any rumors about the upcoming steps for the planned unit development district of new residential and retail properties.
One of the attendees -- Margaret McDonald -- at the August 24 meeting to
discuss her concerns, questioned how some of the other residents might be able to afford to relocate.
While she is now actively looking for a home further north in Bradenton, after living at the trailer park for the last four years, Mayor Wallace indicated he is currently reviewing the possibility of this aid for those in need of it.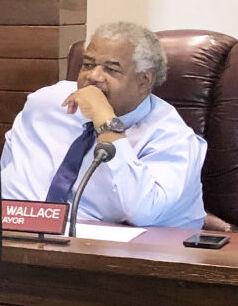 "I'm not aware of any program, but we are checking into it," Wallace said. "No promises were made, because I don't know if there is such a program...but I haven't got an answer yet."
Denizens of the park there, like Mcdonald, were anxious as well due to the belief that the property had a 99-year lease that was being breached, something Mayor Wallace said is false.
"That's simply not true," said Wallace.
Mayor Wallace further explained that a year and half ago, after the city first announced they were selling it and people there thought they were being kicked out, he met with them and explained the details of the timeline.
"Nothing was imminent, they were in no danger of being forced to leave," Wallace said. "The deal -- if it took place at all -- would be far in the future, and I committed that when and if we had consummated the deal, [I] would get back to them, and they would be given a minimum of 3 months notice prior to the deal closing."
Additionally, Mayor Wallace said inhabitants now may even be given more time, and verified that no one has been removed.
"Nobody has been served with any paperwork to be evicted, that has not been done," said Wallace.
Nonetheless, Mayor Wallace also confirmed the sale is coming regardless.
"Either way, we plan to sell the campsite; I don't want to mislead people, they're good people, but I don't want to give them false hope," Wallace said. "The city plans to sell the campsite...that's the bottom line."
While acknowledging the economic and job boost the new project will provide to Florida City, Mayor Wallace said he is still willing to help those there with looking to find a new home elsewhere.
"I'll work with them in any way, such as checking to see if there is any special money for section 8, are there any rental assistance programs to help with
relocation, all those things we're willing to do," said Wallace.