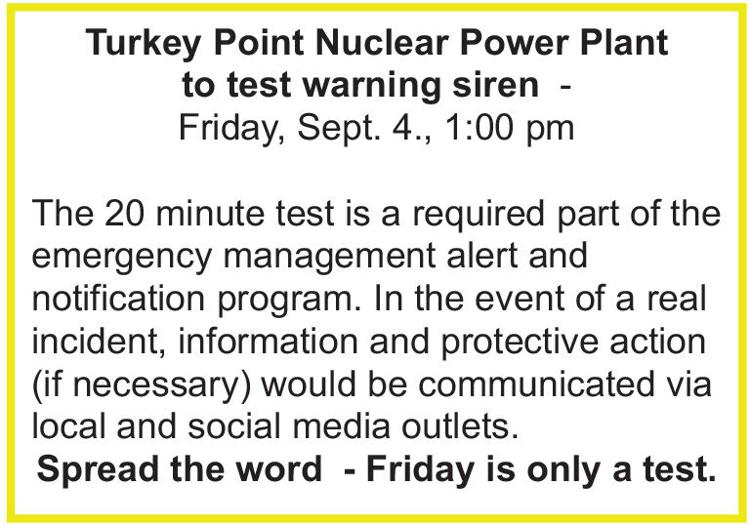 The Nuclear Regulatory Commission (NRC) dispatched a special team of senior inspectors to Turkey Point Nuclear Power Plant on August 31st.
The team inspection was due to three unplanned shutdowns between August 17 and August 20. Florida Power & Light's (FPL) Turkey Point facility operates two nuclear reactors in unit #3 and unit #4. Other generating units at Turkey Point are fueled by oil or gas.
Peter Robbins, Director of Nuclear Communications for NextEra Energy, the parent company of FPL, told the News Leader in a statement, "The initial shut down was to conduct a repair on the non-nuclear section of the power plant, and the additional shutdowns happened as we determined that additional work and repairs were needed. This inspection is regarding the recent unplanned shutdowns. In all three cases, the reactor was shut down in a matter of seconds, and all safety systems responded as designed. Regarding the inspection, we welcome this opportunity to share the details of equipment performance and the actions operators took to keep Turkey Point in a safe condition during the recent unplanned shutdowns. Turkey Point and FPL are always ready to fully cooperate with the independent experts at the Nuclear Regulatory Commission in the spirit of complete transparency."
The shutdowns occurred in unit #3 that began commercial operation in 1972.
The current operating license expires July 19, 2032. In January 2018, FPL applied to renew unit #3's license for twenty years until 2052.
The NRC said operators manually interrupted the reactor on August 17 due to rising steam generator water levels. The unit was automatically tripped or interrupted on August 19 due to a reading of higher than expected neutron activity in the reactor core.
Another manual shutdown occurred August 20 because of the loss of the single operating steam generator feedwater pump. Typically, nuclear units operate with two or three feedwater pumps per unit.
The five-member inspection team sent August 31 included a senior reactor analyst plus staff, led by a senior resident inspector from a North Carolina nuclear plant.
NRC spokesman Roger Hannah said special inspections may occur five or six times a year, depending on events or issues. The inspectors gather data for an analysis on whether the unit operates properly on its technical specifications and concentrate on the safety features.
Turkey Point units #3 and #4 passed their 2019 periodic safety inspections according to the NRC report issued in May. That inspection included 13 regional investigators, two fulltime inspectors and four major team inspections throughout 2019.
The unplanned shutdowns inspection is expected to last about a week. A report documenting the results should be issues in forty-five days.
Inspection results can be accessed through the NRC's website at ww.NRC.gov
The NRC lists its two strategic goals as ensuring the safety and the security of a plant's radioactive materials.