Although there is still some work to be done, the College of the Florida Keys (CFK) did celebrate the grand opening of the new Upper Keys Center in Key Largo, Monday, August 5, 2021.
The smiling crowd joined CFK President and CEO Jonathan Gueverra for their first look at the 38,000-square foot center. He expressed his appreciation in a press release. "Thank you for your support, your indulgence, your
willingness to dream, to trust, to contribute financially, to take a major leap for the betterment of our community, and for every person who will benefit by what happens within these walls over the years." He added, "This is only the
beginning, but it is a beginning that represents hope and opportunity that results in social and economic mobility for our entire upper Keys community."
Wednesday and Thursday, August 12-13 followed with Open House hours for tours and to speak with CFK staff about completing applications, registrations, or answering general questions.
Additional information released stated "The College offers bachelor's and associate degrees as well as workforce training. Programs that are available this upcoming Fall semester include nursing, paramedic, business administration, supervision and management, construction technologies,
hospitality, public safety, general studies, and Project ACCESS, which provides
opportunities for students with intellectual disabilities. Marine science programs will be added in Spring 2022. The Upper Keys Center also houses a testing center, which provides access to thousands of professional testing and certification exams. In celebration of the grand opening of the center, the College is offering a 'Take 2, Get 1' enrollment special.
Students who register for and complete two or more classes, or at least six credits, this Fall semester will receive one free class, up to three credits, in Spring 2022. At least one class must be at the Upper Keys Center for each semester. Fall classes start August 19. CFK's Upper Keys Center will be open to the public, Monday through Friday, 8:00 a.m. to 6:00 p.m."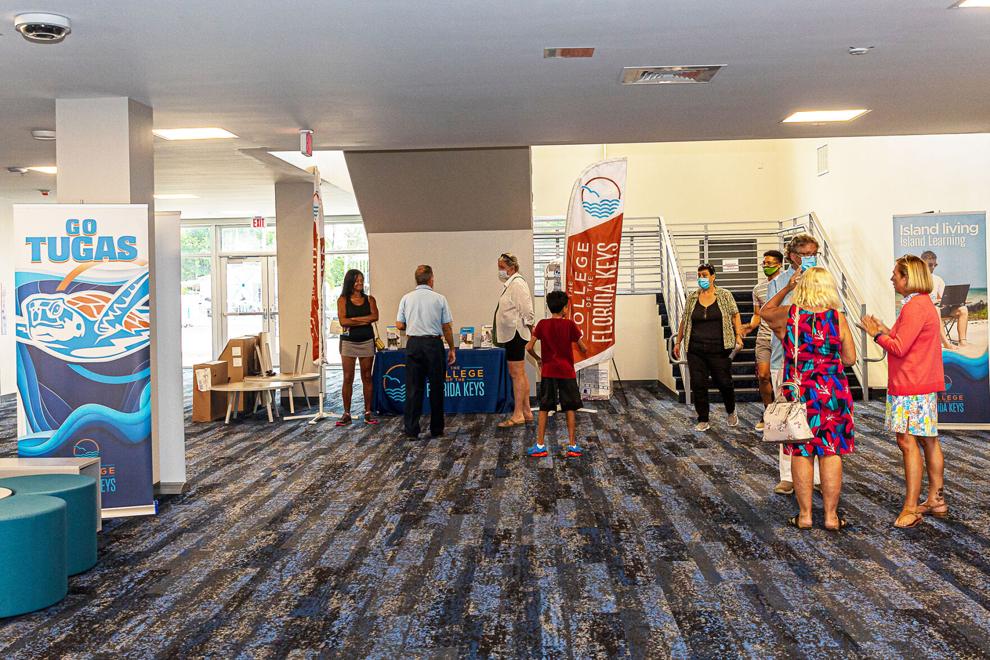 Although the desire to have an Upper Keys facility was first articulated about twenty years ago, when President Gueverra accepted the position in 2012, no progress had been made toward that goal. He had a number of initiatives planned and intended for the major capital construction project to be among them. High on his list, however, was to have every course available on-line; an achievement accomplished that served them well post-Hurricane Irma. That also meant they were positioned to "pivot" into all on-line as COVID-19 closures occurred.
Gueverra began a strong push for the new facility and learned adequate financing from the State was not forthcoming. He then reached out to potential alternative government means as well as to civic and non-profit organizations for support. Ultimately, construction was made possible through a $16 million grant from the U.S. Department of Commerce's Economic Development Administration (EDA) and privately raised funds from the CFK Foundation and other local sources.
The new facility is offering class attendance options of in-person, virtual (real time), on-line, or hybrid. In general student population is comprised of recent high school graduates, dual-enrolled students, working adults, some international students, and there has been significant growth in out-of-state students. Eligibility for in-state tuition is by state residency, not by county.
President Gueverra is experienced in taking educational institutions to new levels. In serving as the Dean for the School of Business and Public Service at SUNY Canton, he directed activities that helped the former two-year technical college become a baccalaureate institution. His message about CFK includes
several points. "We provide quality education close to home and we do a significant amount of work to stay as affordable as possible. Students can find jobs immediately in the workforce as nurses, first responders, hospitality staff, plumbers, HVAC technicians, etc., or complete an associate degree and transfer."
Among comments in his President's Welcome on their website is, "The commitment and pride of the faculty and staff at CFK is second to none. Our small class sizes coupled with opportunities for internships and career exploration in our tropical paradise makes "Island Living, Island Learning" exciting, engaging, intellectually-stimulating, and fun! Take a tour, explore and stay for a class, a certificate program or complete a degree."
For information visit https://www.cfk.edu/UKC or contact Marissa Owens, CFK Director of Recruitment, at recruiter@cfk.edu; (305) 809-3207.