Shelley leaves Council after fulfilling his term of service.
On Friday, Nov. 5th, Homestead's City Council held a Special Call Meeting for the purpose of swearing-in the newly elected Vice-Mayor and re-elected Mayor and councilmembers.
This was also the last meeting for Councilman Stephen Shelley, who has served for the last 12 years on the Council, including as Mayor and Vice- Mayor.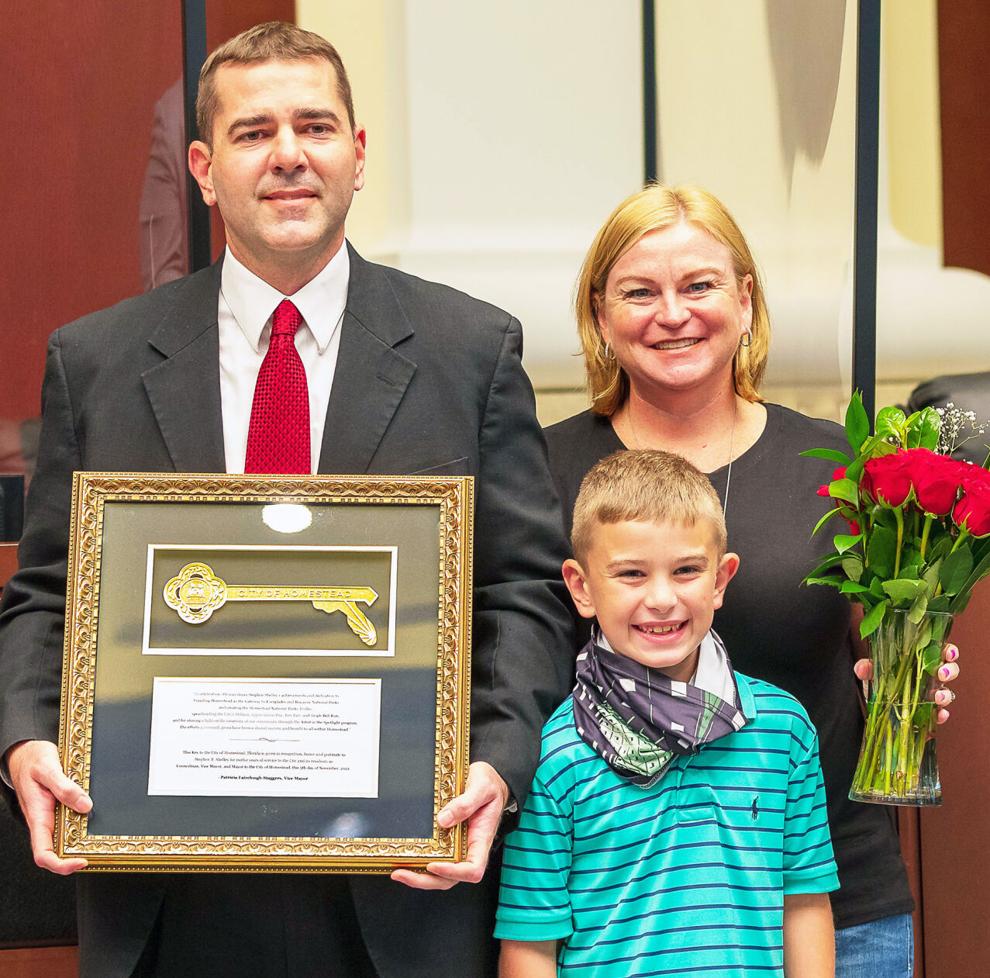 The meeting began with a presentation by City Manager Cate McCaffrey to Councilman Shelley of a photographic collage highlighting his work on multiple city projects including the Seminole Theatre renovation and both the new Police Station and City Hall. It also documented Shelley's leadership in efforts to build a strong partnership with both Everglades and Biscayne National Parks. Next, a video tribute to the departing Councilman was played for those in attendance on the large screen followed by a ceremonial presentation by Vice-Mayor Patricia Fairclough-Staggers presenting Shelley with a key to the city.
The next order of business was the Swearing-In Ceremony.
Mayor Steve Losner was sworn sworn in by Judge Jose E. Martinez. Mayor Losner was reelected and will serve a two-year term as Mayor of Homestead.
He was first elected as Mayor in 2019 and previously served on the Homestead City Council during 2001-2007. He has been an active member of many community organizations including the Rotary Club of Homestead.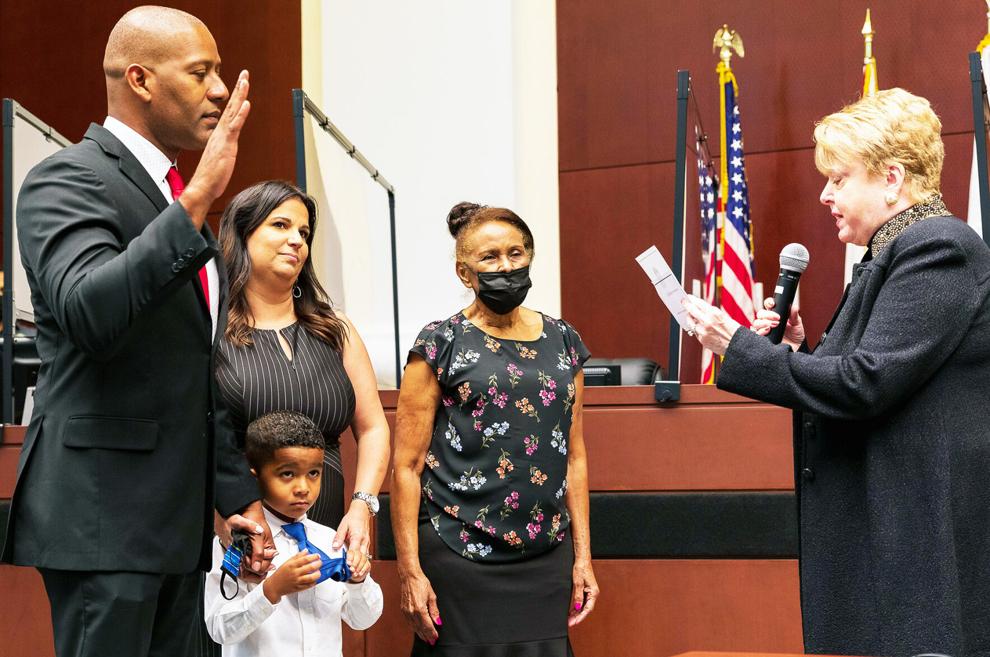 Vice Mayor Julio Guzman took the Oath of Office administered by Teresa King Kenney. Vice Mayor Guzman was elected to a two-year term as Vice Mayor and a four-year term as Councilman to represent Council Seat #1. He was first appointed to the Homestead City Council to fill Council Seat #1 and served from February to November 2009.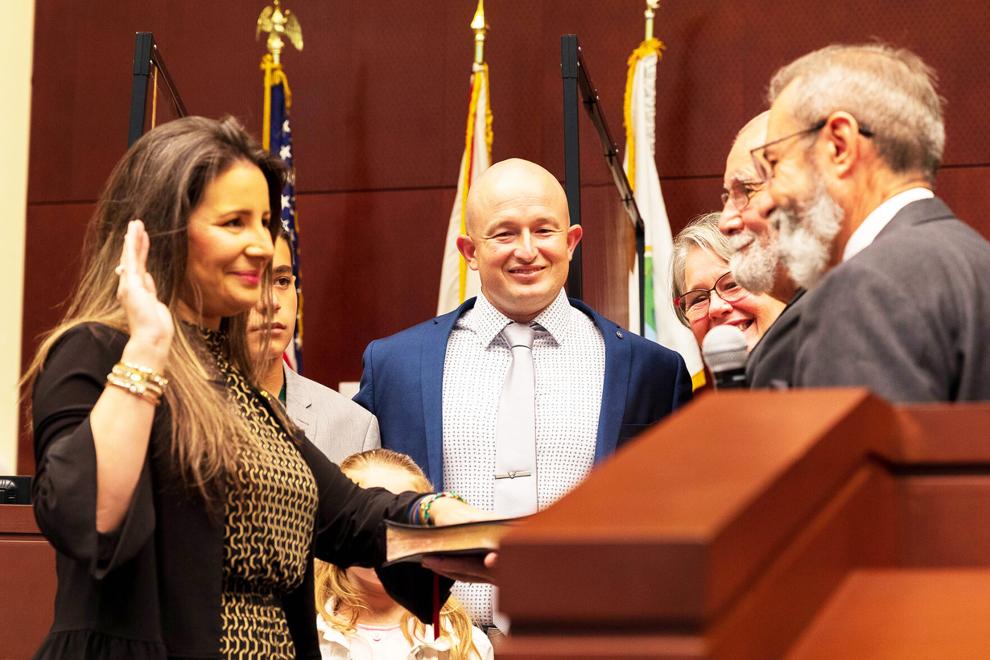 Councilwoman Erica G. Àvila was sworn in by Carlos A. Àvila. Councilwoman Àvila was reelected and is serving a four-year term as Councilwoman for Council Seat #5, which includes the Waterstone and Malibu Bay Communities. She was first appointed as a Homestead council member in that seat in 2020.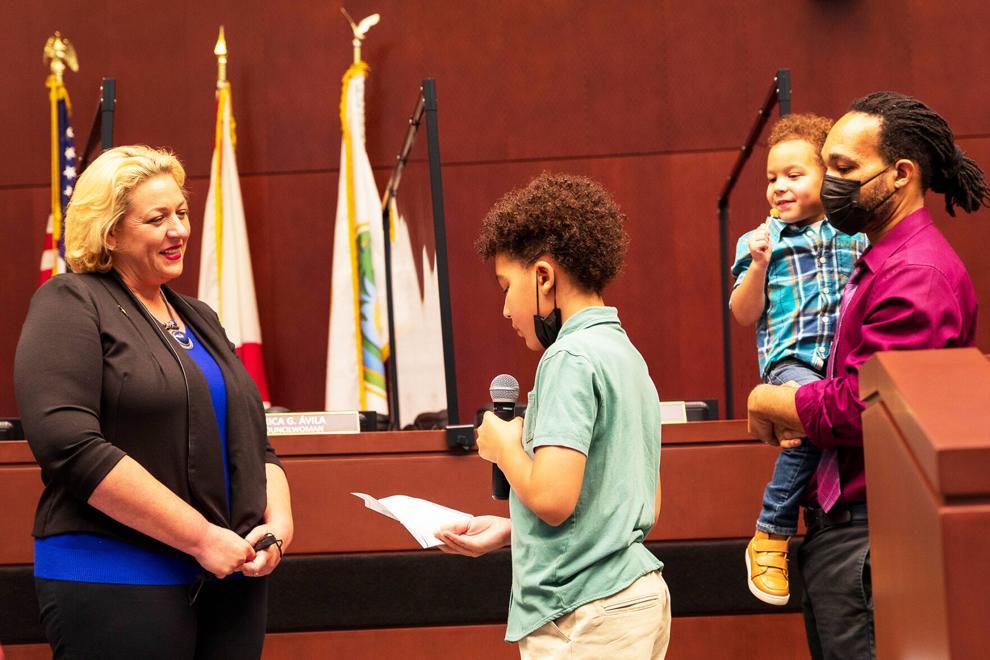 Councilwoman Jenifer N. Bailey had her Oath of Office administered by her son, Jackson Bailey. Councilwoman Bailey was re-elected to a four-year term in Council Seat #5. She was first elected as a Homestead council member in that seat in 2017.
On returning to the dais each member of Council made remarks. Councilwoman Avila said, "Thank you Homestead for four more years of making Homestead a better place for our families to live in, to learn in, to play in and for our business to thrive in."
After thanking family and campaign supporters Councilwoman Bailey said, "I look forward to bigger and better things in the next four years."
Vice Mayor Julio Guzman concluded his remarks with the following, "Great leaders use their ability to bring other great leaders to the table. I think what we want to do is to use our connections and reach to bring leaders to the table so we can do something that is bigger than ourselves. Together we have the ability to make great things happen."
Mayor Losner, alluding to the closeness of the race for Mayor, began his remarks, "In politics achieving election is relatively easy compared to earning reelection. While they say a win is a win, it is acknowledged that more hard work must be done such that nearly half of our residents will know their mayor represents, understands, and respects them. It will be through that prism I will strive to earn the trust and confidence of all residents over the next two years."
Later in his remarks, Mayor Losner turned to ways that the City can both provide better services to residents and increase economic development, "In addition to becoming more resident friendly, we must quickly erase the well founded reputation of not being a business friendly city. Difficult and forthright conversations must be had and provide clear direction to the City Manager not only as to the system of Development Services under which we now labor, but also about those who direct the process from start to finish."
When remarks were concluded the meeting was adjourned.