The National Park Service (NPS) announces the beginning of the prescribed fire season in the South Florida National Parks and Preserve.
During the 2021 prescribed fire season, our Fire & Aviation Management program plans to conduct 23 prescribed fire treatments located in Everglades and Biscayne National Parks and Big Cypress National Preserve. Operations are expected to begin mid-February.
These prescribed fire treatments will be weather and resource dependent. Signs and additional information will be posted and available in the parks and preserve. Alerts will also be kept updated on park and preserve websites.
South Florida National Parks and Preserve has the most active prescribed fire program in the NPS. Each year this program treats 50-75% of the NPS acreage across the country.
Fires are a natural and important ecosystem function for Florida's environment. Using prescribed fire as a land management tool helps reduce the risk of wildfires to communities and developed areas. Fire benefits the ecosystem by renewing wildlife habitats and promoting ecological diversity.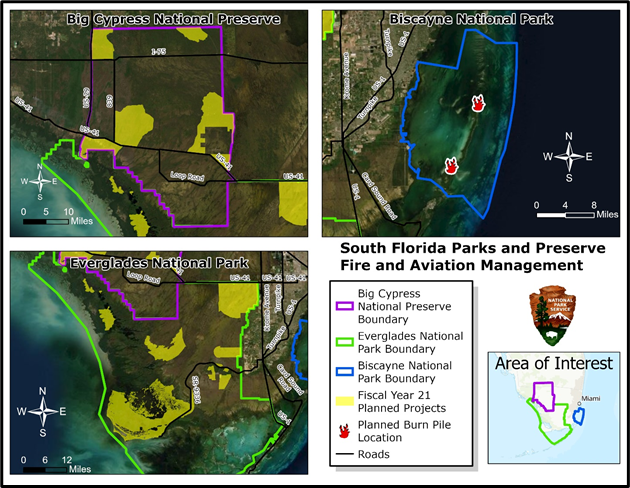 Prescribed Fire Benefits
• Helps reduce the risk of wildfire and protects communities adjacent to natural areas by reducing highly flammable vegetation.
• Promotes and maintains healthy and resilient fire-adapted ecosystems.
• Improves nutritional quality and nutrient cycling of soil.
• Maintains habitat conditions for plants and animals.
• Maintains biodiversity within fire-adapted habitats by promoting flowering and fruiting of plant species.
• Restores fire to landscapes that no longer experience the natural historic flow of fire due to habitat fragmentation.
• Helps to manage exotic invasive plant populations.
• Safer, efficient, and more cost effective than wildfire management.
For more information on prescribed burns visit: https://www.nps.gov/ever/learn/management/prescribedfire.htm