Like so many, Miami-Dade County Public Schools Superintendent Alberto M. Carvalho wanted the 2021-2022 school year to be less impacted by the intense COVID-19 challenges of the past year.
In a rousing presentation to School Board members, administrators, educators and community partners, Friday, Aug 13, 2021, he acknowl edged the difficulties encountered and reminded everyone of solutions that were found as well as lessons learned.
As the new year begins August 23, 2021, Superintendent Carvalho provided the figure of 75,000 students who were enrolled in 179 different programs over the summer; some of which were established to help fill academic gaps that occurred during COVID-19 closures and disruptions. He also acknowledged how parents often became co-teachers for their children and the array of services rendered by not only teachers and faculty, but each individual such as members of their police force who helped distribute electronic devices and meals in certain communities.
Indeed, 30 million meals were provided in-house or curbside pick-up and custodial staff maintained heightened sanitation measures. Healthcare providers were more vital than ever, and corporate partners COMCAST expanded connectivity while Microsoft teams were available 24/7 to resolve technical issues with on-line learning and virtual classes.
He cited numerous individuals for special recognition as everyone, "Learned and leaned on one another."
He reiterated they would base upcoming health and safety decisions on science, not ideology. Miami-Dade County Public Schools COVID-19 Protocols changed based on August 18, 2021 meeting.
• Facial coverings are mandatory for all students, employees, volunteers, and visitors while in M-DCPS facilities and on school buses.  Students and employees may receive an accommodation for a medically documented need in accordance with federal law.
• Current quarantine protocols require isolation for 10 days, regardless of COVID-19 test results. 
• Visitor access to school sites will be limited.
• Social distancing will be in place in cafeterias and alternate dining venues will be used when possible.
• A health screening room in all schools.
• Heightened cleaning and sanitization protocols in place on buses, school campuses, and District offices.
• Personal hygiene behavior, including frequent hand-washing and the use of hand sanitizing stations will continue to be encouraged.
• Improved air technology, such as purifiers, ionization systems, and upgraded A/C units.
• Increased amount of outdoor fresh air coming into our school buildings.
• HVAC (heating, ventilation, and air conditioning) systems will run at maximum outside airflow for two hours before and after school buildings are occupied.
• Instead of quarantining entire classes or departments, the quarantine process will focus on individuals directly impacted by a potential exposure due to the availability of better science and data."
As has been the case for more than a year, changes are likely with short notice and information will be disseminated as quickly as possible.
Carvalho articulated a common feeling of, "I know it may seem we are right back where we started," and added, "I know we will get through this. I know because the best predictor of future success is past performance."
Despite the drawbacks of 2020-2021, there were major accomplishments as 100% of Miami-Dade schools are now graded at A, B, or C and a 93% high school graduation rate has been achieved.
The website contains a lengthy list for the coming year under the category, "Relevant, Rigorous & Innovative Academics Drive M-DCPS' Bold 2021-2022 Programs, Initiatives". These are grouped into, "Pillar I – Relevant, Rigorous & Innovative Academic; Pillar II – Safe, Healthy & Supportive Learning Environments; Pillar III – Highly Effective Teachers, Leaders & Staff; Pillar IV – Informed, Engaged and Empowered Stakeholders; and Pillar V – Effective & Sustainable Operational Practices."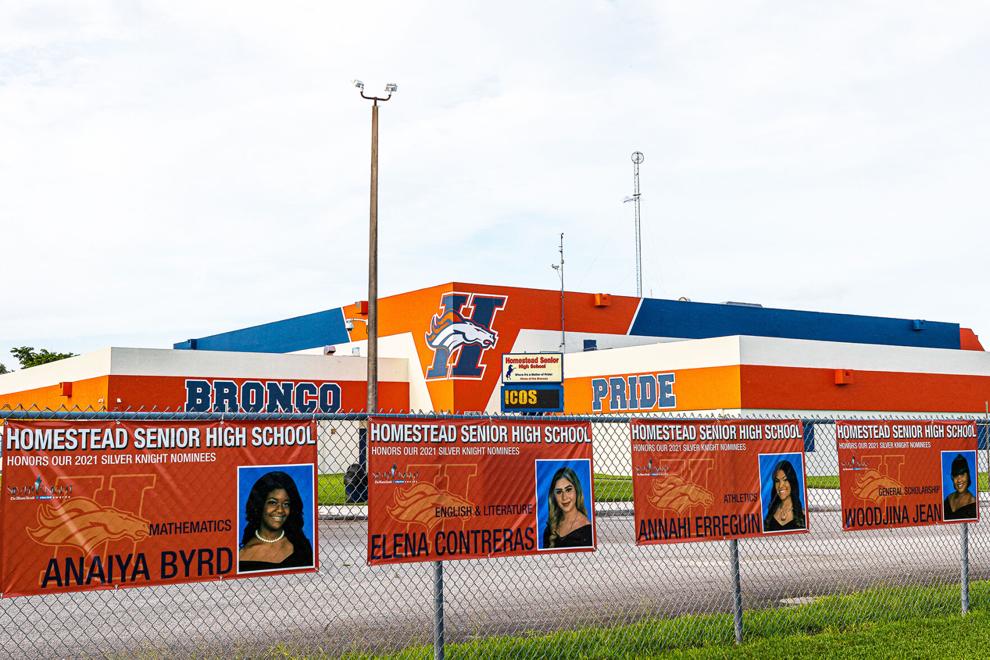 Homestead Senior High School and Robert Morgan Senior High School are planned for inclusion in the Dual Enrollment Expansion Program (DEEP)initiative. "DEEP will expand Dual Enrollment opportunities andincrease the enrollment of underrepresented subgroups in advancedacademic courses. Through partnerships with the National Equity Lab and the Miami Bayside Foundation, DEEP will boost and expand dual enrollment opportunities for underrepresented subgroups in advanced academic courses."
For those who may be new to the area, statistics for Miami-Dade County can be startling. It is the 4th largest district in the United States with 334,000 students and another 50,000 adult learners who come from 160 countries supported by 41,000 employees.
The MDCPS website is https://www3.dadeschools.net/home, Twitter @mdcps and @miamisup.