Applause and enthusiastic comments filled the almost packed Homestead City Hall in August 2019 at the Property Transfer Signing Ceremony for the Miami-Dade College Homestead Campus Student Success Center.
Major construction is never a quick process and Tuesday, October 19, 2021 marked another significant step to the group assembled at the MDC-Homestead Campus for the Groundbreaking Ceremony. This time the vibrant sounds of the South Dade Senior High School Buccaneers Marching Band played as the crowd gathered under a large tent where Master of Ceremony Juan Mendieta, Director of Communications, Miami Dade College (MDC) began the morning's program.
Student participation, now at the college level, continued in leading the Pledge of Allegiance, posting the Colors, and singing the National Anthem before Madeline Pumariega, President, MDC gave welcoming remarks that included mention of founding of the Homestead Campus.
"In 1990 when we said we would be here, we meant for the long haul."
Despite devastation from Hurricane Andrew two years later and a fifty percent drop in student population, the promise to rebuild was made and kept. Indeed, the meaning of the day's event was multi-faceted.
"We're not just building a Student Success Center," she said and listed enhanced programs planned for career paths within allied health. "This will become a magnet for health care fields. These are important and good paying jobs."
She also had special praise for Dr. Jeanne Jacobs, President of MDC-Homestead for fifteen years. "I would say her leadership was as transformational as was the founding president."
Complex efforts to secure resources and agreements necessary for the Center were among Jacobs' accomplishments.
Dr. Oscar Loynaz, current MDC-Homestead President, thanked everyone for their presence. "If you are here today, you are a friend of MDC-Homestead."
In pointing out the three construction projects in sight, the Flagler Avenue main entrance and parking is scheduled for completion in the fall. Although the busway project is Miami-Dade County for the Bus Rapid Transit (BRT) system, it will provide an improved transportation option for students, staff, and faculty.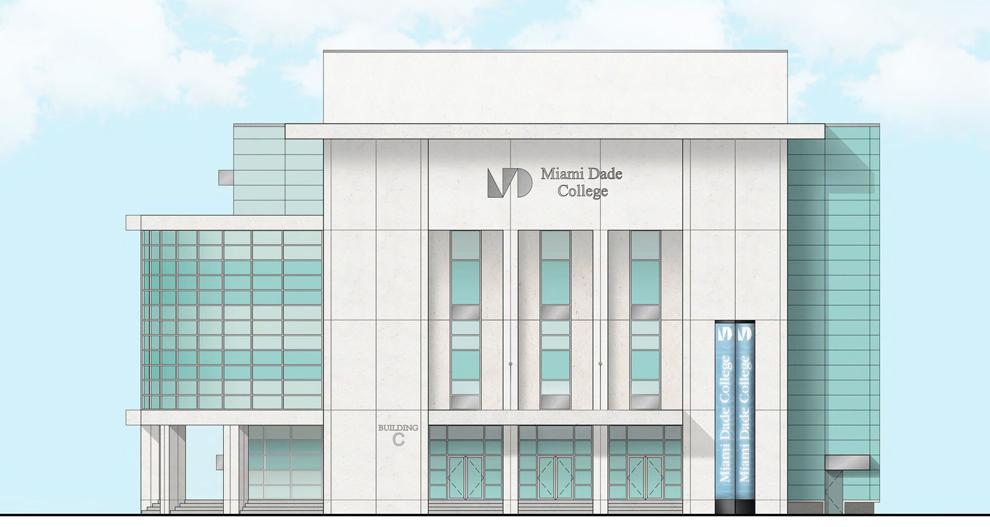 The 60,000 square foot, four-story Student Success Center will bring together many student services, a bookstore, classroom and computer lab space, and new capabilities. The fourth floor will have a major conference center and art gallery, both of which will be available for community as well as college use. It will also house the Entrepreneurial Institute under the Department of Continuing Education.
"It takes a team," Loynaz said in speaking of the future of students and strengthened ties with the community. He acknowledged support of MDC, the faculty, staff, and all the behind-the-scenes individuals before thanking Dr. Jacobs. "You have built a legacy I am grateful for."
Homestead Mayor Steven Losner remarked on the beautiful day and amazing progress since 1990 when not everyone believed the campus would thrive. "We couldn't have done it without the commitment of Miami-Dade College."
In closing his brief remarks, he noted the recently adopted MDC-Homestead acronym of H.O.M.E., for Hope, Opportunity, Motivation, Excellence. "I think the two most important words are Opportunity and Excellence." He echoed the goals of providing students with expanded opportunities to excel in viable careers. "It is not only a Student Success Center; it is a community success."
Mia DeVane, Government and Community Liaison for Miami-Dade County, represented Mayor Daniella Levine-Cava. The Congratulatory Certificate she presented was from the Mayor and County Board of Commissioners. For those who may not have seen the latest County budget, she announced that $5 million was included for MDC as an institution to bolster technology classes and local technology jobs.
Jazmin Laughlin, President Homestead, SGA [Student Government Association], gave Student Reflections comments. In pursuing biology to go onto the pre-med track to ultimately become an anesthesiologist, the
nineteen-year-old graduate of Homestead Senior High expressed her appreciation. "I thank you not only for the future of the campus, but for my future as well," she said in part. "The Student Success Center will allow access to a multitude of resources."
The final speaker, MDC Executive Vice President and Provost, Dr. Malou Harrison, called for an additional round of applause for Laughlin's uplifting remarks. "MDC is truly proud to know we are making such an impact. I have been to many groundbreakings and this one is extra special," were some of her brief comments.
Mendieta requested the audience remain seated for a few minutes as the speakers and MDC Trustees moved into position next to the specifically constructed box filled with sand.
Participants were given engraved shovels while Mendieta invited everyone to come forward and join in a countdown starting at "ten". At the collective shout of "one!", symbolic shovels of dirt were lifted to mark the official act of groundbreaking.
Background information was described in a recent MDC press release. "The building has been designed by Rodriguez & Quiroga architectural firm, also responsible for the design of the original Homestead Campus, Homestead City Hall and Homestead Police Station buildings and for the design and renovation of other MDC buildings including The Koubek House, The Freedom Tower, New World School of the Arts, the Aquatic Training and Fitness Center at MDC North Campus and Padrón Campus. Construction of the Student Success Center, to be located at 301 Civic Court, is expected to be completed January 2023."