A small group in the early 1980s led by Cip and Maria Garza and supported by individuals in education, law enforcement, the military, and other fields who understood the daily challenges of farmworker families, embraced a collective vision to make positive changes.
They had a post office box in Florida City and initially, Bill Losner of First National Bank of South Florida and Bob Epling of Community Bank provided their respective board rooms to help with meeting space.
The vision was, "To ensure that every farmworker child be provided access to a quality education, the arts, and technology for a brighter future."
By 1990, the Mexican-American Council of Homestead (MAC) was fully organized and their mission today has a broader statement of, "Empowering Families; Strengthening Communities. MAC's main goal is to advance the living standards of farmworker youth by breaking the cycle of poverty through education, the arts, and civic engagement. MAC is a well-respected advocate of community issues and an agent of positive change for promoting cultural and civic engagement with a record of over 30 years of service in the community."
The programs have expanded during three-plus decades, as has their recognition at the city, county, state, and even national level for many of their efforts.
Eddie Garza, now the second-generation Chief Executive Officer (CEO), recently returned from a dual trip out west.
The 2022 Latinx Health Equity Summit was held in Phoenix, Arizona December 6th - 8th, with the stated purposes of, "Our Latinx Health Equity Summit will focus on community-based achievements that seek to close health disparities and advance health equity in the Latinx community across five issue areas: social and emotional well-being, food insecurity, healthcare access, research engagement, and COVID-19 response and recovery.
The summit served as a unique space to convene a diverse network of trusted Latinx health leaders, experts, practitioners, and community messengers to share programmatic and policy priorities and efforts that improve the health and well-being of the Latinx community." (https://www.unidosus.org/latinx-health-equity-summit/)
Garza was invited as one of those "community messengers" where he explained strong collaboration is how they find ways to increase healthcare and insurance to farmworker families.
"Miami-Dade County leads the nation in how to establish public-private partnerships. Representatives from several states wanted to know how we have accomplished what we have."
In accepting the invitation, Garza requested they include resources for him to bring one of their MAC Scholars as well to share his experiences and background. They agreed and it was Gabriel Guandique's first time to be on an airplane, much less attend a summit featuring the Secretary of the Department of Health and Human Services, Xavier Becerra.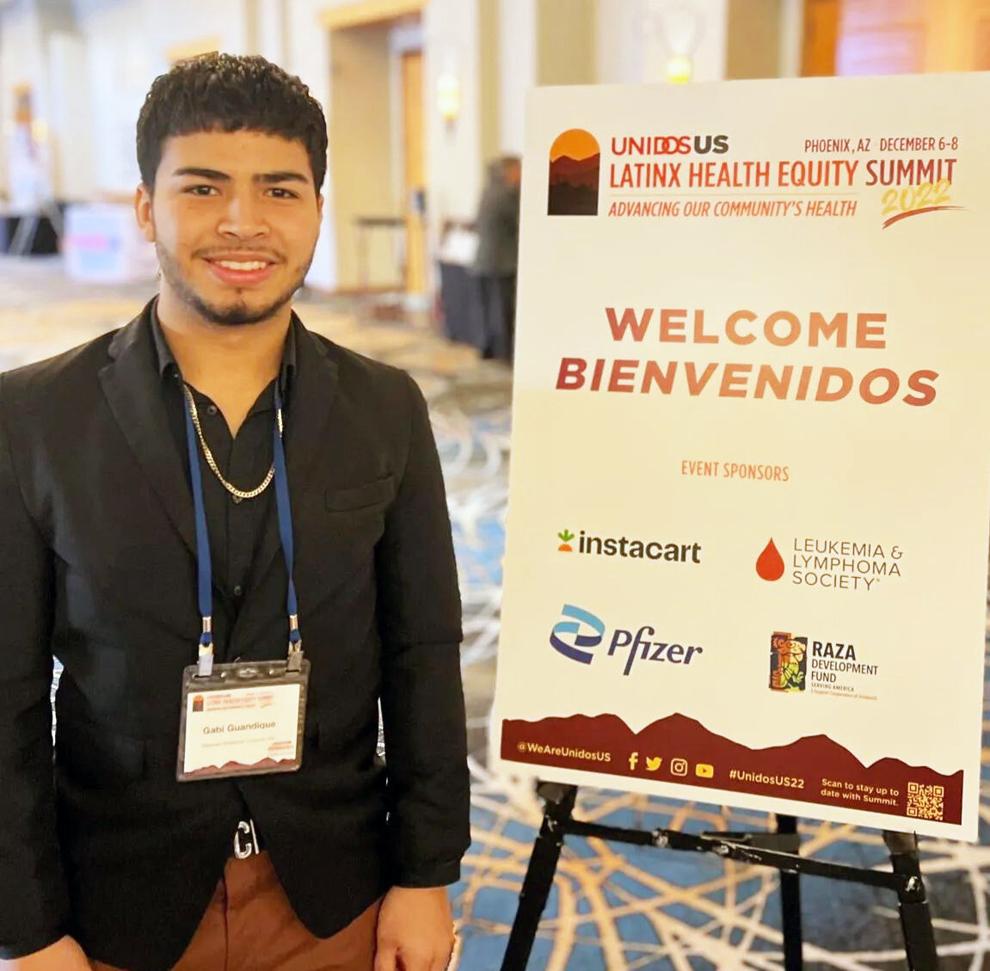 Guandique, a student in the Allied Health field at Miami-Dade College, Homestead (MDC), participated in three intensive days of training, workshops, and discussions.
He later told Garza, "I'm going to work even harder than ever."
Garza was also in Los Angeles at the main Barnes and Nobles bookstore for the launch of the book, "The Boy From Mexico." by new author Edward Dennis. Dennis is an illustrator, art teacher, and social media marketing maven who has added writing for children and young adults. Garza was a panel member at the event and described how MAC encourages students in writing and illustrating. Plans are being worked to bring Dennis to Homestead in the April timeframe.
With no let-up in schedule, it was back to Florida because on Friday, December 9th. MAC's Homestead-Miami Mariachi was once again in the spotlight. Garza posted to Facebook. "USA and Mexico celebrate 200 years of diplomatic relations with a special performance by our Homestead-Miami Mariachi. So proud of our talented youth and how they rep South Dade and nuestra cultura in Little Havana! Gracias Consulado General de México en Miami for this prestigious honor. Gracias a Los Mora Arriaga for believing in this dream from day 1. Thank you to our partners, sponsors, and donors. Without your support, moments like these are not possible."
MAC's strong College and Career Readiness Program for high school students has honored more than 3,000 students since that early beginning. Their motto of, "Inspire, Engage, Educate, and Keep Hope Alive", is personified by individuals like Adelia Hernandez and Kassandra Castillo. Hernandez is newly graduated from Florida International University with a degree in Communications and is working at MAC as well interning with Unavision. Castillo also works with MAC and is a student at MDC in Criminal Justice.
This past May, MAC's multiple programs and list of sustained achievements led to receiving a 2022 Program of the Year award from the well-known Children's Trust. "The event once again brought together child advocates, community leaders and the public to honor those who dedicate their lives to serving children and families."
(https://www.thechildrenstrust.org/champions-for-children-awards-ceremony-returns-with-special-recognition)
Garza doesn't mind the pace and isn't slowing anytime soon. "Homestead should be so proud," he said. "It's a Homestead-led organization and I am so proud of our youth and families."
For more information, go to
https://www.mexamcouncil.org/ ;
Email: info@mexamcouncil.org ;
Tel: (786) 243-2328, or stop by 9 Palm Plaza, Homestead.